Entertainment
Elon Musk endorses Dogecoin on 'Saturday Night Live' as value plummets
The Tesla CEO's "SNL" appearance didn't immediately send the cryptocurrency "to the moon" as some expected.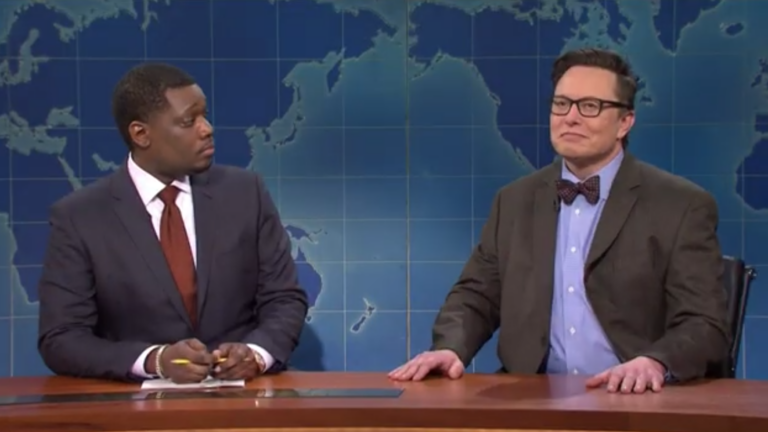 Instead of sending Dogecoin to the moon, Elon Musk's appearance on "Saturday Night Live" sent the cryptocurrency hurtling back to Earth.
The Tesla CEO has been one of the most vocal supporters of Dogecoin, a cryptocurrency created in 2013 that has exploded in value in 2021.
Leading up to Musk's appearance, market analysts speculated that a mention of the cryptocurrency could send its value skyrocketing, especially with "SNL" livestreaming the show internationally in more than 100 countries for the first time ever.
Despite two prominent mentions during the episode, the coin's value plummeted, with its market cap falling by tens of billions of dollars from Saturday's peak value of 70 cents down the 51 cents by the end of the show.
During Musk's opening monologue, he brought his mother, Maye Musk, out to join him.
"I'm excited for my Mother's Day gift," she said. "I just hope it's not Dogecoin."
Later in the show, during "Weekend Update," Musk made an appearance as fictional financial expert Lloyd Ostertag, aka "The Dogefather."
In his role, Musk explained both cryptocurrencies in general ("They're a type of digital money, but instead of being controlled by central government they're decentralized using blockchain technology") and Dogecoin specifically ("It actually started as a joke based on an internet meme, but now it's taken off in a very real way").
None of that made sense to "Weekend Update" hosts Michael Che or  Colin Jost, who kept interrupting Musk to incessantly ask, "What is Dogecoin?"
"I keep telling you, it's a cryptocurrency that you can trade for conventional money," Musk said.
"Oh, so it's a hustle," Che said.
"Yeah it's a hustle," Musk admitted, before shouting "To the moon!"
https://www.youtube.com/watch?v=x5RCfQyTDFI