Entertainment
Berklee student Grace Kinstler makes top 5 after 'American Idol' Mother's Day episode
The episode also featured songs from Coldplay's discography.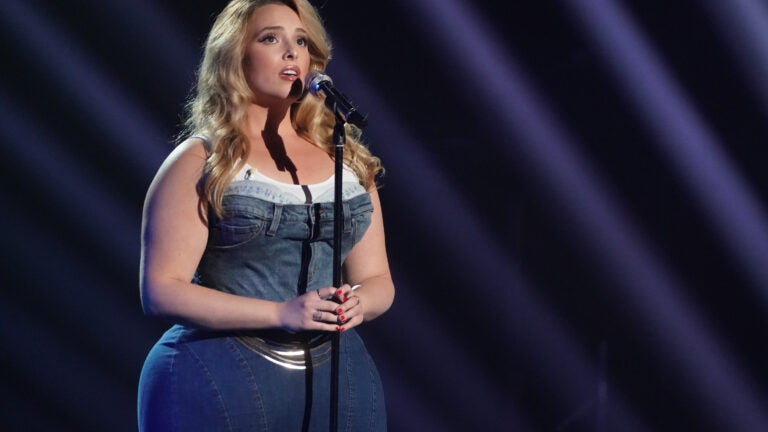 Next week's episode of "American Idol" will mark three months since viewers saw Grace Kinstler leave judge Luke Bryan in tears during her audition in the season debut. The Berklee student is now guaranteed a shot at competing for the finals.
The top seven finalists sang two songs in Sunday's episode — one from Coldplay's discography, and another dedicated to their mothers for the holiday. Live voters lifted Kinstler to the top five — she will perform in the season's penultimate episode next week.
Coldplay frontman Chris Martin was on hand to mentor the contestants in the first half of the program. After some debate on which song to choose, Kinstler settled on plaintive rock ballad "Fix You."
"Sometimes I do find it hard to be vulnerable because I want to make sure I'm impressing," the 20-year-old Illinois native said on the program. "I think it's a side of me I don't show all the time."
It wasn't mentioned in the episode, but the song also resonates with Kinstler's story. Chris Martin reportedly wrote "Fix You" to comfort his then-wife Gwyneth Paltrow, who was mourning the death of her father. Kinster's dad unexpectedly died last year, and she dedicated one of her Hollywood Week performances on the show to him.
The judges praised Kinstler's vulnerability and were as effusive as ever about her rendition of the Coldplay song, which was more subdued than some of her more showstopping performances.
"We're always worried about messing up. In your case, your flaws are your magic," Lionel Richie said. "Your vulnerability comes from the fact that you are in that moment of indecision, and it's the part that makes entertainment the entertaining part."
"I think you finally arrived with that song," Katy Perry said. "And always remember, when you're vulnerable and you show yourself, your vulnerability is your strength, and people resonate with that."
"When you finished, I almost said a terrible word on live TV because I was so pumped up about what I witnessed," Luke Bryan said. "It took me out of what I'm doing, I didn't even realize I was on 'American Idol' watching you do that. It was amazing,"
Kinstler's first song may have evoked her dad, but her second was a clear tribute to her mom. She sang Adele's "When We Were Young," one of her mother's favorite songs, in the second half of the episode.
Donning a red dress, the singer broke out her trademark soprano runs in her second performance.
"You know your mom is proud of you, but I want to say tonight especially, that I am so proud of you," Perry said. "You've really stepped up your game, and I think it's gonna happen." (Perry was likely hypothesizing that Kinstler was destined to win, but it wasn't explicit.)
"It was just a magical look, it was like being in a movie," Bryan said. "It was truly a magical performance."
"It was just like a movie," Richie agreed. "It was perfectly done, and your delivery was right on point."
Before the episode, the "American Idol" Twitter account shared messages from each of the contestants' mothers.
"I am so thrilled that you found your true love with music, and I love you and I'm so proud to be your mom," Kinstler's mother Sherry said in her video.
A special #MothersDay message from @GraceKinstler's Mom, Sherry!#AmericanIdol pic.twitter.com/oY0olfRS0G

— American Idol (@AmericanIdol) May 9, 2021
Kinstler is seen as a frontrunner to win the show, but the competition is tight — Ryan Seacrest even said the live vote was extremely close.
Caleb Kennedy, Casey Bishop, Chayce Beckham, and Willie Spence joined Kinstler in the top five and will compete next Sunday for a shot at the finals. Arthur Gunn and Hunter Metts didn't make the cut.
Get Boston.com's browser alerts:
Enable breaking news notifications straight to your internet browser.