Entertainment
'SNL' recap: The best moments from Elon Musk's episode
All the highlights and jokes from the Tesla founder's episode.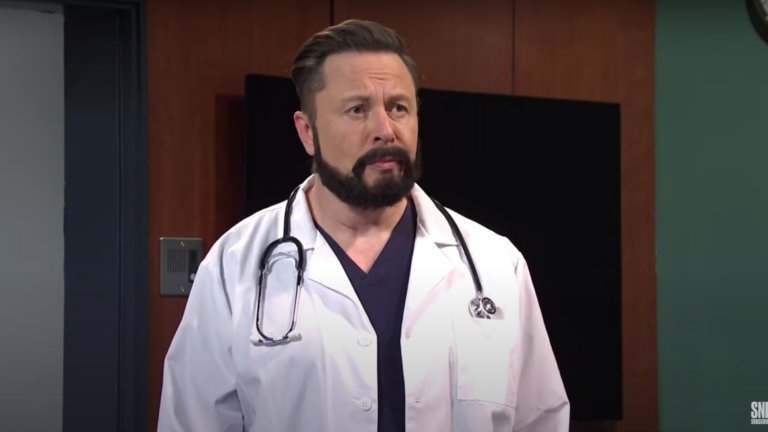 In the most buzzed-about "SNL" episode of 2021, Elon Musk failed to deliver on multiple fronts.
Some expected controversial moments during the show after several "SNL" cast members publicly threw shade at Musk in the week leading up to his hosting gig. Others expected the Tesla CEO to send the value of cryptocurrency Dogecoin "to the moon" during his appearance.
Ultimately, viewers got neither, instead receiving 90 minutes of below-average material that wasn't helped by a not-ready-for-primetime performance from Musk.
Musk was forthright about his shortcomings from the beginning of his opening monologue.
"Sometimes after I say something, I have to say 'I mean that,' so people really know that I mean it," Musk said. "That's because I don't always have a lot of intonational variation in how I speak, which I'm told makes for great comedy."
While the self-effacing humor was appreciated by the studio audience, Musk's stilted speaking style and over-reliance on cue cards made for some brutal line-reading and awkward pauses. Thankfully, the show was redeemed somewhat by its pre-taped sketches, in which Musk had a much smoother delivery.
Here are the funniest sketches and biggest moments from Elon Musk's episode of "Saturday Night Live."
Mother's Day Message Cold Open
The show began with musical guest Miley Cyrus singing a song dedicated to the mothers of the "SNL" cast members, each of whom were on stage with their children. Though Musk wasn't part of the cold open, the host also brought his mother on stage during his opening monologue.
Elon Musk Opening Monologue
The Tesla CEO began his opening monologue with a personal revelation, saying that he had Asperger's syndrome, a condition on the autism spectrum. (While Asperger's is no longer a separate diagnosis on the Diagnostic and Statistical Manual of Mental Disorders, the term is still in common usage.)
"I'm actually making history tonight as the first person with Asperger's to host 'SNL,'" Musk said. "Or at least the first to admit it. So I won't make a lot of eye contact with the cast tonight. But don't worry, I'm pretty good at running 'Human' in the emulation mode."
Musk's statement about being the first person with Asperger's may not have been entirely accurate, however. Dan Aykroyd, an original "SNL" cast member who also hosted the show in 2003, has been open about his Asperger's diagnosis for many years during numerous interviews.
Gen Z Hospital
In a send-up of Gen Z slang, cast members waited on news about their "bestie" who ultimately literally passed away, no cap.
Post-Quarantine Conversation
In a pre-taped sketch, friends seeing each other for the first time since the start of the pandemic (Musk, Heidi Gardner, Beck Bennett, Kate McKinnon, Chris Redd, Ego Nwodim) struggle with casual conversation after 14 months of isolation.
Ooli Show
An Icelandic public television host (Chloe Fineman) welcomes Frances McDormand (Kate McKinnon), Steve Buscemi (Pete Davidson) and Bjork (Melissa Villaseñor, doing A+ impression work as always) to her oddball show. Weirdly, this was the second consecutive sketch in which a major plot point involved a man knowingly flirting with his cousin.
Murdur Durdur
In a send-up of geographically specific crime shows, "Murdur Durdur" is a mess of Pennsylvania accents and jokes about Gritty, Wawa, and other Philadelphia-isms.
Miley Cyrus Musical Performance
Following her show-opening performance, Cyrus sang two more songs during the episode, with "Without You" and "Plastic Hearts."
Weekend Update
Musk did his best to pump Dogecoin during a jam-packed "Weekend Update," appearing as fictional financial expert Lloyd Ostertag, aka "The Dogefather."
In his role, Musk explained both cryptocurrencies in general ("They're a type of digital money, but instead of being controlled by central government they're decentralized using blockchain technology") and Dogecoin specifically ("It actually started as a joke based on an internet meme, but now it's taken off in a very real way").
None of that made sense to "Weekend Update" hosts Michael Che or  Colin Jost, who kept interrupting Musk to incessantly ask, "What is Dogecoin?"
"I keep telling you, it's a cryptocurrency that you can trade for conventional money," Musk said.
"Oh, so it's a hustle," Che said.
"Yeah it's a hustle," Musk admitted, before shouting "To the moon!"
Wario Trial
In what felt like one of the sketch ideas Musk solicited on Twitter, Wario (Musk) is put on trial for the murder of Mario, with his lawyer (Mikey Day) trying to get his client acquitted.
Chad on Mars
In another pre-taped sketch, the commander of a Mars colonization project (Musk playing himself) is relying on one heroic astronaut to save the whole colony. That astronaut? Pete Davidson playing his recurring "Chad" character. Also on hand is an appearance from Miley Cyrus, as the woman who is carrying Chad's child.
Cowboy Standoff
Musk plays an old western version of himself, suggesting very Musk-like solutions to issues like tunneling under a roving gang of bandits instead of taking them head on.