Entertainment
10 movies and TV shows to stream right now
The best things to watch on Netflix, Hulu, Amazon Prime, Disney+, and more.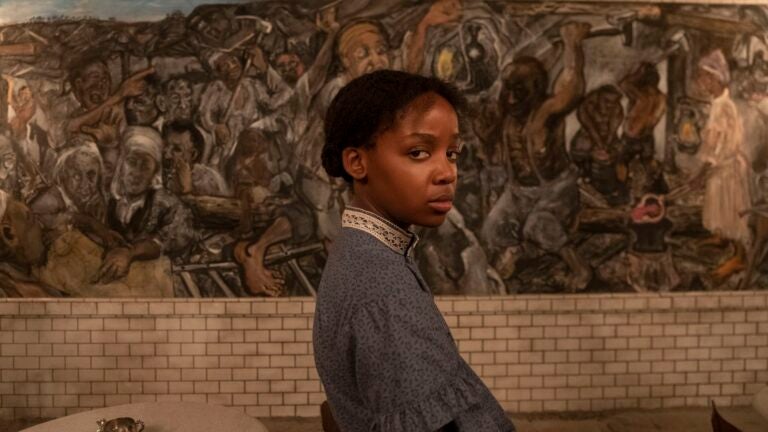 Though the song is nearly 30 years old, Bruce Springsteen's "57 Channels (And Nothin' On)" encapsulates the struggle viewers face today. With hundreds of cable channels, dozens of streaming services, and countless on-demand titles, trying to decide what to watch can feel like an endless ordeal.
That's where we come in. Each month, Boston.com recommends 10 must-watch movies and TV shows available on streaming platforms like Netflix, Hulu, Amazon Prime, Disney+, HBO Max, and more.
Many recommendations are for new shows, while others are for under-the-radar releases you might have missed, or classics that are about to depart a streaming service at the end of the month.
Have a new favorite movie or show you think we should know about? Let us know in the comments, or email me at [email protected]. Looking for even more great streaming options? Check out our watchlists from April, March, February and January.
"A Black Lady Sketch Show"
Robin Thede's "A Black Lady Sketch Show" was first to a lot of milestones upon its debut in 2019. The HBO series is the first sketch comedy show both made by and starring Black women. The show is entirely written and directed by Black women as well, and became the first sketch show led by Black women to be nominated for multiple Emmys in 2020. The series already felt self-assured and fully-formed in season one, so when season two begins to take sketch premises in whimsical, unexpected directions, the weirdness is welcome.
How to watch: "A Black Lady Sketch Show" is streaming on HBO Max. New episodes are added every Friday through May 28.
---
"Four Weddings and a Funeral"
When English film director Mike Newell began work on "Four Weddings and a Funeral," he likely had no idea what a phenomenon the film would become. Produced for around $3 million, the film grossed more than $246 million, earned a Best Picture nomination, and turned star Hugh Grant into a romantic comedy titan. Grant plays Charles, a lifelong bachelor who over the course of the film grapples with his feelings for Carrie (Andie MacDowell, "Groundhog Day"). Don't be like Charles and potentially miss out on your chance: "Four Weddings and a Funeral" leaves Amazon Prime at the end of May.
How to watch: "Four Weddings and a Funeral" is streaming on Amazon Prime and Hulu.
---
"Girls5Eva"
Tina Fey and frequent collaborator Robert Carlock ("30 Rock," "Unbreakable Kimmy Schmidt") are the executive producers behind this charming show from NBC's streaming service Peacock, about a 1990s girl group that suddenly reunites decades later when one of their songs gets sampled by an up-and-coming rapper. As you would expect from a Fey/Carlock production, the jokes fly fast and furious between the reunited performers (Sara Bareilles, Busy Philipps, Paula Pell, Renée Elise Goldsberry), and the show functions both as a showbiz satire and a meditation on middle-age reinvention.
How to watch: "Girls5Eva" is streaming on Peacock.
---
"Made For Love"
In this HBO black comedy, Cristin Milioti plays Hazel, a woman who has been trapped in a stifling marriage to a Jobs-like tech CEO named Byron Gogol (Billy Magnussen, "Game Night"), whose next breakthrough product is Made For Love, a brain implant that merges the minds of two partners into one consciousness. After Hazel escapes the high-tech hub where they live for the first time in 10 years, she discovers she's the first human test subject for Byron's chip, meaning he can see and hear everything she does. The premise may sound like a nightmare, but the show earns plenty of laughs, buoyed by Milioti's indignant efforts to start a new life and divorce her husband while he's living rent-free in her head (literally).
How to watch: "Made For Love" is streaming on HBO Max.
---
"Mare of Easttown"
In the vein of other great geographically specific HBO detective dramas like "True Detective" or "The Wire," "Mare of Easttown" transports viewers to a small town outside of Philadelphia, where Mare (Kate Winslet, "Titanic") plays a hardened detective trying to solve a murder. A bad performance from Winslet would be a first, and true to form she's fantastic in this series, playing against type as a world-weary gumshoe who wears her personal demons on her sleeve.
How to watch: "Mare of Easttown" is now streaming on HBO Max. New episodes debut every Sunday through May 30.
---
"The Mitchells vs. The Machines"
Originally slated to be released in theaters by Sony Pictures under the title "Connected," "The Mitchells vs. The Machines" ended up on Netflix instead due to the pandemic. After technophobic father Rick (Danny McBride, "Pineapple Express") breaks his daughter Katie's (Abbi Jacobson, "Broad City") laptop before she leaves for college, he insists on canceling her flight to school and driving across the country together in order to repair their relationship. As they go, the family unwittingly becomes humanity's last hope when a rogue AI begins to take over the world. While the film is certainly aimed at children, it features plenty of laughs and lessons for audiences of all ages to enjoy.
How to watch: "The Mitchells vs. The Machines" is streaming on Netflix.
---
"Shrill"
Aidy Bryant was a notable absence during the early months of "Saturday Night Live" season 46, and her 30-second updates from the middle of nowhere were certainly appreciated. Thankfully, Bryant was missing "SNL" time for good reason, as she finished filming the third and final season of her Hulu series "Shrill." The comedy, about a woman named Annie (Bryant) who resists having to shrink both her body and her personality to conform to society's standards of femininity, takes on a more melancholy tone in its final season, but is as strong as ever. As an added bonus, her roommate Fran (Lolly Adefope, "The Spy Who Dumped Me") becomes more of a second lead than a supporting character this go-around.
How to watch: "Shrill" is now streaming on Hulu.
---
"Star Wars: The Bad Batch"
Despite its status as a cultural juggernaut, there are still many "Star Wars" fans who have never spent time watching "Star Wars: The Clone Wars," a computer-animated series created by George Lucas that takes place between Episodes II and III of the film series. If you're in that camp, you can begin to rectify that mistake now by sampling "The Bad Batch," a sequel/spinoff animated series about Clone Force 99, a "bad batch" of elite clone warriors with various genetic mutations. While Lucas is no longer involved like he was in "Clone Wars," the series still offers some of the same action/adventure and lore-building as its predecessor. Side note: You don't need to watch "Clone Wars" first to follow the plot of "The Bad Batch," though it certainly couldn't hurt your enjoyment.
How to watch: "Star Wars: The Bad Batch" is now streaming on Disney Plus. New episodes debut every Friday.
---
"The Underground Railroad"
Amazon Prime seems determined to push the boundaries between film and television, as it did last year with the Steve McQueen film series "Small Axe." This time, it's director Barry Jenkins ("Moonlight") doing the boundary-pushing with his adaptation of Colson Whitehead's Pulitzer Prize-winning "The Underground Railroad." The magical-realism series follows Cora, who escapes a Georgia plantation on an underground railroad — a literal steam-powered train that chugs its way through America, presenting its protagonist with friends, villains, and dilemmas. Not every episode is a winner, but the combined powers of Jenkins and Whitehead — who worked on the series in an advisory capacity and approved some of the way in which it departs from his book — are undeniable.
How to watch: "The Underground Railroad" is streaming on Amazon Prime.
---
"Vanilla Sky"
Remember when Tom Cruise was weird? Strike that — remember when Tom Cruise willingly accepted weird roles? Cruise has settled into familiar film franchises as of late, pumping out regular "Mission Impossible" sequels and even revisiting "Top Gun" this summer. But 20 years ago, Cruise went on a run of taking risky jobs from acclaimed directors in Paul Thomas Anderson's "Magnolia," Stanley Kubrick's "Eyes Wide Shut" and Cameron Crowe's "Vanilla Sky," a genre-bending sci-fi thriller about a man (Cruise) disfigured in a car crash who begins having strange and disturbing visions after being given a new, surgically repaired face. The story only gets stranger from there, and Cruise is fully along for the ride, a testament to the range he possesses as a performer, even if we don't see it as often these days.
How to watch: "Vanilla Sky" is streaming on Amazon Prime until May 31.
Newsletter Signup
Stay up to date on all the latest news from Boston.com