Entertainment
'SNL' recap: The best moments from Keegan-Michael Key's episode
The veteran sketch comedy actor brought some welcome experience to "Saturday Night Live."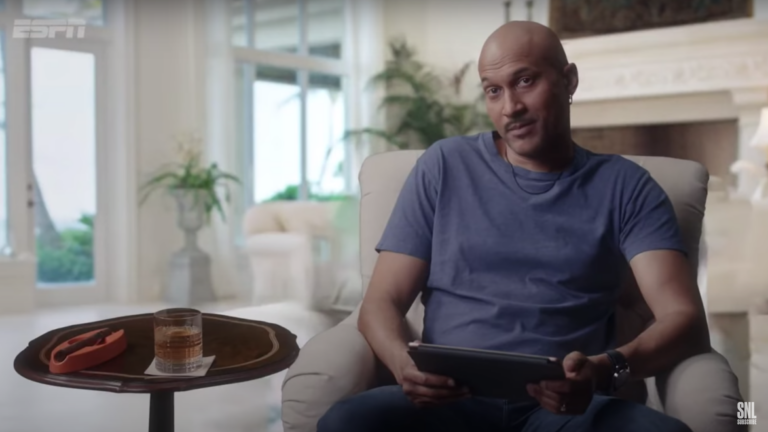 After an uneven episode hosted by Elon Musk last week, "Saturday Night Live" brought in a ringer.
Keegan-Michael Key is a sketch comedy veteran, having spent six seasons on "MadTV" and five seasons on his own variety show, Comedy Central's "Key & Peele."
As a result, Key's episode of "SNL" was one of the better ones in recent memory, with the actor doing everything from playing Michael Jordan to channeling the rage of his Obama anger translator character into a security guard beating up the Muppets.
Here are the funniest sketches and biggest moments from Keegan-Michael Key's episode of "Saturday Night Live."
No More Masks Cold Open
As "SNL" heads toward the end of its 46th season, the show brought out a reliable COVID-era impression for this week's cold open.
Kate McKinnon returned as "the patron saint of Purell" Anthony Fauci, riffing on how the CDC's post-vaccine COVID protocols can be complicated depending on the situation.
"The CDC announced that people who are vaccinated no longer need to wear masks, both outdoors and indoors," McKinnon (as Fauci) said. "Pretty great, right? But a lot of people had questions, such as: What does that mean? What the hell are you talking about? Is this a trap?"
Keegan-Michael Key Opening Monologue
The veteran sketch comedy actor gave viewers a pretty traditional opening monologue, launching into a song-and-dance number about everything he wanted to do while hosting.
Prom Show
Awards season has already passed us by, but Oscars humor is evergreen in the eyes of "SNL." Bowen Yang, Heidi Gardner, and Key play red carpet correspondents for their high school prom, informing viewers about pressing issues like where the cool kids took their pre-prom pictures, what the hot permanent substitute is up to, and how a freshman somehow landed an invite.
The Last Dance: Extended Scene
It's been more than a year since "The Last Dance" became a quarantine hit, but it was still fun to see Key playing the hyper-competitive Michael Jordan. In a scene closely mirroring the documentary, Key takes it personally when he loses a bet to personal security guard John Michael Wozniak (Heidi Gardner), ultimately forcing the man to give him nearly everything he owns.
The Muppet Show
"SNL" got a big assist from the Muppets in this sketch, harkening back to the very first season in 1975 when Jim Henson and his puppet pals were a regular part of the show. This time, Key and Kenan Thompson play overzealous security guards who overreact when perennial hecklers Statler and Waldorf begin to offer their usual commentary from the balcony.
Gemma & DJ Balls
Key and Cecily Strong play the very best musicians you could ever expect to find performing at a TGI Fridays, singing vaccine-themed birthday songs for a man (Kenan Thompson) whose wife left him as soon as she got her second shot.
Olivia Rodrigo Musical Performance
Close to three months after "SNL" dedicated an entire sketch to her no. 1 hit song "Drivers License," Olivia Rodrigo performed the chart-topping tune herself, along with the rockin' "good 4 u" at the tail-end of the show.
Weekend Update
Along with the usual barrage of topical jokes, "Weekend Update" featured visits from recently demoted Liz Cheney (Kate McKinnon), controversial horse trainer Bob Baffert (Beck Bennett), and cast member Andrew Dismukes, doing a standup-style bit about his great-grandmother.
Kennedy Center Honors
Cecily Strong, Kate McKinnon and Key play a trio of geriatric Kennedy Center presenters honoring George Gershwin who take turns telling wildly inappropriate stories and forgetting every line they're supposed to read.
High School Graduation
"SNL" double-dipped with high school traditions this weekend, featuring both a prom sketch and closing the show with a graduation sketch. As a high school principal (Alex Moffat) tries to read a list of names, proud parents can't stop shouting to their kids as they walk across the stage.
Rap Diss
In this pre-taped sketch that was cut for time, Key plays a gangsta rap star whose latest diss track is low on insults and heavy on apologies.
Sending Drinks
In another sketch cut for time, Kate McKinnon and Aidy Bryant are the objects of affection of two very strange bar patrons (Key, Bowen Yang).
Newsletter Signup
Stay up to date on all the latest news from Boston.com