Entertainment
The 10 best Boston references on the new Dropkick Murphys album
"We're headed down to Skippy White's."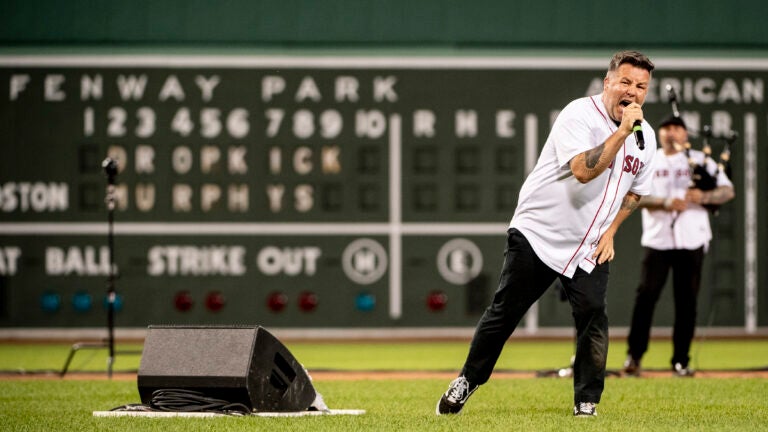 There are certain things it seems you can always count on in these parts: random Ben Affleck sightings, at least one poor schmo getting Storrowed every September, and the Dropkick Murphys scream-singing (sing-screaming?) about their Boston roots on each new release.
Sure enough, the Celtic punk band's latest effort — "Turn Up That Dial," their 10th album, released April 30 — is no exception. It's about much more than Boston: A fine addition to their raucous catalog, it doesn't skimp on their trademark anti-establishment irreverence on tracks like the instant pub brawl classic "Middle Finger," and the appropriately angry rebellion-nostalgia anthem "Smash Sh-t Up." They even take on the state of the nation on "Chosen Few": "We can't behave like nitwits, the world is watching us," they advise, sagely.
But it's also about Boston. Granted, there might not be anything quite as on-the-nose as their breakout hit, 2005's "I'm Shipping Up To Boston," but there are plenty of references to keep Hub locals happy. In fact, we counted 10:
1) "The Queen of Suffolk County." How many people outside of Massachusetts even know that Boston is in Suffolk County? To the uninformed it might sound downright bucolic, like a place you might find cows and rolling pastures, but the Dropkicks know it's the urban home to people like the take-no-prisoners heroine of this song, the album's fourth track: a girl with "hair like a skyscraper and an even bigger attitude."
2) "Boston police have apprehended a woman tonight in connection with a stabbing outside a Chatham Street bar. She'll be arraigned at Suffolk County courthouse in the morning." This newscast snippet that kicks off that track is case in point: Suffolk County folks don't mess around. Not sure what bar they're referring to, but we'd like to think it's The Hong Kong, just for old time's sake.
3) "Always causing trouble for the boys at Shawn's." Granted, for the life of us we can't remember a local bar called Shawn's (or Sean's, for that matter, although there's a rather famous one in Ireland). But we're going to count it as a Boston reference by default, since even if there was never a bar here named Shawn's, there definitely should have been. (You can set us straight in the comments.) [Editor's note: Our readers came through!]
4) "We're headed down to Skippy White's." The album's seventh track, "Good as Gold," engages in some unabashed Boston reminiscing (see nos. 4-7) and features maybe our favorite local reference, to the legendary Egelston Square record shop that sadly closed in early 2020. (Although Dropkick Murphys vocalists Ken Casey and Al Barr, who came of age in the '80s, are probably referring to the old Washington Street location.) Skippy, we hardly knew ye.
5) "I'm gonna hang out at Simco's." We're guessing they mean the one in Mattapan, but no matter what, they're getting hot dogs.
6) "Let's take the trolley to Ashmont, hop on the Red Line, me and the gang." While that first line may be the only pop culture reference to the Mattapan Trolley ever, it's no surprise that the Dropkick Murphys are essentially a Red Line band. That D branch of the Green Line is way too genteel for this bunch.
7) "I'm gonna spend my last three bucks on a Minor Threat single at Taang!" Sorry, Boston punk fans: Hardcore pioneers Minor Threat were actually a Washington, D.C. outfit. But the indie label Taang! Records was a mainstay of the Beantown punk scene in the 1980s, and eventually released records from bands like The Lemonheads and The Mighty Mighty Bosstones (who also have a new album out, by the way).
8) "City by the Sea." We may be more prone to think of it as a city by the harbor, but on the album's penultimate track — wherein Casey, trading verses with Barr, declares "I wanna be home by the ocean so I can smell the sea, I wanna be around a bunch of salty knuckleheads like you and me" — there's no doubt which city he's referring to. Although if he's at Long Wharf that may be Haymarket he's smelling.
9) "I wanna be there for the start of every season, head back to Fenway, yeah, it seems like a good reason." You knew there had to be a Red Sox reference, and they get it in under the wire with this stanza from "City by the Sea." Hopefully more than 12 percent of the band was able to get in for opening day.
10) "Going home to friends and family, the best thing I ever did, I may be far away but I'm still a Boston kid." From that same track, this line maybe sums it up best: The young Irish punks may be all grown up, but they're just as Boston as ever — and no matter where they wind up, they're not going anywhere.
What's your favorite Boston song? Answer our survey below and we'll feature your answers in a future article.
Note: Article has been corrected to reference vocalist Al Barr.
Newsletter Signup
Stay up to date on all the latest news from Boston.com