Entertainment
'SNL' season finale recap: The best moments from Anya Taylor-Joy's episode
The "Queen's Gambit" actress was a welcome addition to the series finale of "Saturday Night Live."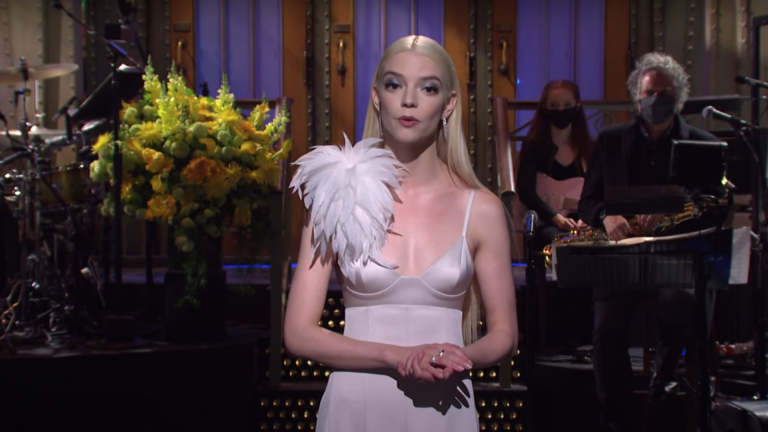 The 46th season of "Saturday Night Live" was one of the strangest in its history, with a giant cast hindered by COVID protocols for its entire nine-month run. The cast of "SNL" leaned into the weirdness during the cold open of the show's season finale on Saturday, noting how much the world has changed since the season premiere in September.
"I remember there were so many COVID precautions that if I wanted to hug anyone, I had to pull them into a closet and do it in the dark, away from the authorities," Kate McKinnon said, while standing with fellow cast members Aidy Bryant, Cecily Strong, and Kenan Thompson. "That led to a lot of confusion."
The first host of the 2020-21 season was comedian Chris Rock, who said that his hosting gig felt like six years ago, not nine months ago.
"I wanted Kanye West to be the musical guest," Rock said, about his September 2020 episode. "And he couldn't do it because he was running for president. Remember that?"
Joining the "SNL" season finale fun was host Anya Taylor-Joy, who proved that although she's best known for more serious fare like "The Witch" and "The Queen's Gambit," the Miami-born actress should be able to land plenty of comedic roles going forward.
Here are the funniest sketches and biggest moments from the season finale of "Saturday Night Live" hosted by Anya Taylor-Joy.
Year in Review Cold Open
The entire cast (except for "Weekend Update" hosts Colin Jost and Michael Che) took part in this sketch, which was a reminiscing from the cast about how tough the COVID-era "SNL" has been to put together.
Anya Taylor-Joy's Opening Monologue
Taylor-Joy riffed on her star-making role in "Queen's Gambit," offering the audience — full for the first time this season — tips on how to look especially pensive and intelligent while considering a move for 10 minutes.
Hollywood Squares
When GSN decides to re-air an old 1998 episode of "Hollywood Squares," program censors are forced to work overtime due to celebrity panelists Bill Cosby, Kevin Spacey, Matt Lauer, Roseanne, and other now-canceled famous figures.
Picture with Dad
Mocking the weird trend among conservative fathers to pose in their daughters' prom photos with a gun, a dad (Beck Bennett) shoots off his genitals, leading to an uncomfortable bedside chat at the hospital.
Making Man
As God's male angels present their finished design of the first human man, the female angels have some questions — mostly about the excess hair and the dangly bits.
It's Pride Again
In a song featuring three of the show's queer performers (Kate McKinnon, Bowen Yang, Punkie Johnson) and musical guest Lil Nas X, "SNL" gave viewers a preview of the upcoming Pride Month, when celebrants will make up for a year of quarantine.
Celtic Woman
In this commercial parody, "SNL" lampooned the Celtic Woman musical ensemble, as the four winsome performers (Aidy Bryant, Cecily Strong, Kate McKinnon, Anya Taylor-Joy) give listeners authentic Irish songs with a heavy dose of "sexual eye contact."
Lil Nas X Musical Performance
Chart-topping rapper Lil Nas X brought a raunchy energy with his performance of "Montero (Call Me By Your Name)," even inadvertently ripping his pants as he began to shimmy on a stripper pole. His later performance of "Sun Goes Down" was positively restrained by comparison, but still featured the singer's smoldering energy.
Weekend Update
Along with the usual barrage of topical jokes, "Weekend Update" was highlighted by Cecily Strong playing wine-swilling Fox News host Jeanine Pirro and anchors Colin Jost and Michael Che doing their annual joke-swapping segments.
Lingerie Store
Taylor-Joy and Aidy Bryant played heavily accented bra saleswomen who specialize in the largest cup sizes and strongest materials — one brassiere is even made out of scaffolding.
College Panel
An NYU panel discussion quickly goes awry when its moderators (Aidy Bryant, Anya Taylor-Joy) can't stop asking the hunkiest panelist (Pete Davidson) hard-hitting questions like "Dog or frisbee?"
AMC Theaters Commercial
With movie theaters welcoming new films to the big screen, what better spokesman to bring Americans back to the multiplex than Vin Diesel (Beck Bennett)?
Newsletter Signup
Stay up to date on all the latest news from Boston.com