Entertainment
Amy Poehler and Seth Meyers reunite to mock Tom Brady, Jeff Bezos, and Richard Branson
The pair reprised one of their classic "SNL" segments to poke fun at the former Patriots quarterback.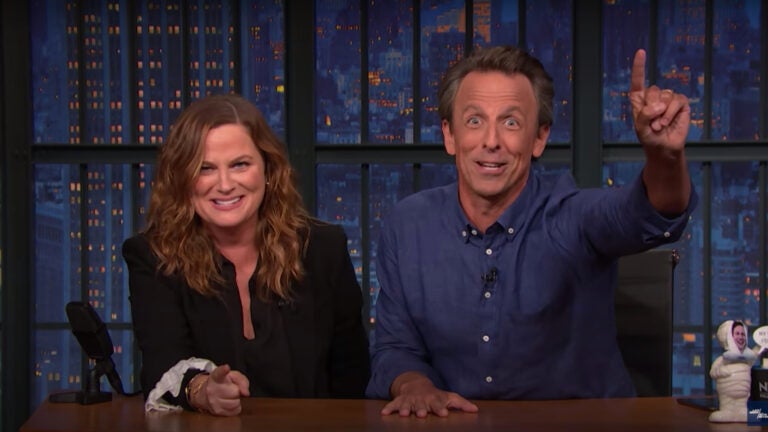 When Burlington native Amy Poehler stopped by "Late Night with Seth Meyers" Wednesday to promote the return of her NBC crafting reality show "Making It," she and Meyers also reenacted one of their classic "Saturday Night Live" bits.
Poehler and Meyers, who served as co-hosts of "Weekend Update" from 2006 to 2008, reunited for another edition of their long-running "Really!?! with Seth and Amy" segment. This time around, the main targets of the pair's over-the-top ire were uber-wealthy businessmen Richard Branson, Jeff Bezos, and Elon Musk funding their own personal space trips.
Before going to town on the space-bound billionaires, Meyers got an early swipe in at the expense of Tom Brady, who, along with his typical advertisements for menswear and his TB12 company, has been dabbling in cryptocurrency promotion online this offseason.
"Really, billionaires? This is what you're going to do with your unprecedented fortunes and influence, drag race to outer space?" Meyers said. "If you're trying to be more likable, this won't work. It's like if Tom Brady tried to be more likable by wearing a fedora and yammering about Bitcoin."
The pair then moved to joking about Branson, who recently reached a 53.5-mile altitude above the surface of the Earth while completing a suborbital flight aboard a rocket designed by his company, Virgin Galactic.
"Also, Richard Branson didn't go to outer space. He just went pretty high for a plane. You went to outer sky. I mean, really?" Meyers said. "You did the astronaut equivalent of driving by your ex's house to see if the lights were on? What was the best thing you saw out the window, a kite? Really."
Poehler and Meyers also joked about Bezos ahead of the Amazon founder's planned trip to space next week. In particular, Poehler and Meyers zeroed in on the unnamed passenger who paid $28 million to secure their spot on the Blue Origin New Shepard spacecraft.
"Really, somebody paid $28 million to join Jeff Bezos on his flight? I mean, that takes calling shotgun to a whole new level," Poehler said. "Really, that's like that parent at your kid's school fundraiser who outbid you on the free blowout. We get it Linda, we know you're a billionaire."
"Bezos, you're charging people to come along, really?" Meyers added. "You can afford to spring for it, you know? You're like the guy who says, 'Hey, I've got an extra ticket to Springsteen on Broadway, you wanna go? Great, it's 800 bucks.'"
Newsletter Signup
Stay up to date on all the latest news from Boston.com