Entertainment
Massachusetts is the star in first trailer for 'Dexter: New Blood'
The Showtime serial killer revival series has been filming in Central and Western Mass. since late January.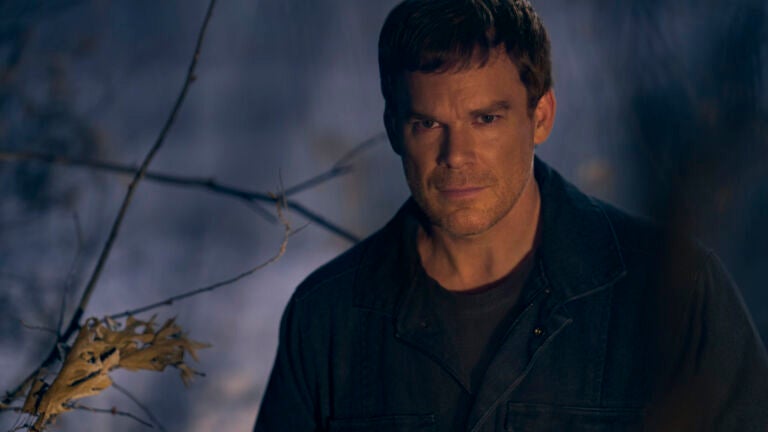 The first trailer for Showtime's special event series "Dexter: New Blood" hit the internet Sunday afternoon, and the show's Massachusetts filming locations are front and center.
Set 10 years after the series finale of the award-winning drama, "Dexter: New Blood" brings back star Michael C. Hall as serial killer with a conscience Dexter Morgan. In "New Blood," Dexter has relocated from sunny Miami to the fictional town of Iron Lake, N.Y., where he is living under the alias Jim Lindsay. When a series of unexpected events unsettle the tight-knit community, Dexter's inner demons — known throughout the series as his "dark passenger" — reawaken.
While the show is set in upstate New York, all of the locations you see in the trailer are right here in Massachusetts, where the series has been filming since late January. The trailer highlights the picturesque downtown area of Shelburne Falls, where Showtime spent several weeks filming earlier this year.
According to a source familiar with the production, "Dexter: New Blood" is entering its final week of principal photography, and will wrap primary production on Friday, July 30. Along with Shelburne Falls, "Dexter: New Blood" has filmed primarily West of I-495 in towns like Boylston, Devens, Gardner, Lancaster, Sterling, West Boylston, and Worcester.
In the original series finale for "Dexter," which aired at the conclusion of its eighth season in 2013 and was widely panned by critics, Dexter fakes his own death and leaves Miami, beginning a new life working for a lumber company in Oregon.
For "New Blood," Hall will be reunited with original series showrunner Clyde Phillips, who departed the show following its fourth season.
In the limited series' primary villain role, Clancy Brown ("The Crown," "Billions") will play Kurt Caldwell, the unofficial mayor of Iron Lake who owns the local truck stop and several trucks.
"Powerful, generous, loved by everyone — he's a true man of the people," reads a character synopsis for Brown first obtained by TV Line and later confirmed by Boston.com. "If he's got your back, consider yourself blessed. But should you cross Kurt, or hurt anyone that he cares for, God help you."
Joining Hall and Brown in the cast are Julia Jones ("The Mandalorian"), Alano Miller ("Sylvie's Love"), Johnny Sequoyah ("Believe"), and Jack Alcott ("The Good Lord Bird").
Along with the trailer, which debuted during a virtual Comic-Con panel, Showtime announced on Sunday that Dexter: First Blood" will premiere Sunday, November 7 at 9 p.m.
Newsletter Signup
Stay up to date on all the latest news from Boston.com