Entertainment
Amanda Knox blasts Matt Damon, Tom McCarthy for distorting her story in 'Stillwater'
Knox published a lengthy Twitter thread that criticized the duo for "profiting by telling a story that distorts my reputation in negative ways."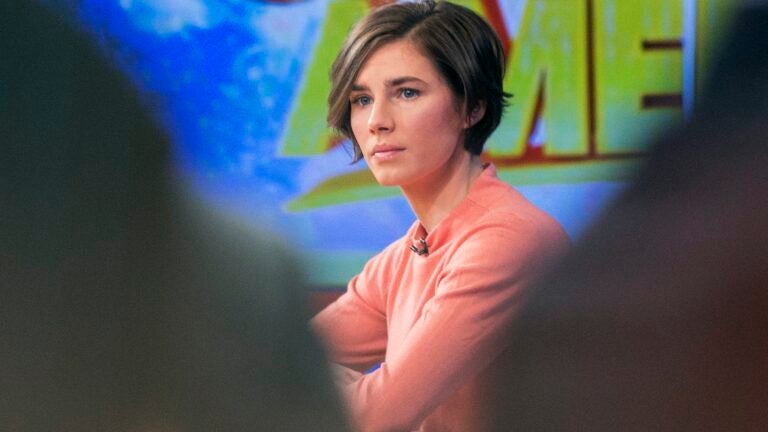 Amanda Knox roundly criticized Matt Damon and "Spotlight" director Tom McCarthy's for profiting off of her "name, face, and story" in their new film, "Stillwater."
Knox, who spent nearly four years in an Italian prison on murder charges but was later acquitted by authorities, published a lengthy Twitter thread Thursday night that criticized the duo for "profiting by telling a story that distorts my reputation in negative ways."
The plot of "Stillwater" bears a number of similarities to Knox's life story, as it follows an American father (Damon) attempting to free his daughter Allison (Abigail Breslin) from a European prison. Allison, who maintains her innocence, has served five years for allegedly murdering her roommate.
In 2007, Knox, then 20, was arrested and charged with murdering her roommate and fellow exchange student Meredith Kercher. Prosecutors argued that Knox and her then-boyfriend, Raffaele Sollecito, conspired with Rudy Guede, whose DNA was the only one found at the murder scene, to commit the crime. Knox was eventually freed in 2011, and was exonerated by an Italian court in 2015. During her four years in prison, Knox's father, Curt, was one of her most vocal supporters.
In the Twitter thread, which was also published as an article on Medium, Knox said that since being freed from prison, she has been "hounded by paparazzi," and that Damon and McCarthy's film plays a part in her trauma being "endlessly recycled for entertainment."
Knox even joked that she might write a screenplay of her own about Damon.
"It's directly inspired by the life of Matt Damon. He's an actor, celebrity, etc. Except I'm going to fictionalize everything around it, and the Damon-like character in my film is involved in a murder," Knox wrote. "He didn't plunge the knife per se, but he's definitely at fault somehow. His name is Damien Matthews, and he starred in the Jackson Burne spy films. He works with Tim McClatchy, who's a Harvey Weinstein type. It's loosely based on reality. Shouldn't bother Matt or Tom, right?"
McCarthy told Vanity Fair that although "Stillwater" was partially inspired by Knox's situation, the majority of the film's plot is totally fictional.
"We decided, 'Hey, let's leave the Amanda Knox case behind,'" McCarthy said. "But let me take this piece of the story — an American woman studying abroad involved in some kind of sensational crime and she ends up in jail — and fictionalize everything around it."
That distinction, Knox said, has not been made clear in numerous interviews McCarthy has given about the film, which she believes will lead audiences to assume the worst about her.
"By fictionalizing away my innocence, my total lack of involvement, by erasing the role of the authorities in my wrongful conviction, McCarthy reinforces an image of me as a guilty and untrustworthy person," Knox said. "And with Matt Damon's star power, both are sure to profit handsomely off of this fictionalization of 'the Amanda Knox saga' that is sure to leave plenty of viewers wondering, 'Maybe the real-life Amanda was involved somehow.'"
Newsletter Signup
Stay up to date on all the latest news from Boston.com