Entertainment
Matt Damon says he finally stopped using a homophobic slur after his daughter wrote him 'a very long, beautiful treatise'
Social media users were not happy with Damon's latest comments.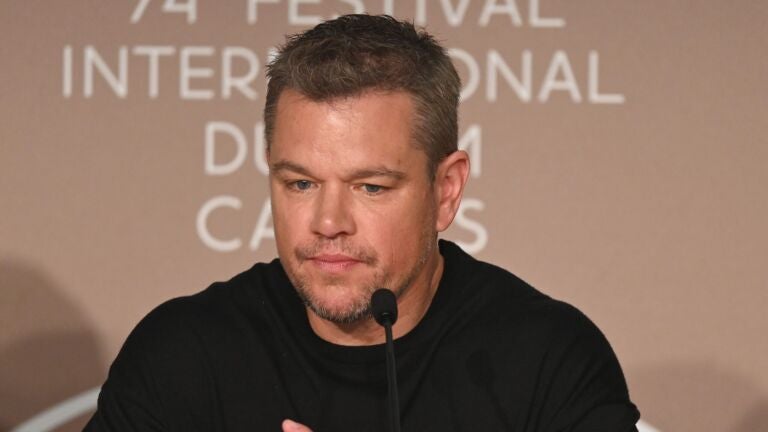 Matt Damon's words have once again gotten him in hot water.
The latest furor came as a result of an interview Damon gave to the U.K.'s Sunday Times in which he said that he has only recently given up saying the "F-slur for a homosexual" at his daughter's urging.
During a larger discussion about criticism Damon faced for comments he made during the height of the #MeToo movement, the Cambridge native said he has learned to "shut the f*** up more." He then attempted to share a story of personal growth about how one of his four daughters taught him to no longer use the homophobic slur.
"The word that my daughter calls the 'F-slur for a homosexual' was commonly used when I was a kid, with a different application," Damon said. "I made a joke, months ago, and got a treatise from my daughter. She left the table. I said, 'Come on, that's a joke! I say it in the movie Stuck on You!'
"She went to her room and wrote a very long, beautiful treatise on how that word is dangerous," Damon continued. "I said, 'I retire the f-slur!' I understood."
Social media users quickly reacted to Damon's comments, wondering why it had taken the actor so long to remove the term from his vocabulary.
Back in 2017, Damon faced significant criticism for his comments about working with actors who had been accused of sexual misconduct, as well as saying that he was upset about the Harvey Weinstein allegations "as the father of four daughters." When asked about his previous comments by the Times, Damon said that he understood the anger, but thought the media shared part of the blame for stripping out the context of his words.
"Twenty years ago, the best way I can put it is that the journalist listened to the music more than the lyrics [of an interview]. Now your lyrics are getting parsed, to pull them out of context and get the best headline possible," Damon said. "Everyone needs clicks. Before it didn't really matter what I said, because it didn't make the news. But maybe this shift is a good thing. So I shut the f*** up more."
Newsletter Signup
Stay up to date on all the latest news from Boston.com