Entertainment
The best moments from Jason Sudeikis' return to 'Saturday Night Live'
Here are the highlights from last night's episode.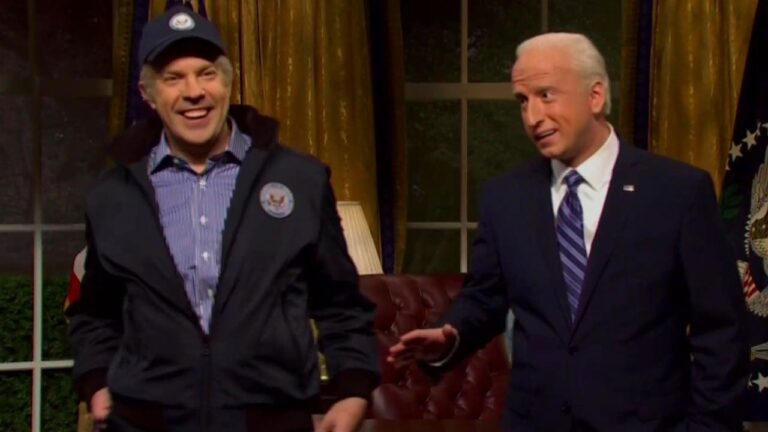 Ted Lasso didn't make an appearance in Jason Sudeikis' episode of "Saturday Night Live," but he did get a shoutout in his opening monologue.
Sudeikis made his first return to the SNL stage after leaving in 2013. Spent 10 years there as a writer and cast member, playing Mitt Romney, George W. Bush, Joe Biden, and many others.
Now, his iconic character Ted Lasso — the optimistic and goofy soccer coach — has become almost as famous as Sudeikis himself. With over 500,000 more Twitter followers than Sudeikis, Ted Lasso was originally created for an SNL-style commercial promoting U.S. interest in European football. Now, the idea has developed into an Emmy-award-winning television series on Apple TV+.
Sudeikis was the old dog hanging out with the young puppies. He also got the chance to show off his dance moves (and he was actually pretty good!) Here are the best moments from his first time hosting "Saturday Night Live."
Cold Open
James Austin Johnson's President Joe Biden makes his second appearance of the season in last night's Cold Open. We find Joe Biden inside dealing with his lowest approval rating yet, so he enlists the help of 2013 Vice President Joe Biden, played by Jason Sudeikis.
Once again, Biden's infamous infrastructure bill makes its second appearance as comedy fodder. A much younger and hipper version of himself, 2013 Biden tells current Biden to "chill out" and assures him that they'll figure it out and get the bill passed at some point ("I'm you after all").
Johnson's impression of Biden was spot on. His side smile and vocal mannerisms were exactly like the real deal. Although Sudeikis didn't have Biden's quirks down, he didn't have to — he's Jason Sudeikis after all.
Opening Monologue
Sudeikis took a much more sensitive and sentimental approach to his monologue last night than previous hosts.
He discusses all the history that took place in that studio — all the great actors and actresses that got their start on the show dating back to the 1970s. He prompts everyone in the studio to look around at all the people that made this show possible over the year.
He was the older, experienced actor returning to his hometown. The younger, up-and-coming comedians that currently make up the cast came up to him asking for advice. He said: "Win an Emmy … it helps."
Ultimately, his soft opening makes sense for a man who owes his career to the SNL stage. Ted Lasso's Emmy wouldn't have been possible without the platform this show gave him.
Sudeikis said he didn't expect "Ted Lasso" to be as popular as it is ("It's built on two things Americans hate: soccer and kindness").
The Science Room
We find Science teacher Mr. Sudeikis attempting to teach two kids as part of his Bill-Nye-style science show. The problem is that these two students are too brainless to know the difference between the sun the planet Earth. They keep applauding after every sentence Sudeikis says and refer to a model of the planets exclusively as "balls."
Even their parents are imbeciles. As Sudeikis reaches his breaking point, he brings out the parents to berate them for raising their children wrong. Then, they walk in front of the camera cluelessly.
The teacher-student symbolism was not missed in this skit as Sudeikis was literally the teacher helping the new and upcoming comedians learn.
Mellen
Now that "Ellen" will soon go off the air, the SNL writers have a pitch for a new kind of talk show — one geared toward men. Thus, "Mellen" (Male Ellen) was born. Played by Jason Sudeikis, Mellen was a random guy that legally changed his name to Mellen to be the host of this hypermasculine talk show.
This talk show is complete with segments on golf, hair loss, and punching each audience members in the face. Special guests include Conor McGregor and Jake Paul (who offers to fight the late Muhammed Ali).
Although I don't think this show will ever get off the ground, Sudeikis does make a great spoof talk show host.
Weekend Update
Colin Jost and Michael Che poke fun at Trump's new social network, the Chicago police, and Biden's approval rating hitting the Southern border.
Also, following the FDA's statement saying that you can get booster shots from a different brand than the shot you originally got, clearly, we have now entered "the just winging it phase of the pandemic," according to Jost.
Special guest the Devil (played by Sudeikis) makes an appearance. He discusses all the work he's done over the past few years: climate change, Instagram for kids, but he denounces the notion that he's leading QAnon ("those guys are crazy").
Bostonians will be pleased (or maybe not) to know that he helped the Astros beat the Red Sox Friday night even though they shouldn't have. And why is Tom Brady still doing so well after leaving the Patriots? Because the Devil has Brady's soul trapped — a deal they made to keep Brady playing after the age of 40.
It all makes sense now!
Newsletter Signup
Stay up to date on all the latest news from Boston.com