Entertainment
Jimmy Kimmel mocks Melrose superintendent for decision to 'deemphasize Halloween' in schools
"Maybe I'm being obtuse, but who's being marginalized by a Halloween party? Goblin-Americans?"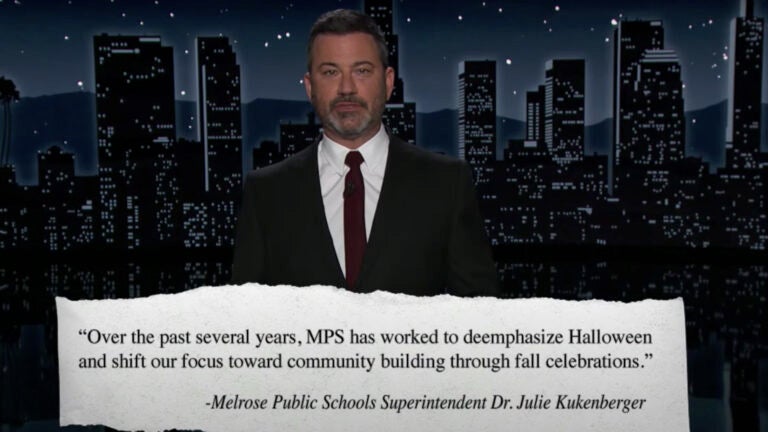 Jimmy Kimmel had some pointed jokes about one Massachusetts town that is skipping Halloween celebrations in its schools this year in order to support its "mission of equity and inclusion."
Melrose Superintendent Julie Kukenberger caused an uproar among town parents earlier this week after sending an email saying that Melrose's elementary schools would "deemphasize Halloween" this year in favor of broader fall-themed celebrations to ensure that "all students and staff feel safe, included, and represented."
Kukenberger's actions drew criticism from some town parents, with a petition started by elementary school parent Carolyn Finocchiaro to "Keep Halloween for our kids" garnering more than 2,800 signatures. Kukenberger's edict also received the attention of Kimmel, who devoted a segment of his monologue to the ongoing controversy.
"I guess that means no Halloween party? I don't know why," Kimmel said, after reading excerpts of Kukenberger's email to the studio audience. "Sounds to me like maybe Julie Kukenberger couldn't think of a fun costume so she ruined it for everyone."
"Maybe I'm being obtuse but who's being marginalized by a Halloween party? Goblin-Americans?" Kimmel later continued. "I don't know. All I know for sure is there are about to be a lot of eggs thrown at the Kukenberger house."
Kimmel then suggested that instead of de-emphasizing Halloween, the district could come up with a new, "non-offensive" name for an "inclusive" holiday at the end of October. Among the suggestions: Squash Hashanah, Draculabor Day, All Snickers Eve, Afterlife Awareness Day, National Gourd Appreciation Day, and Children Dress Slightly Different Than They Normally Do Every Day.
"I know the country is very divided right now, but this I believe may be the kind of thing that unites us," Kimmel said.
The concept of deemphasizing Halloween in Melrose schools first came up at a school committee meeting last last year, the Boston Globe reported, when two members noted that Halloween isn't universally acknowledged due to its pagan origins; several religions do not celebrate Halloween at all, or outright reject it.
Watch the full Kimmel clip below.
Newsletter Signup
Stay up to date on all the latest news from Boston.com