Entertainment
Where to go trick-or-treating in and around Boston
Find out where to hit the street for sweets and haunts on Halloween night.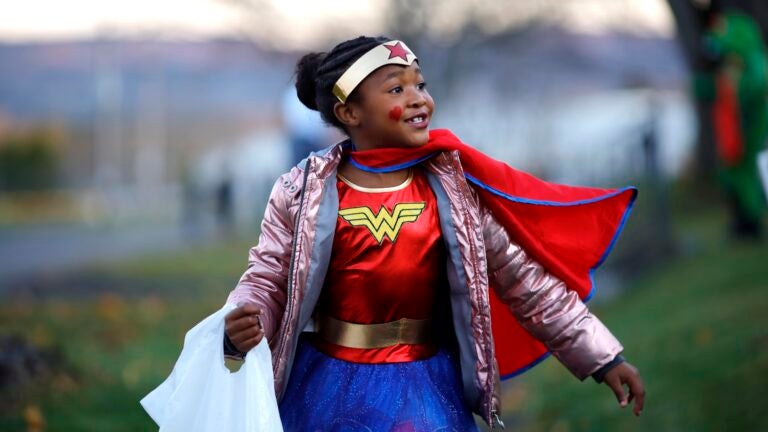 This weekend, many Boston neighborhoods will once again close their streets to car traffic, stock up on candy, and host trick-or-treat events for the first time since 2019.
While not every neighborhood is back to holding its regular Halloween night festivities, here are a few of the goings-on in and around Boston this Sunday evening.
Beacon Hill
This neighborhood is always picturesque in autumn—and residents go all out for Halloween. Streets like Mount Vernon and Pinckney are closed to traffic for trick-or-treating, and residents sit out on their stoops handing out candy to the hundreds of folks who come from all over the city. The old brick houses wear Halloween decorations beautifully as residents pull out all the stops for a sort of unofficial Halloween décor contest.
South End
The rows of brownstones decorated with pumpkin displays in the South End make for a picturesque trick-or-treat location. The neighborhood shuts down Rutland Street to car traffic for a safe, family-friendly evening. This year, the United South End Settlements (USES) hosts a Halloween party on Rutland Street benefitting their food distribution program. On both this Saturday and Sunday, from 6 to 9 p.m., the neighborhood party will include food, games, and a haunted house.
Brookline
Also closed off to cars to accommodate trick-or-treaters is Brookline's Beal Street near Coolidge Corner. The gorgeous homes and Halloween displays are a treat all their own, but there's no shortage of candy, either—even the caretakers at the John F. Kennedy National Historic Site hand out sweets.
Charlestown
Charlestown's Monument Square Halloween Parade returns for its 36th year in 2021. At 5 p.m. on Sunday, residents gather at the Bunker Hill Monument for live performances, a parade, Halloween displays, and more for kids of all ages. Trick-or-treating is also in order down the length of Monument Avenue, which is blocked off to traffic for the night.
Back Bay
Between Berkley and Fairfield streets, Marlborough Street shuts down car traffic to host trick-or-treaters. Residents deck out their houses for the holiday and neighbors mingle, although, notably, the neighborhood will cancel their annual Clarendon Street Playground party for the second Halloween in a row out of an abundance of caution.
Cambridge
Cambridge has a few streets perfect for trick-or-treating. In North Cambridge, Dudley Street residents have hosted Halloween night haunts for years and years— their street might have sound effects, lights, and even fog. Crescent Street over in the Agassiz neighborhood is also typically shut down to cars and lined with jack-o-lanterns and other décor, and all Cambridge fire stations host open houses from 2 to 4 p.m. on Halloween, where kids receive treats and glow sticks.
Safety Tips
The Boston Police Department provided a list of Halloween safety tips for families to keep in mind. The recommendations are listed below:
Parents should establish a curfew and route for children which keeps kids close to home.
Remind kids not to enter any stranger's homes or vehicles.
Remind children to avoid homes without an outside light.
Attach your phone number and address to your children's costume.
Take a flashlight.
Be sure clothing and costumes are bright, reflective, and flame resistant.
Set rules about not eating treats until kids get home.
Once home, all candy should be inspected before it is ingested.
When in doubt, throw it out! Candy that has been opened should be thrown away. Any homemade treats or fruit should be inspected closely.
Never cross the street from between parked cars.
Watch open flames from jack-o-lanterns as they can ignite costumes and long wigs.
If giving out candy, make sure your home is safe and accessible to trick-or-treaters.
Keep a porch light on.
Move jack-o-lanterns off the porch where kids get bunched up if they are trick-or-treating in groups.
Remove objects from your yard that might present a hazard.
If driving, drive slowly all evening. You never know what creature may suddenly appear and cross your path. Slower is always better.
Report any suspicious or criminal activity to the police.
Again, set a curfew. Ideally, trick-or-treating should go no later than 8:30 p.m.
Be sure to abide by all health and safety regulations as outlined by the CDC.
Newsletter Signup
Stay up to date on all the latest news from Boston.com