Entertainment
The best moments from Kieran Culkin's hosting of SNL
The "Succession" star returned to the stage for the first time since 1991, when he was 9.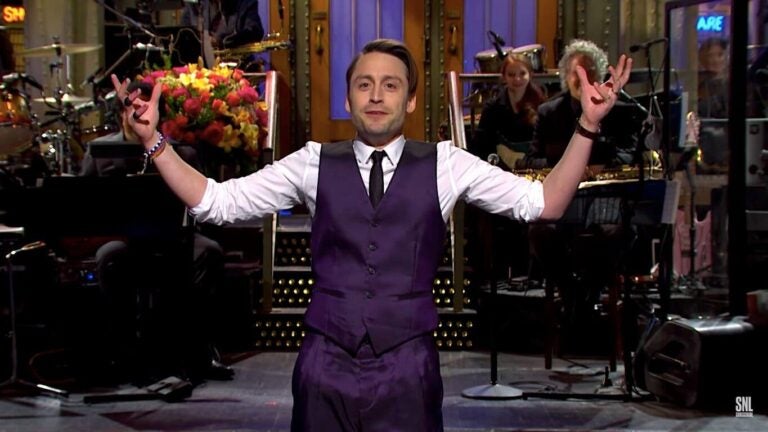 Last night's host of "Saturday Night Live," Kieran Culkin, possibly got the most enthusiastic applause of the season as he walked out for his opening monologue.
The cast member of the Emmy-award winning HBO series "Succession," Culkin is known for his goofball aura and acting chops. He brought those skills to each of his skits last night by creating relatable, realistic, and hilarious characters.
Last night wasn't Culkin's first appearance on the show. He made his debut almost 30 years ago to the day at the age of nine, when his brother Macaulay Culkin hosted in 1991. But it was his first time taking the reins as the show's host.
The episode featured a handful of superstar cameo appearances, including the musical guest Ed Sheeran — one of the biggest music stars right now — getting to show his face in a few skits.
Here are the best moments and highlights from last night's episode of "Saturday Night Live."
Cold Open
Cecily Strong, as Judge Jeanine Pirro, made the perfect Fox News host. The first guest was Aaron Rodgers, played by Pete Davidson, who's made headlines recently for lying to the NFL about his vaccination status.
Judge Jeanine praised him for not getting the shot. As Rodgers said, "At the end of the day, my record is still 7-1. Meaning of the eight people I've infected, seven are fine."
Virginia governor-elect Glenn Youngkin also made an appearance to discuss his win that turned the state back to red. He brought on a concerned parent to list all the books that should be banned from schools: "Holes" (sounds too sexual), "Pride and Prejudice" (prejudice is fine, but pride is a term that has been coopted by 'the gays') and "Invisible Man" (who may or may not be monitoring your Google searches).
Finally, Donald Trump finally returned to the SNL stage for the first time this season. Ironically, played by the same man who impersonates Joe Biden — James Austin Johnson.
It's tough to tell who Johnson does a better impression of — he nails every little quirk and mannerisms of his subjects, totally embodying the characters.
Within just a couple of episodes on the show, Johnson has proven he deserves to take on these iconic political caricatures.
Opening Monologue
The crowd clearly loves Culkin, who plays "one of the nicer characters" on "Succession." He assured the audience and his wife that his previous SNL experience means he isn't going to mess up and "shame the family."
He showed a clip of the goodnights from his 1991 debut, in which he asks Kevin Nealon to pick him up — and he does. But unfortunately, despite Culkin's wishes, no one from last night's cast picked up him again.
Dionne Warwick Talk Show
Singer Dionne Warwick hosts her own talk show, complete with popular musical guests, random singing performances, and self-centered compliments. Warwick, played by Ego Nwodim, welcomes actors playing Miley Cyrus, Jason Mraz, Post Malone, and the real Ed Sheeran (who looked incredibly comfortable on stage despite having no acting experience). She asks the artists questions about other artists — asking Miley Cyrus if Doja Cat is a musician or a Pokémon, and why Cardi B needs the "B."
However, she did ask Jason Mraz, played by Culkin, why he always wears fedoras, "If I took it off would I see your brain?"
The skit included a surprise appearance from the real Dionne Warwick, "I'm so excited for you that I'm here." Warwick finally got to interview an "icon" equivalent to herself, and the real Warwick, at age 80, sang a quick duet with Nwodim to ride out the end of the skit.
Cancelling Cable
Canceling your cable service might be the hardest task in today's world. Even with technological advances like 5G internet, it still takes all day just to get connected with the right department — perhaps, like in this skit, a department that doesn't exist.
We find Culkin, a simple man who just wants to cancel his Spectrum cable service. He goes through service member after service member, holding message to holding message ("Your call is important to us, and will be answered in the order that we feel like.") But before he can cancel, he unsuccessfully declines a new landline, and ends up with a cable guy in his house to set it up.
Culkin gets angrier and angrier, losing patience with each unattainable task that the Spectrum workers ask of him. One asks, "Can you tell me the 42-digit customer that came on your first bill" — the one he got six years ago.
Finally, Culkin gets transferred to Dominos, and eventually to the floating disembodied head made of pure data that controls all things — who then bestows upon him a landline.
Men's Room
All men understand the unusual atmosphere of the men's bathroom at work, and SNL takes that awkwardness to the extreme. No one is themselves when they're talking in the bathroom — and you have to say something to elevate the discomfort.
"In the men's room my voice gets loud and I shout things like, 'Football is crazy!'" Chris Redd opines.
The only one that's comfortable is Alex Moffat, who supposedly killed a man back in 2012 and got away with it. The bathroom is the only time he forgets who he is and what he's done.
But ultimately, it all comes crashing down when Tracy Morgan exists the stall and recognizes him as the man that killed his brother
Newsletter Signup
Stay up to date on all the latest news from Boston.com