Entertainment
Highlights from Jonathan Majors' turn as host of SNL
The actor, best known for his dramatic work, showed an affinity for comedy.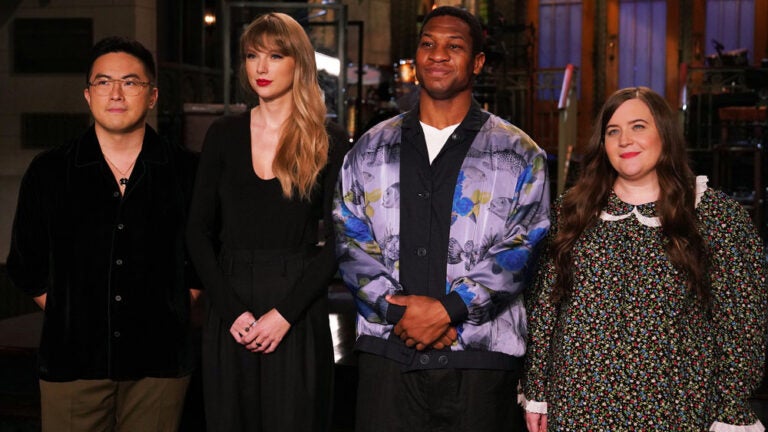 We got a sneak peek at Jonathan Majors' lighthearted side last night before he officially joins the coveted Marvel cinematic universe in "Ant-Man and the Wasp: Quantumania."
Majors is best known for his dramatic work — he's played roles in "The Last Black Man in San Francisco," "Lovecraft Country" and, most recently, "The Harder They Fall."
Last night, Majors took the SNL stage for the first time, but he seemed like a seasoned regular with his confident and charismatic approach to his silly characters. He seemed to relax and not take himself too seriously.
Here are the best moments from last night's episode of "Saturday Night Live."
Cold Open
To start, we find ourselves on "Cruz Street," a conservative alternative to "Sesame Street" — which has apparently been compromised by the woke left, teaching leftist ideals like "numbers and kindness."
Aidy Bryant's version of Texas Sen. Ted Cruz is a classic when it comes to SNL political figures. She's surely nailed each nuance. Guest appearances included Marjorie Taylor Green with an AR-15 and podcaster Joe Rogan as the show's medical expert. Plus, Big Bird voices his opinion on why you shouldn't get the vaccine, and Proud Boys members Bert and Ernie announce their engagement.
Untimely, the "kids" invited on set — one who admits she's actually 30 — realized that this new show isn't exactly a true alternative to "Sesame Street" and it's all full of loonies.
Opening Monologue
Majors delivered his first opening monologue with ease, tapping into his personability to gain the crowd's praises. He used self-deprecating comedy — "If you ever want to feel bad about how you look, definitely spend two months standing right next to Idris Elba" — to relate to the audience.
He's likable and charismatic, so he drew cheers with his subtle flex that he graduated from Yale. Despite his impressive resume, he carried his "just-a-normal-guy" sentiment throughout his monologue, talking about how unbelievable and "impossible" it was that he got chosen to be on SNL.
He went from living in his car and working at Red Lobster to appearing on the SNL stage — so he truly represents the "everyman" making it to the pinnacle of pop culture and entertainment.
Audacity in Advertising Awards
The executives in marketing offices across the country have learned how to tug on our heartstrings, and the SNL writers want to congratulate them for how little that sometimes makes sense. Thus, they're giving out awards in categories like "Most Outrageous Use of Sign Language" and "Don't You Make Landmines?"
The nominees for the category "You're Using What to Sell What?" included a fencing ad titled "Children Hold Hands Over Border Wall" as well as a cheese ad titled "Two Undocumented Lesbians Getting Prison Married." In the end, it was BP's ad that took home the award for their commercial, "Dolphin Covered in Oil, Thrashes in Pain, Kind Fisherman Comes and Wipes It Off."
Hosted by everyone's favorite advertisement icons Flo from Progressive and Jake from State Farm (played by Majors), other presenters included Limu Emu and Doug from Liberty Mutual, who announced the winner for the "Most Egregious Ad of the Year" — an Amazon ad featuring an aspiring firefighter who attends online firefighter school thanks to her job as an Amazon driver (the tagline: "Amazon, God Bless Us").
Man Park
Ladies, are you tired of your husband or boyfriend waiting for you to get home so they can talk about stupid things that you don't care about? Don't worry because the SNL writers have a solution — the Man Park. "It's like a dog park, but for guys in relationships."
"When I walk in the door, my husband sort of rockets information at me for 25 minutes," said one wife.
Finally, they have someone to talk to about unimportant topics that only other men care about, like "Vin Diesel has a twin brother" and repeating things like "Rise and Grind" and "Marvel."
"It's not their fault masculinity makes intimacy hard," so they need a space to slap each other on the back and day drink.
Broadway Benefit
Aidy Bryant's character used to come to this specific Broadway revue every holiday season when she was younger, so she brought her husband and daughter to the first showing following Broadway's closing during the pandemic. However, Bryant's daughter is the only child in the audience, because this show is certainly not for kids.
Full of profanity and topics like sex and theft, the show includes musical numbers like, "Everybody Today is Doing Drugs."
A strange show? Absolutely. But Majors got to show off his dancing skills and vocal chops, singing beautiful harmonies. And it was hilarious.
Newsletter Signup
Stay up to date on all the latest news from Boston.com