Entertainment
Highlights from Simu Liu's stint as host of SNL
The "Shang-Chi and the Legend of the Ten Rings" star packed a wallop.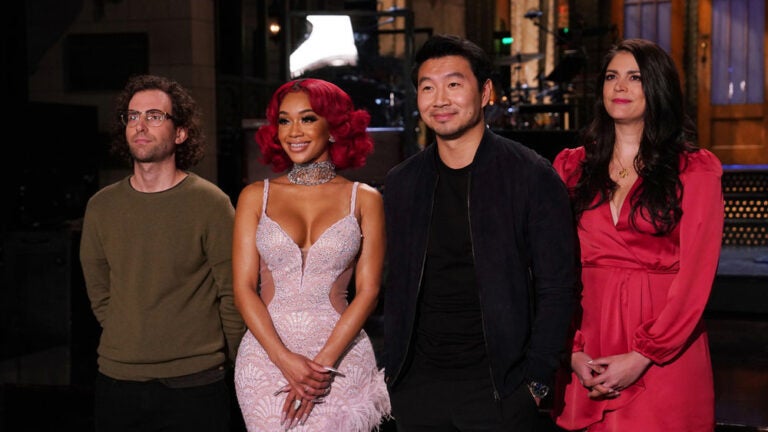 Another member of the Marvel cinematic universe stopped by NBC to host an episode of "Saturday Night Live" — Simu Liu.
The Canadian actor gained widespread popularity earlier this year after starring in "Shang-Chi and the Legend of the Ten Rings."
Liu made headlines when he became the first Asian Marvel superhero. Although the actor and stuntman didn't pull out any impressive flips during his opening monologue, his acting throughout the episode definitely packed a punch.
Saturday's show featured several timely Thanksgiving-themed skits, ranging from a Target ad helping us handle our bizarre dinner guests to a reminder not to call the police after the Friends-giving joint circle, even if you think you're dead.
Here are the best and funniest moments from last night's episode of "Saturday Night Live."
Cold Open
Fox News host Judge Jeanine Pirro, played by Cecily Strong, made her Cold Open return, and was louder than ever. ("If anyone watching is wearing a hearing aid, sorry, you're dead now.") The main topic on her show was Kyle Rittenhouse, whose not-guilty murder trial verdict rocked the country on Friday.
Pirro got to interview another judge — Rittenhouse's. Judge Bruce Schroeder assured viewers that his "client" didn't have an unfair advantage after he ruled the prosecution couldn't refer to those who were hurt or killed as "victims" and that "they weren't shot, they were 'ba-doinked.'"
As follow-up guests, two liberals joined Pirro, Sandra Cummings from NPR and Samuel Fields from Howard University who reminded us that this verdict was entirely predictable.
"I've never seen anything like it before," one said.
"I have. Many, many times," said the other.
Opening Monologue
Liu gave us some insight into the differences between Thanksgiving in Canada and America.
"In Canada, Thanksgiving is actually in October and marks the start of the harvest season. Here in America, things are a little different. It's in November and it marks the start of Black Friday weekend on Amazon Prime."
His Canadian politeness also helped him land the role of Shang-Chi — he asked Marvel for the role in a friendly tweet back in 2014. Turns out, that worked.
Shang-Chi wasn't Liu's first time in a superhero costume. He got his start dressing up as Spiderman for kids' birthday parties. Now, he no longer has to impersonate other iconic superheroes, since he plays one himself.
Simu & Bowen
Liu was the first Chinese Marvel superhero, and the fourth Chinese host on SNL. Similarly, Bowen Yang became the first fully Asian cast member of SNL. And the writers didn't waste time making fun of these arbitrary milestones.
It was the battle of the "firsts." Simu won the award for "First man to move from Canada to America named Simu," and Bowen won the exact same award for people named Bowen. Bowen won the award for "First gay Asian cast member to mispronounce 'Boutique'" and Simu won for "First Asian to Pick 2 at Panera."
Ultimately, Bowen will always win the battle of the firsts, because he will always be gay, giving him one last extra leg to stand on over Simu. While Simu won the award for "First Asian to deadpan on Splash Mountain" Bowen won for "First gay Asian to deadpan on Splash Mountain."
Thanksgiving Baking Championship
"Cake Wars" meets Thanksgiving meets SNL. Who of the four amateur bakers baked the best Thanksgiving cake? Not Liu's character.
He tried to go all out by making two cakes — one of a pilgrim and one of a turkey. In the end, they both turned out to be blobs of dough half-covered in frosting — ones that started screaming.
"I think my cake is so bad I opened a portal to hell," his character theorizes at one point.
The judges couldn't be bothered by the Heidi Gardner character's creation, which was the only one that actually resembled a real cake. But to her dismay, Liu's pilgrim concoction started throwing up on her, turning from a Thanksgiving special into a Halloween horror show.
Other cakes included the Melissa Villaseñor character's failed recreation of her daughter in her ballet recital and a giant penis masquerading as a spaceship. Ultimately, the viewers never found out who won.
New Military Weapon
SNL got a new cast member last night — someone's pet golden retriever. A dog's head on top of a human body is the military's new weapon system — paid for by $500 million of taxpayer money.
Liu presented his newest creation, which proved to have better skills than any typical human soldier. Dog-head man built an assault rifle in 11 seconds and has the hand-to-hand combat skills of a trained assassin. If the enemy saw the head of a dog running at them with a knife gripped in its human hands, they would certainly surrender on sight.
Whoever trained their pet golden retriever to sit on top of someone's body for a full five minutes deserves a medal of honor. She even got to enjoy a sandwich, leading almost everyone in the skit to lose their cool.
Cecily Strong and Mikey Day couldn't contain their laughter after watching a dog gobble up an entire sandwich while sitting on top of someone's shoulder. Miraculously, Liu was able to keep composure.
Newsletter Signup
Stay up to date on all the latest news from Boston.com