Entertainment
Highlights from Billie Eilish's turn as host on 'Saturday Night Live'
Eilish did double duty as host and musical guest.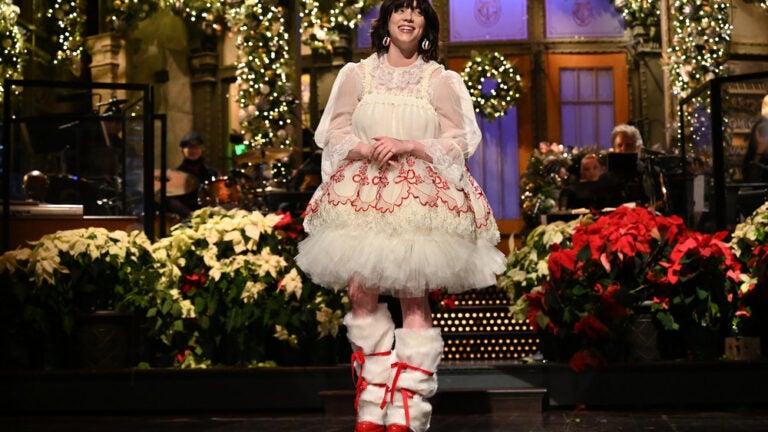 Billie Eilish tried her hand at acting when she hosted last night's episode of "Saturday Night Live." Doubling as the musical guest for the evening, she giggled her way through each of her skits, but her charming and lovable personality made it work for her.
She will soon celebrate her 20th birthday, making her the youngest host so far this season.
The episode was entirely Christmas-themed, with skits ranging from COVID-19's holiday dinner table to Christmas cards that come to life.
Here are the highlights from last night's episode.
Cold Open
Kate McKinnon is back, people. And so is Dr. Anthony Fauci to warn Americans about the omicron variant, which could be vaccine resistant "like 40% of Americans."
Played by McKinnon, who received large applause from the crowd as she shouted "I'm back!" in Fauci's voice, Fauci ran through various scenarios to demonstrate that it's all right to use omicron as an excuse to bail on holiday plans.
Aidy Bryant's Ted Cruz made a guest appearance at the press conference, along with Chris (Andrew Dismukes) and Andrew Cuomo (Pete Davidson). Marjorie Taylor Greene (played by Cecily Strong), appears to warn us against getting the vaccine that saved people's lives. "If that's not communism, then honey, I might not know what communism is," she said.
Monologue
Dressed in a frilly white and red, Christmas-tree-shaped dress, which she described as "Mrs. Claus going to the club," Eilish acknowledged that she's not just known for her music, but also for her fashion sense.
Eilish seemed out of her element as she took the SNL stage for the first time as a host.
The singer-songwriter hails from a family of actors, including her mom and brother Finneas. Eilish noted that acting never seemed like it would be in the cards for her.
"Somebody wise once told me, 'Billie you should never, ever act.' And that person was my mom," Eilish joked.
Stumbling over her words and struggling to keep her composure, it foreshadowed a night of silly antics between Eilish and the rest of the cast.
Hotel Ad
As the holiday season creeps closer, commercials might become more saturated with advertisements for hotels — possibly one like this commercial. Eilish and McKinnon play the desk ladies, and they try to entice us to stay at their exceedingly average "luxurious" hotel.
Some amenities include Band-Aid-colored blankets, a chair for your suitcase, a phone that blinks, and soap wrapped in plastic. Not to mention continental breakfast complete with wet eggs and "DIY waffles."
"It's the location that'll make your Uber driver say, 'You sure?'" said McKinnon
McKinnon and Eilish's on-screen chemistry was perfect, and you could tell when something funny was approaching on the cue cards because Eilish would stop and laugh just before the punch lines, making it somehow land even harder.
Santa Song
Finally, a role that suits Eilish — a holiday jazz singer. She, with backup vocals from McKinnon and Ego Nwodim, sings about the time she accidentally met Santa Claus, and how badly she messed it up.
"I made it weird with Santa."
"The Santa? Like from the Bible?" Nwodim asks.
The first thing Eilish said to Santa when he slid down her chimney was, "Hey sexy mama, nice teeth." He quickly exited through the front door — to get out of there as fast as possible.
Nwodim and McKinnon have their own strange Santa stories to share. McKinnon ran into Santa at the mall, where she asked him why he and his wife don't have kids, "Is that a conscious choice?"
The song continues with recounting a few more awkward moments with Santa, followed by an appearance of the Jolly Old Elf himself, played by Kenan Thompson. Santa notes he's a little weird too.
Hip-Hop Nativity
This year's nativity play looks a little different. Instead of the old, overdone, and boring nativity play you usually see, this production is an all-out "hip-hop" extravaganza.
Complete with rap music playing in the background, two Christmas pageant directors played by Eilish and Heidi Gardner teach the nativity play's Joseph (Kyle Mooney) to enter with a pimp walk. The donkeys (Chris Redd, Bowen Yang, and Sarah Sherman) learn to booty pop. Baby Jesus (Andrew Dismukes) twerks and Mary (Chloe Fineman) dances on a candy-cane-stripper-pole.
It's such a hit, Lin-Manuel Miranda offers to direct the film version.
Newsletter Signup
Stay up to date on all the latest news from Boston.com