Entertainment
Ben Affleck used 'Good Will Hunting' to show his kids what growing up in Boston was like
"You see? I'm not the only person who swears this much. There's a whole city full of people who talk like this."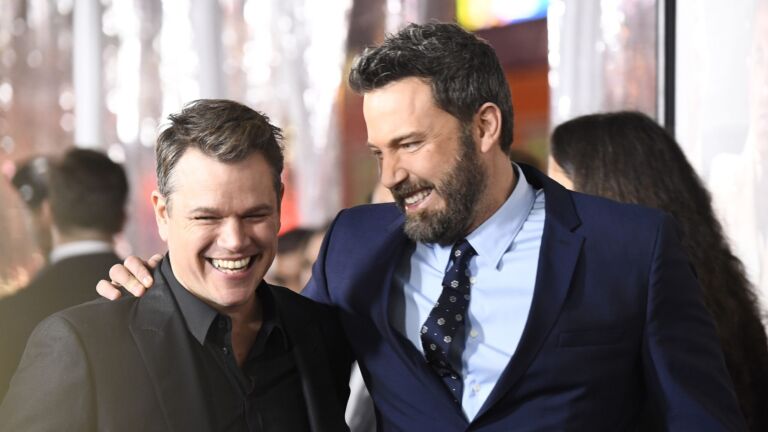 Ben Affleck has been on the defensive after comments he made about ex-wife Jennifer Garner during an interview with Howard Stern. So for his latest Q&A, the Cambridge native sat down with someone he trusts: Matt Damon.
In a cover story for Entertainment Weekly which coincides with the Amazon Prime release of his latest film, "The Tender Bar," Affleck discussed a wide range of topics with his lifelong friend, including how Damon helped him through some of the darkest periods of his life, why the response to notorious 2003 bomb "Gigli" left him questioning his career, and how showing "Good Will Hunting" to his kids helped Affleck prove that there's a "whole world of crazy people" like him in the Bay State.
In the interview (and accompanying video), Affleck discussed how his children tend to appreciate watching his movies more when they can laugh at him, like 1998's "Armageddon." When it came time to show them "Good Will Hunting," Affleck claimed that his kids' takeaway was the realization that 3,000 miles away from their L.A. bubble, there is a city where people sound like their dad.
"They liked 'Good Will Hunting,'" Affleck said. "I was like, 'You see? I'm not the only person who swears this much. There's a whole city full of people who talk like this. You don't know this, because you live in Los Angeles where people behave like civilized human beings and don't end up in fistfights over minor issues and constantly swear. But that is actually how we did things when I grew up.'"
"I think that helped them be like, 'Oh our dad's not totally crazy,'" Affleck continued. "There's a whole world of other crazy people that do these things."
Elsewhere in the interview, Damon and Affleck did a career retrospective of sorts, reminiscing about early works like filming 1992's "School Ties" next to a dump in Lowell and thinking they were "kings" and walking the streets of Boston with Robin Williams while filming "Good Will Hunting."
The pair saved their deepest dive for "Gigli," the critical and box office bomb starring Affleck and Jennifer Lopez. While Affleck acknowledged that the film "didn't work," he contended that much of the response to the film was a backlash to the oversaturated coverage of his and Lopez's romance, dubbed "Bennifer."
According to Affleck, studio executives who observed the phenomenon ordered "Gigli" director Martin Brest to reassemble the cast for five weeks of reshoots that played up the romance between Affleck and Lopez's characters, a move that Affleck called a "bad idea."
"It became a story in and of itself. The funny name, the Jennifer Lopez romance and overexposure of that, it was kind of a perfect storm," Affleck said. "And I remember talking to [Brest] the Friday it came out, and I was like it's just spectacular, it's a tsunami, it couldn't be worse. This is as bad as it gets."
According to Damon, Affleck told him shortly after "Gigli" came out that he was "in the worst possible place you can be: I can sell magazines, but not movie tickets." It was at this point that Affleck began to "question things" and "have a lot of self-doubt" about his career path.
Luckily, Affleck said, he knew that as bad as things got — whether it was post-"Gigli" or during the filming of "Justice League" when his personal life began to fall apart — Damon would have his back.
"This friendship has been essential and defining and so important to me in my life," Affleck told Damon. "There were a few critical times, which are private and I don't want to share, but where your support was so profoundly meaningful to me that I don't think I would've been able to be successful without it. So let me take this opportunity to thank you."
Newsletter Signup
Stay up to date on all the latest news from Boston.com