Entertainment
Watch: Best moments from Will Forte's return to the SNL stage
"The Last Man on Earth" star hosted his first episode.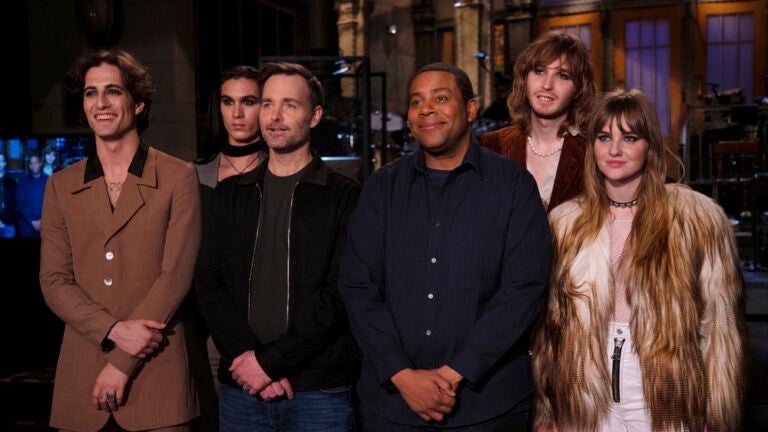 Back with another full audience, Will Forte took the stage for his first time hosting "Saturday Night Live." After Paul Rudd and the rest of the cast performed in an empty studio due to rapidly rising COVID-19 cases, last night's episode boasted a large crowd for the second weekend in a row — hopefully, a sign that the show can continue during the omicron surge.
While some hosts this season — like Billie Eilish and Kim Kardashian — had little to no acting experience going into their performance, Forte was an SNL veteran, but not as a host. Like other earlier hosts, namely Jason Sudeikis, Forte launched his acting career as an SNL cast member. He's gone on to star in shows like "The Last Man on Earth."
The producers and writers let the show veteran do what he does best, allowing him to play silly roles with wacky voices and costumes. You could tell he felt at home alongside the current cast members.
Here are the best moments from Forte's episode of SNL.
Cold Open
Kate McKinnon, whose regularly rowdy praise from the crowd is only matched by SNL icon Pete Davidson, is back as Laura Ingraham. Now that the first year of Biden's presidency is over, she takes this opportunity to point out his mistakes, mainly that all of his initiatives have failed to move through Congress.
In general, she warns that Biden is going to "take away everything that makes you American" like guns, and backup guns. Ted Cruz, played by Aidy Bryant, makes a guest appearance, complete with the iconic beard that's "shocking at first, but sadly has been normalized."
He also warns his constituents in Texas that winter is coming, and to start planning vacations to Cancun like he did last year to avoid the cold.
Novak Djokovic, played by Davidson, comes on air to discuss his controversy in Australia regarding his visa. He explains the situation while Ingraham "stares into the camera like it's a raw piece of steak."
In honor of Marting Luther King Day, Candice Owens, played by Ego Nwodim, comes on air to quote "the only words that Martin Luther King ever said: 'I have a dream.' That's it." But she continues to fight for African Americans "no matter how many times they ask me to stop."
Opening Monologue
Will Forte made his hosting debut last night. Despite his eight-year career as a cast member that ended in 2010, he hasn't been asked to return as a host until last night. He watched as Kristen Wiig, Sudeikis, Fred Armisen, and other former cast members hosted over and over again. But finally, "they saved the best for last."
They really leaned into the joke that the producers don't want him to host. Wiig, and even next week's host Willem Dafoe, came on to take his place. But Forte stood his ground. The nearly six-minute-long monologue consisted of the same joke sung in different tunes, and it felt as though the bit dragged on for a bit too long.
Kid Klash
Think "Legends of the Hidden Temple," "Slime Time Live" and, more recently, "The Floor is Lava." The classic kids' competition game show that puts kids through crazy and often dirty scenarios on live television.
Forte plays the TV show's host — the outlandish, eccentric kids show host that can't be trusted. He watches as Aidy Bryant's character struggles to find a tiny white flag in a pool of whipped cream.
Bryant swims through the giant tub of white sludge and isn't allowed to leave until she finds the flag. If it were me, I'd be worried I would drown in there. She seemed to genuinely struggle through it, which made the skit even more hilarious and realistic. Bryant quickly found out that these kids' game shows may be harder than they look
Jackie & Clancy
The dynamic country duo of Clancy T. Bachleratt and Jackie Snad, played by Forte and Kristen Wiig, is promoting their new album. It's complete with the classic country music stereotypes as they sing exclusively about toddlers, aliens, beer, and the Model-T car.
Country music is all the same (or so it seems to non-country fans) but this album took a whole new spin on that cliché. The duo clearly practiced their songs, singing in perfect unison about "the spaceship parked in your yard, next to the Model-T car and some beer in a jar."
The long-standing chemistry between the two showed through, and you could tell they had fun with this skit, which made it even more fun for the audience to watch.
MacGruber: Coronavirus
What if MacGruber took place in 2022 amidst a major wave of the pandemic?
Forte reprises his role as MacGruber, the cooky action movie star that isn't very good at being an action movie star. What started as a spoof of the action franchise "MacGyver" when Forte was on the show, has seen a spinoff movie and television series.
MacGruber is your typical anti-masker, anti-vaxxer, who doesn't want "a microchip in my scrotum." With 60 seconds left before the bomb blows, he and his sidekicks Vicki (Kristen Wiig) and Piper (Ryan Phillippe), are locked in the control room of the Federal Reserve building trying to defuse the bomb before it blows.
MacGruber wastes those 60 seconds. Despite being in a small, enclosed room with no air movement, he burns their masks and starts a debate over whether or not they should get vaccinated. As time goes on and they're faced with more bombs to defuse, MacGruber descends into conspiracy chaos, eventually becoming one of the Jan. 6 rioters who infiltrated the Capitol Building, dressed in a furry shaman's hat, shirtless with face paint streaked across his face.
Newsletter Signup
Stay up to date on all the latest news from Boston.com