Entertainment
Boston Calling 2022 recap: Live updates from the festival
All of the best photos, videos, and stories from 3 days at Boston's biggest music festival.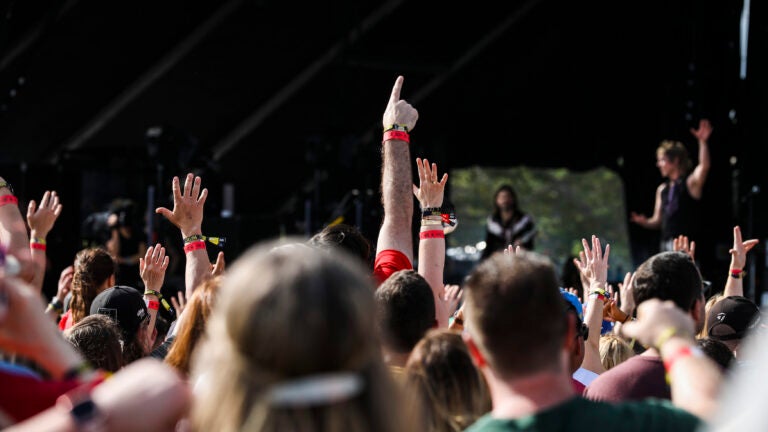 After a three-year wait, concert-goers headed back to the Harvard Athletic Complex for Boston Calling 2022 this weekend. More than 50 artists performed at the three-day festival, including headliners Metallica and Nine Inch Nails.
Boston.com staff were on-site all weekend, providing the latest news from the festival. Below, read updates on the performances, the food, the fashion, and everything else that happened over the last three days.
See Photos from Day 3 of Boston Calling 2022
8:10 a.m., Monday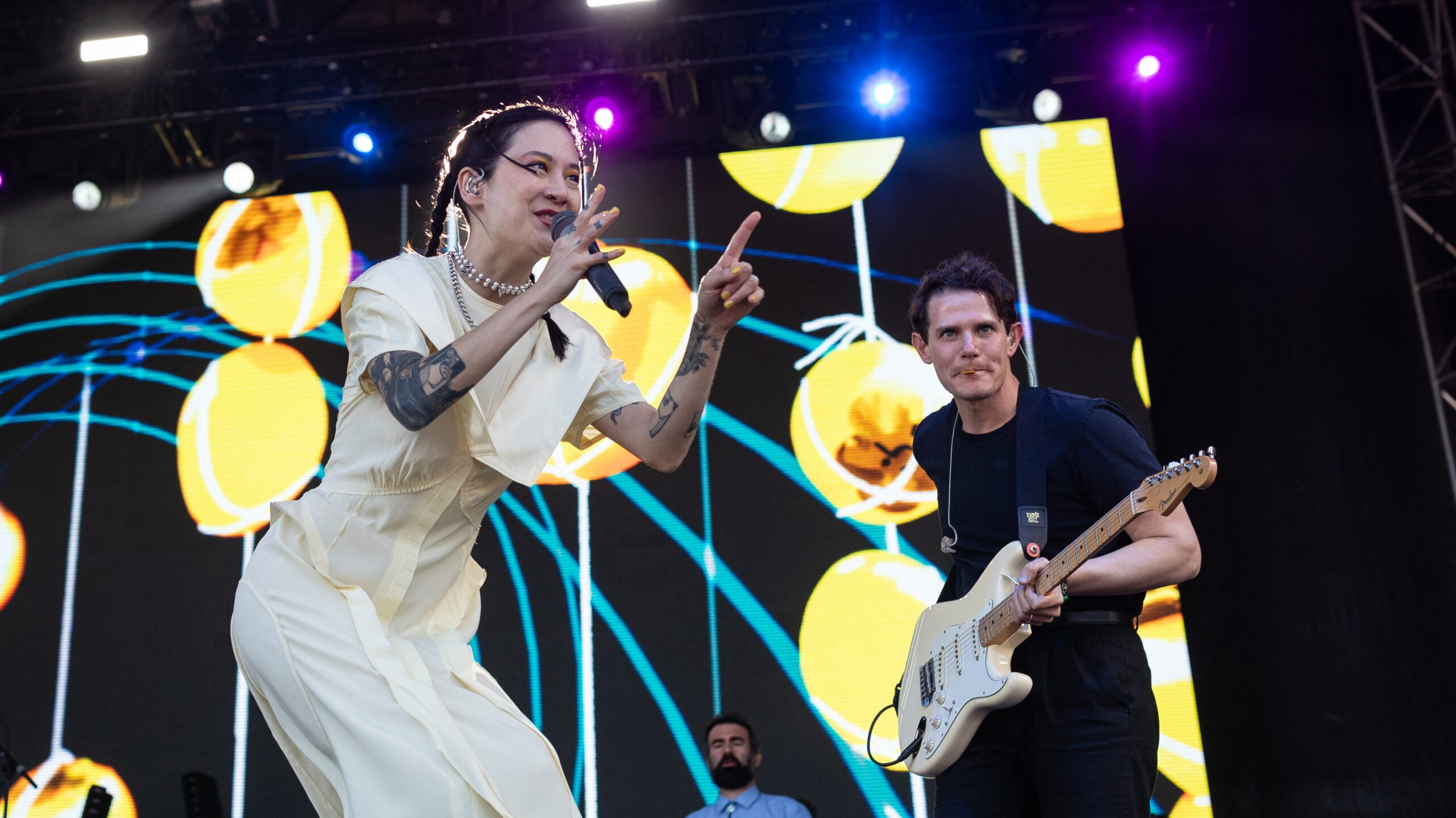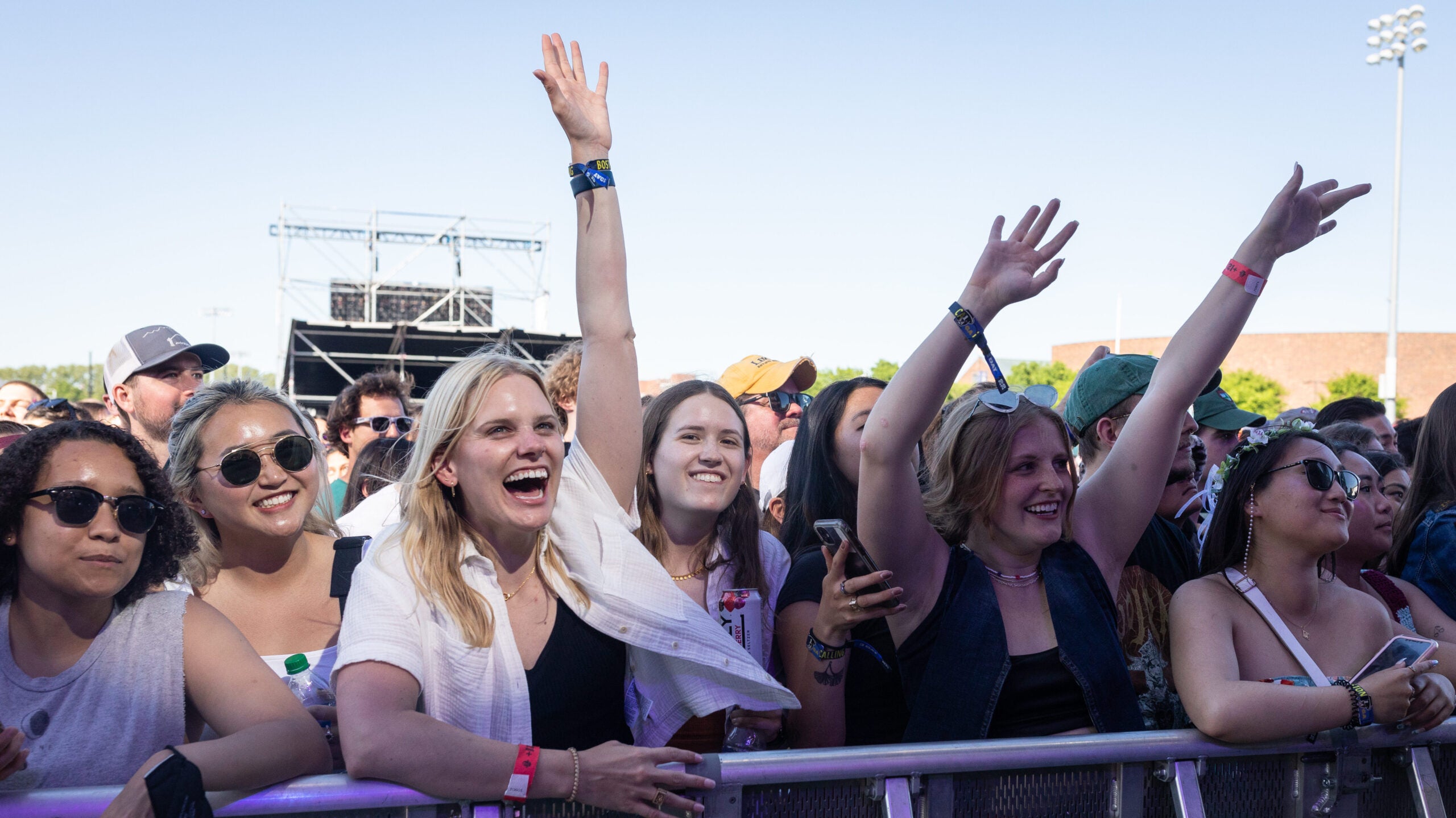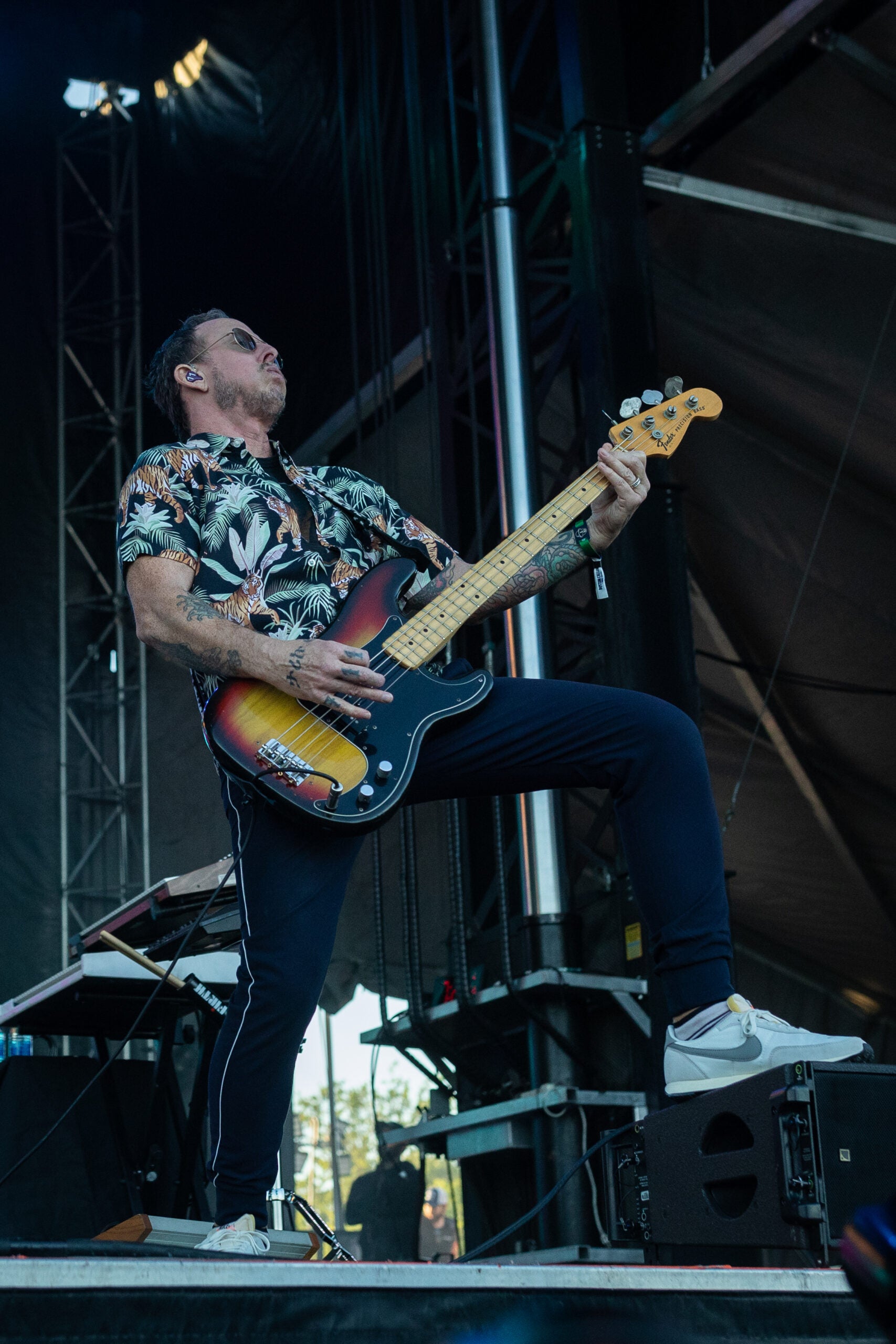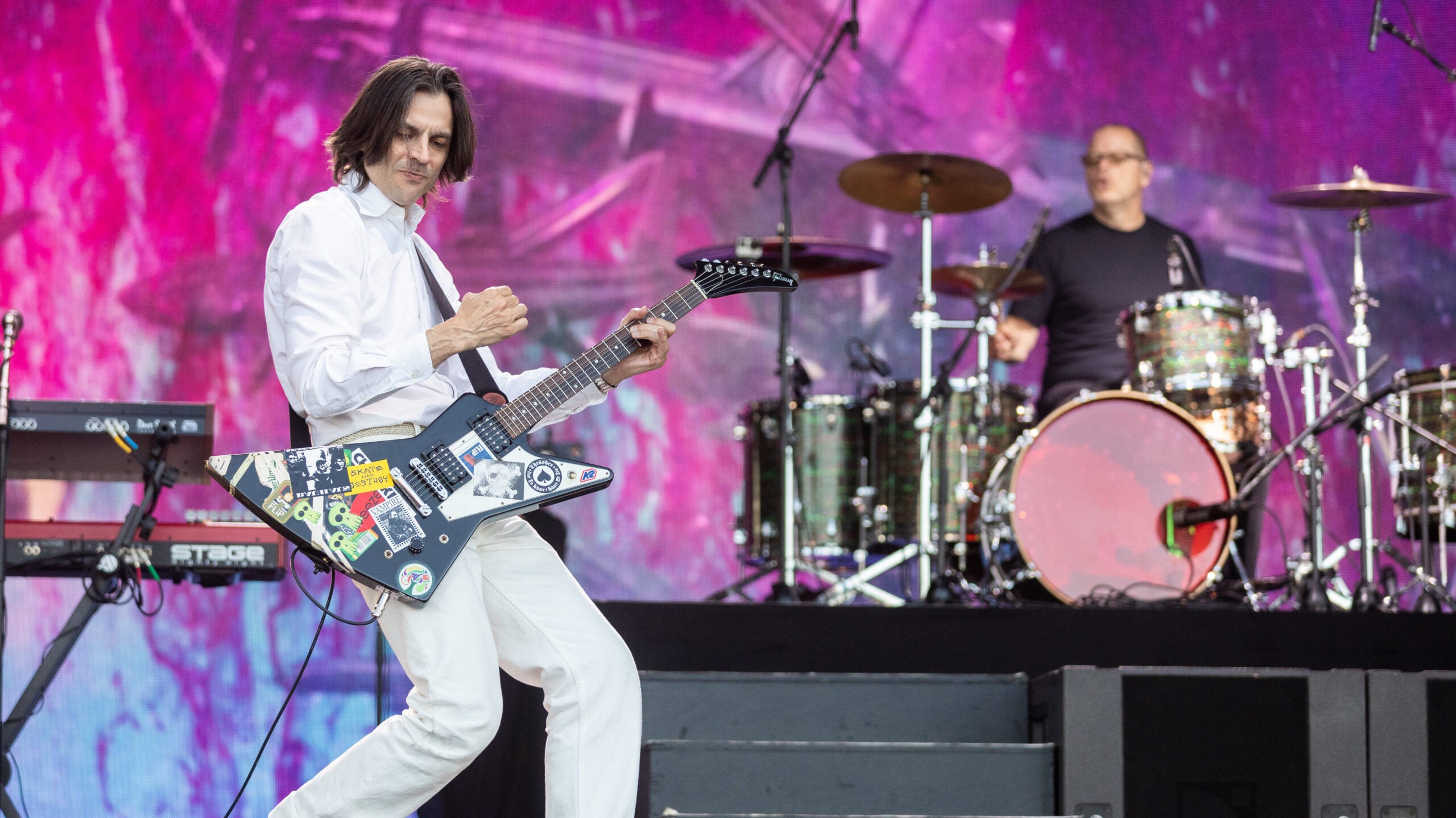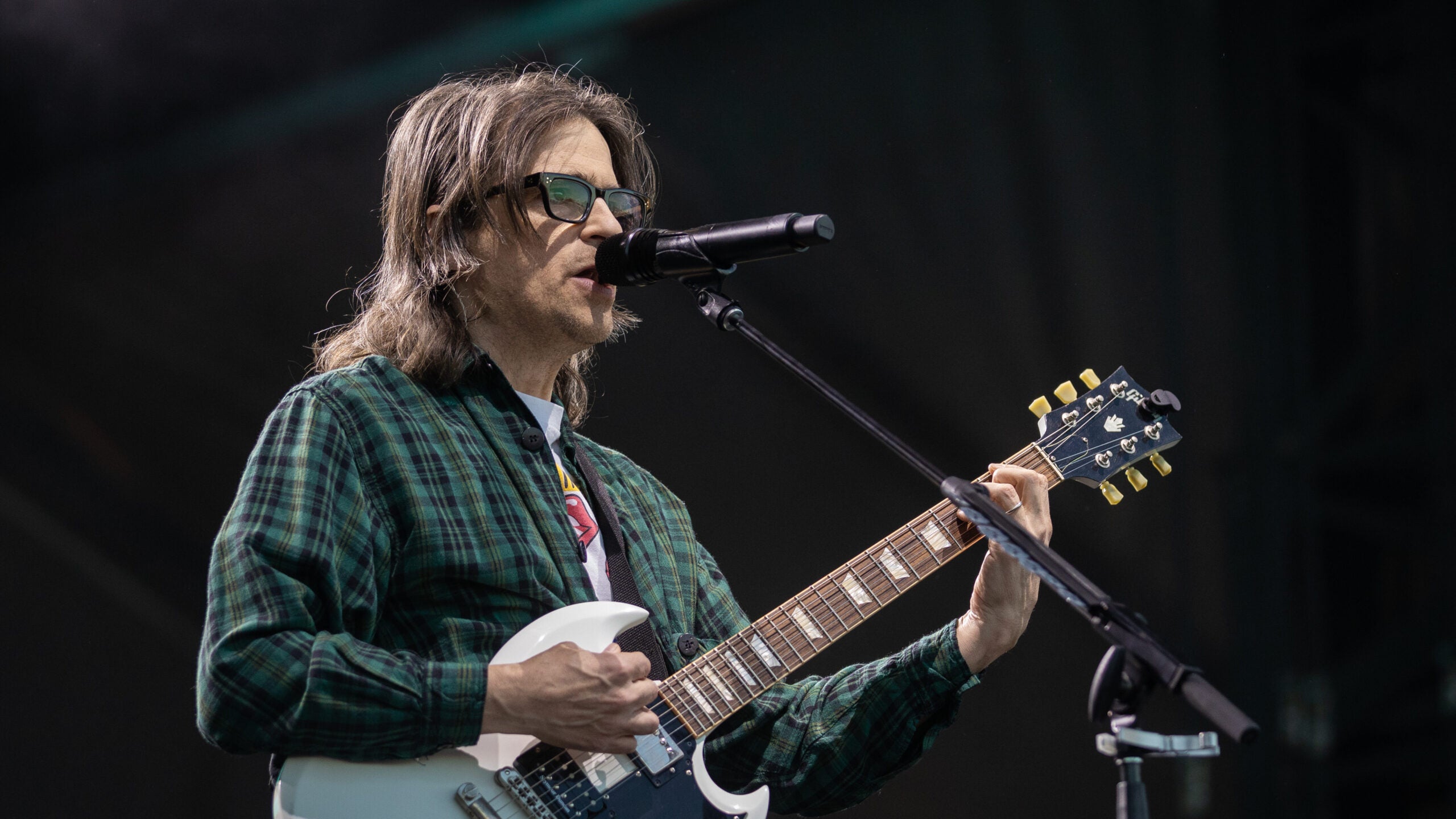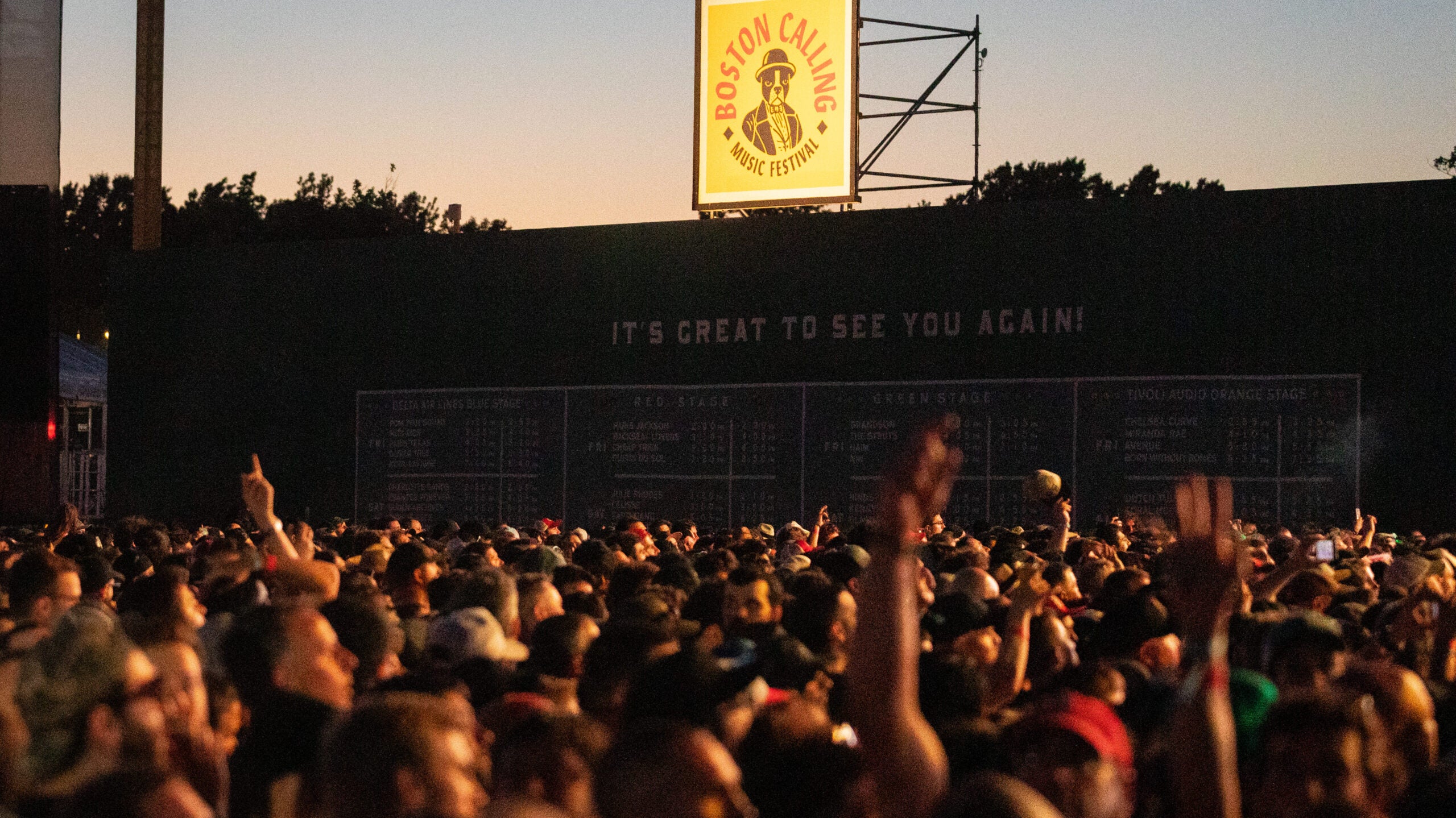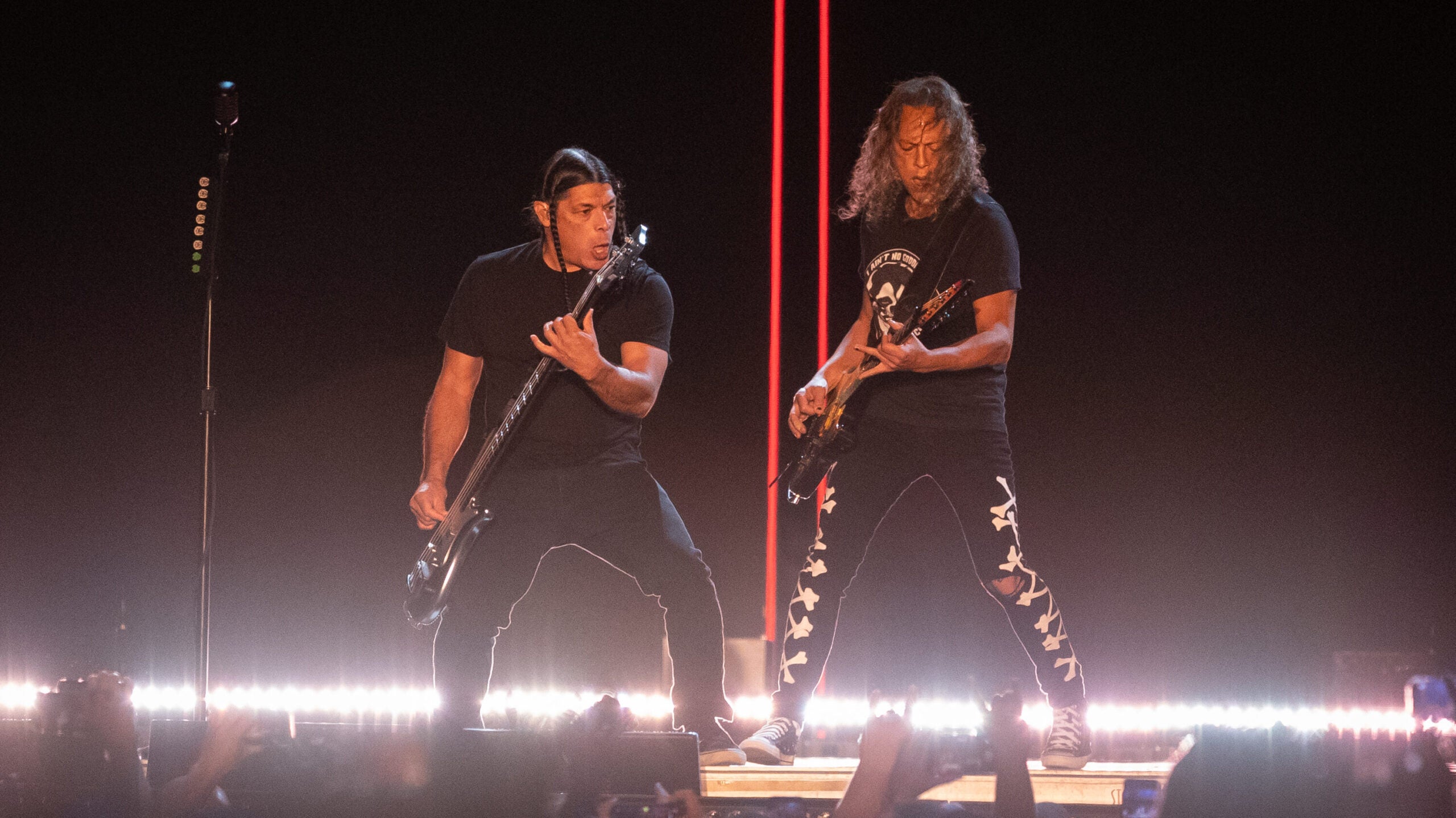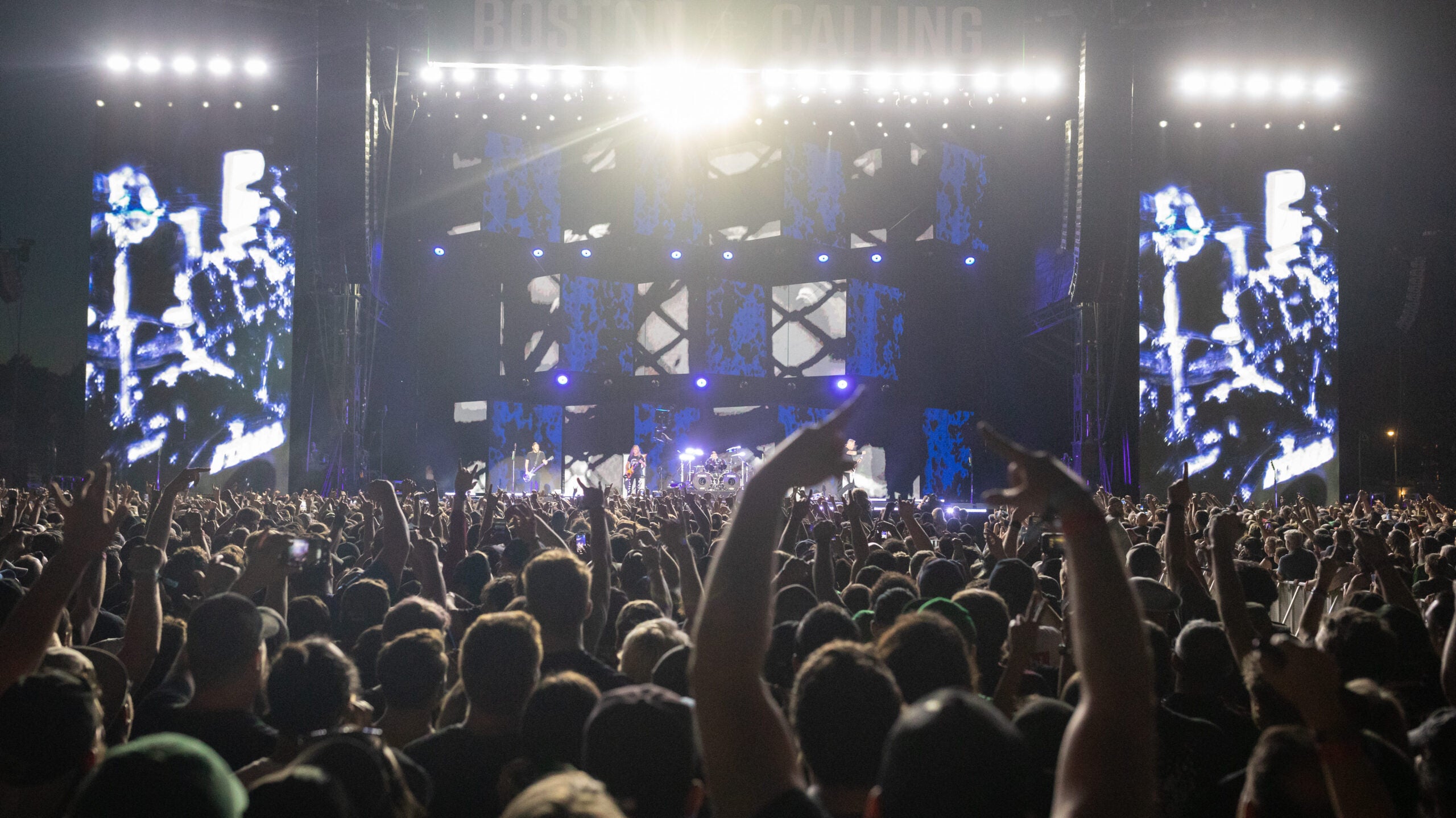 Metallica cap off picture-perfect Boston Calling Day 3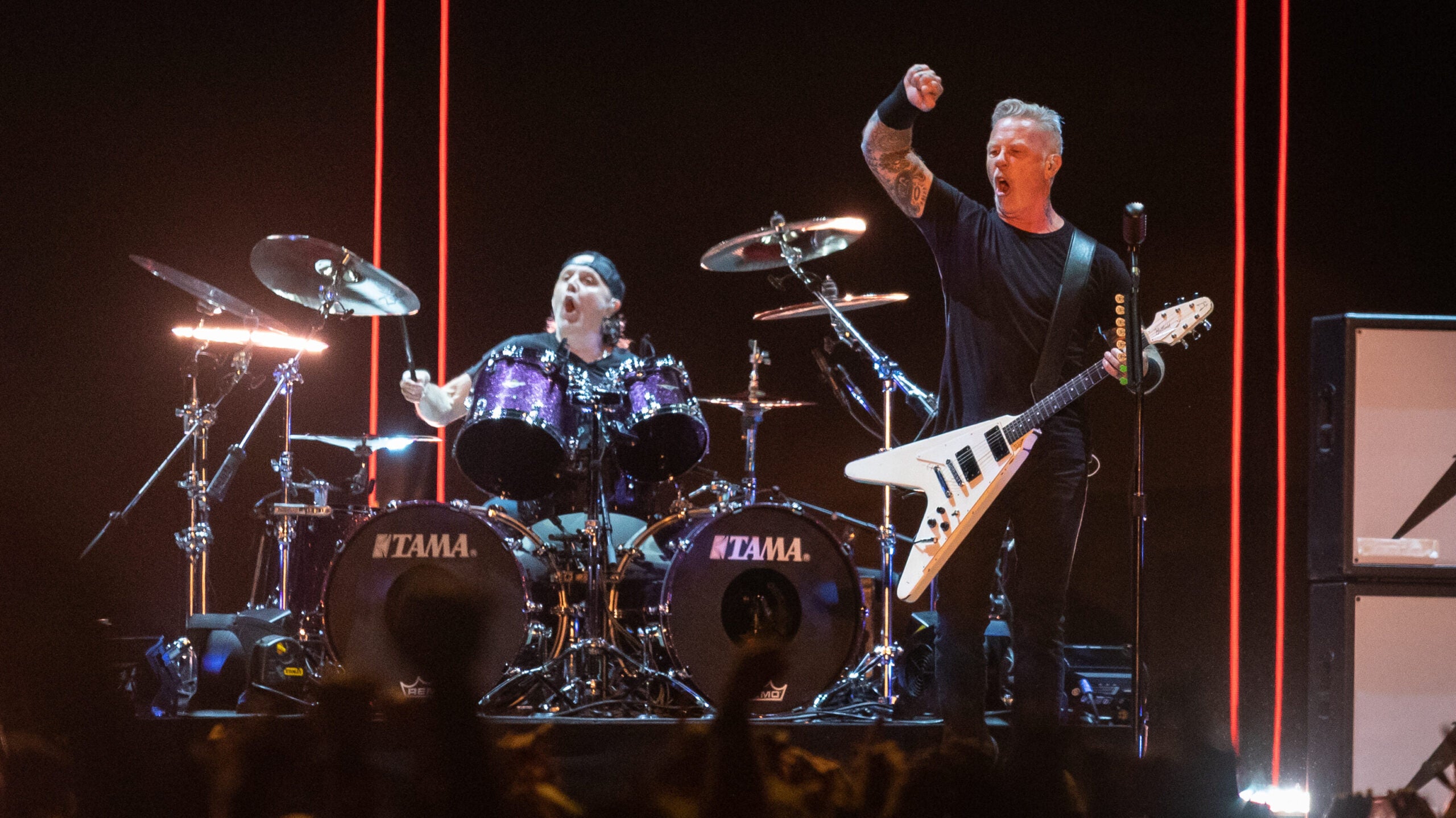 8:00 a.m., Monday
With a hair-raising set on Sunday night at Boston Calling, Metallica showed why they are still the masters of their domain — not to mention the masters of puppets — after more than four decades.
With a crowd packed into the Harvard Athletic Complex that was more than double the size of Day 1 and 2 at the festival, Metallica gave fans their money's worth, running through two hours of some of their biggest hits.
Following a video introduction featuring Ennio Morricone's "The Ecstasy of Gold," James Hetfield, Lars Ulrich, Kirk Hammett, and Robert Trujillo ripped through head-bangers like "Whiplash," "Ride the Lightning," and "Seek and Destroy."
Hetfield only paused briefly between songs to chat with the crowd. Beyond making a joke about the woman who gave birth at one of the band's concerts in Brazil last month, the frontman mostly expressed thanks for being able to perform for the packed crowd.
"Metallica is extremely grateful to be up here after 41 years doing what we're supposed to do," Hetfield told the crowd. "Thank you, thank God, and everyone that makes this possible. Music saves my life every day, y'all.
After briefly departing the stage following "Master of Puppets," the band returned for a three-song encore of "Battery," Nothing Else Matters," and "Enter Sandman," sending fans off to never-never land fully satisfied.
Weezer plays hits, covers, new single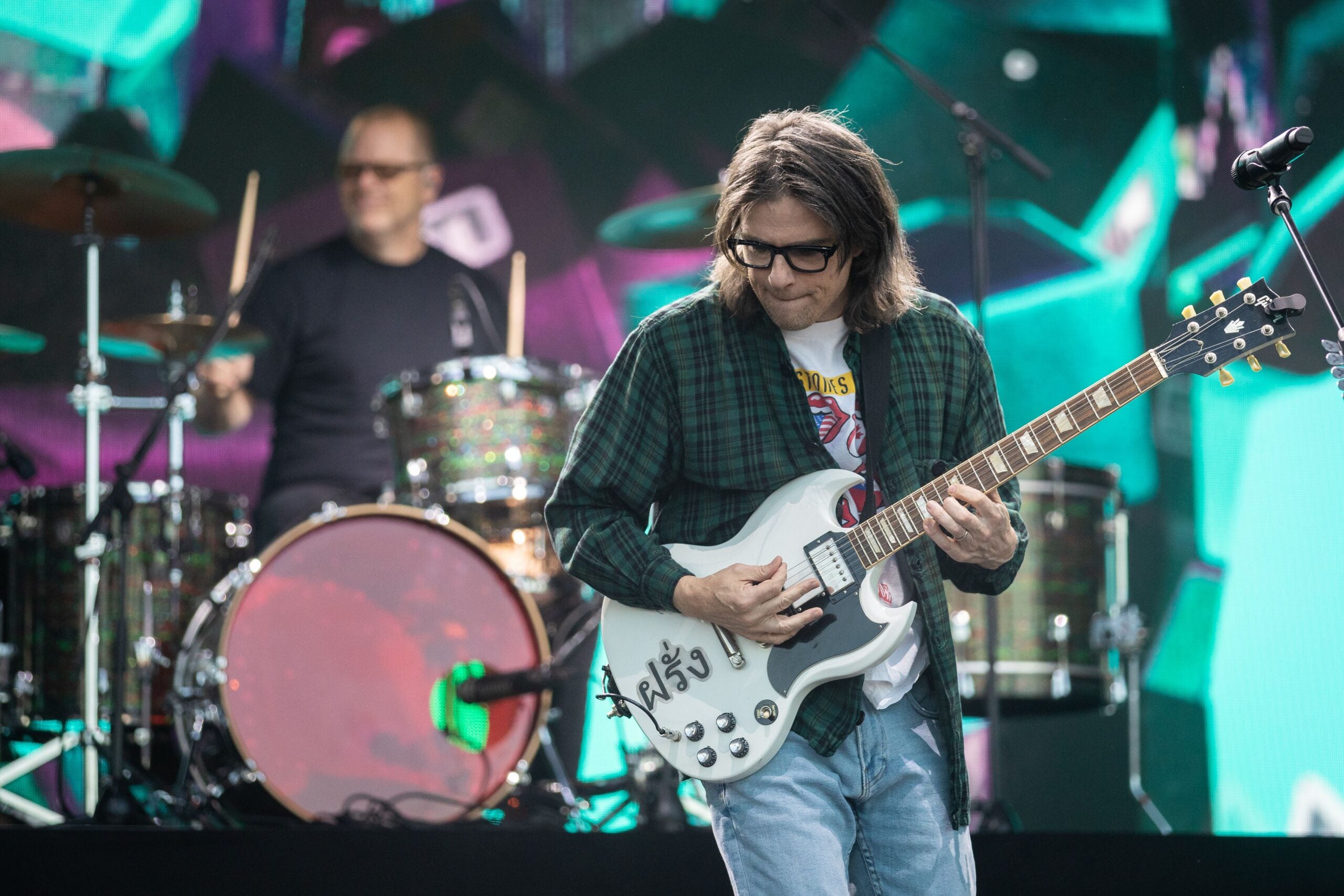 9:42 p.m., Sunday
The band Weezer took to the Red Stage to play some of their most famous songs, as well as covers. They launched into verses from "Beverly Hills," changing the lyrics at the end to give a callout to "Boston, Massachusetts." The group announced that it was a "dream come true" to play the same night as Metallica and that they'd been covering "Enter Sandman." Instead, they played "Lithium," by Nirvana. Next, Weezer played a new single, "A Little Bit of Love," from their recent, 2022 album "SZNZ: Spring." The crowd waved and clapped along as they performed a cover of "Africa," by Toto. Finally, the set wouldn't have been complete without the songs "Island in the Sun" and "Say It Ain't So," which the audience cheered for.
"When they played 'Africa,' the cover was really good—the energy, the crowd was so into it," said Sarah Campbell, who lives in Boston. "[I've been a fan of Weezer] since I was a child. I'm 26 now, so it's really amazing to finally see them. I would totally come back [to Boston Calling]. This is my first time coming to the festival."
"It's been a really hot day, so to cool down with Weezer has been fun," said Emily Jonivet from Fall River. "It's been years of not being able to see live music." She added, "They're such a fun band. Everybody knows them, so it's fun to get in a group and sing along."
Ripe brings the Berklee connection to Boston Calling blue stage
8:30 p.m., Sunday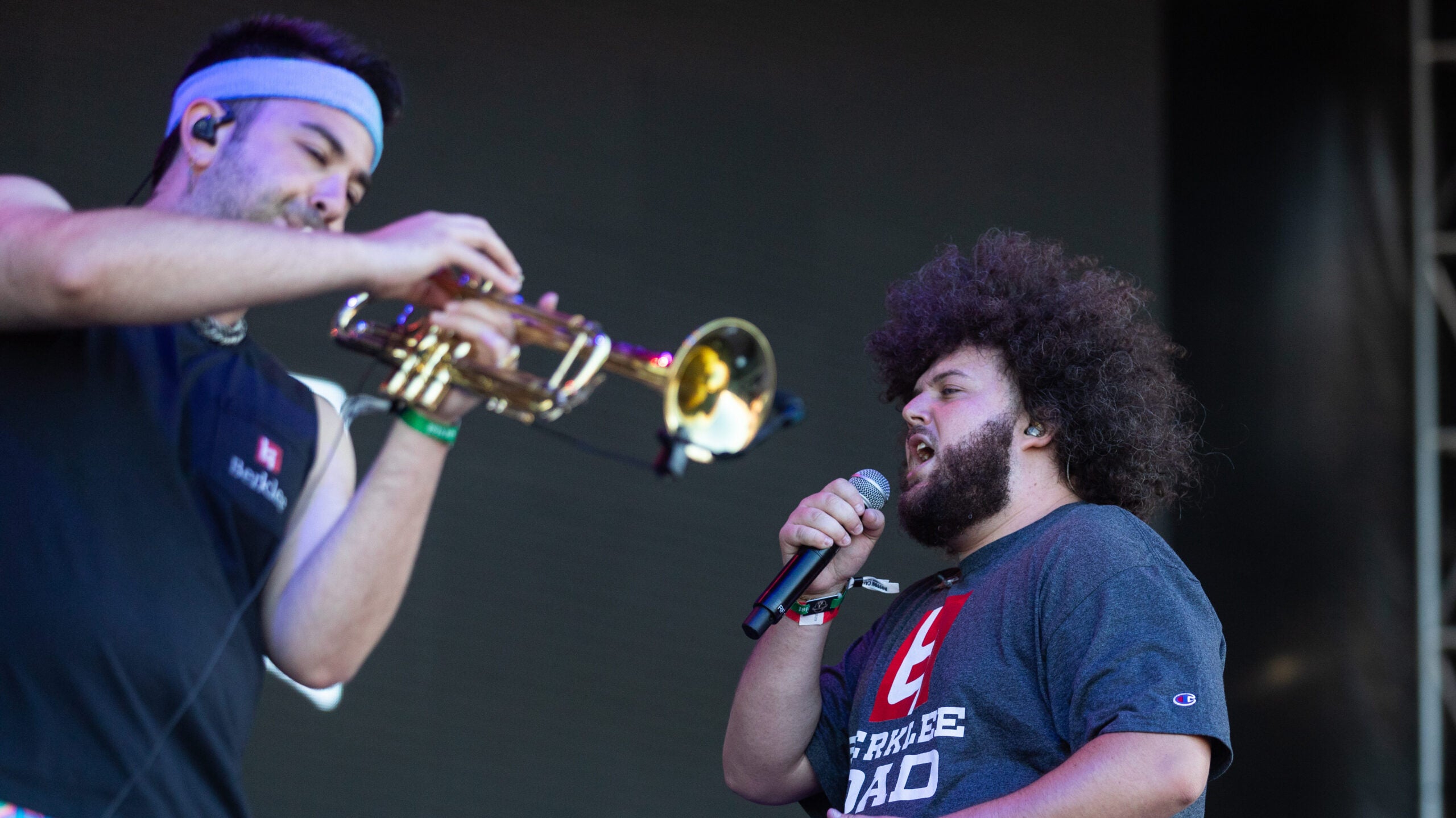 What Boston-and-Berklee-born band Ripe didn't have in name recognition they more than made up for in sheer star power. A combination of gratitude, humor, and stage presence led to a crowd that couldn't stop dancing at Boston Calling.
With a competing set with Glass Animals, whose nearly 38 million monthly listener count on Spotify makes for an intimidating set sharer, it might be expected for Ripe to have a small but mighty crowd of dedicated fans chanting every word. But, Ripe's crowd was much more than that.
Although the number of people in front of the Delta Airlines Blue Stage at Boston Calling began small at the beginning of their set, by 15 minutes in there was a sea of hands up in the air.
What added immensely to their appeal seemed to be none other than their alma mater.
"I used to lie and tell people I went to Harvard before I moved here. And then all of us went to Berklee," said lead singer Robbie Wulfsohn.
Every member of the band was wearing a Berklee College of Music T-shirt, although Wulfsohn said to the crowd this was the first one he ever bought.
Some members of the audience were convinced to come to their set by that Berklee connection.
"I know a little bit about them (Ripe) but I go to Berklee, so I was interested in seeing them," said Liv Dunkley, a member of the crowd.
The attitude of the band members themselves went a long way to encouraging a crowd willing to move and groove to the aforementioned horn section.
Not only was dancing suggested, but it was also "relentlessly encouraged" by Wulfsohn. Alongside the encouragement, the extra X factor seemed to be a large dose of gratitude and groundedness.
And while not all members of the audience had heard their music before, there remained a large presence of dedicated fans.
"The horn section is where it's at. They're amazing. It's the stage presence … I'm choosing to see them over Glass Animals," said fan Aiden Merrill-Skoloff.
Audience sings along to Modest Mouse
6:40 p.m., Sunday
Grooving beats and power chords played from the stage while Modest Mouse performed, while crowds clapped along to the shredding guitar. During hit song "Float On," the audience sang the lyrics with the band, word for word.
The band performed "We Are Between," with soaring vocals and instrumentals. Other tunes that they played included "Wooden Soldiers," "King Rat," and "Bukowski," which opened with the strumming of a banjo. Fans enjoyed the upbeat melodies from "Back to the Middle."
"I really liked 'Good News for People Who Love Bad News,'" said Sean Cox of Peabody. He added, "It's the lyrics, mainly. They're kind of cutting and real, and I think that's probably the best part of them."
"I like that they're sad," said Austin Clemmey, from the Boston area. "The sound is really different. It's emo, but it's also dance-y. They definitely have their own eclectic sound. It's definitely different from other bands who would be in their category."
Snapshots of the fashion of Day 3
6:15 p.m., Sunday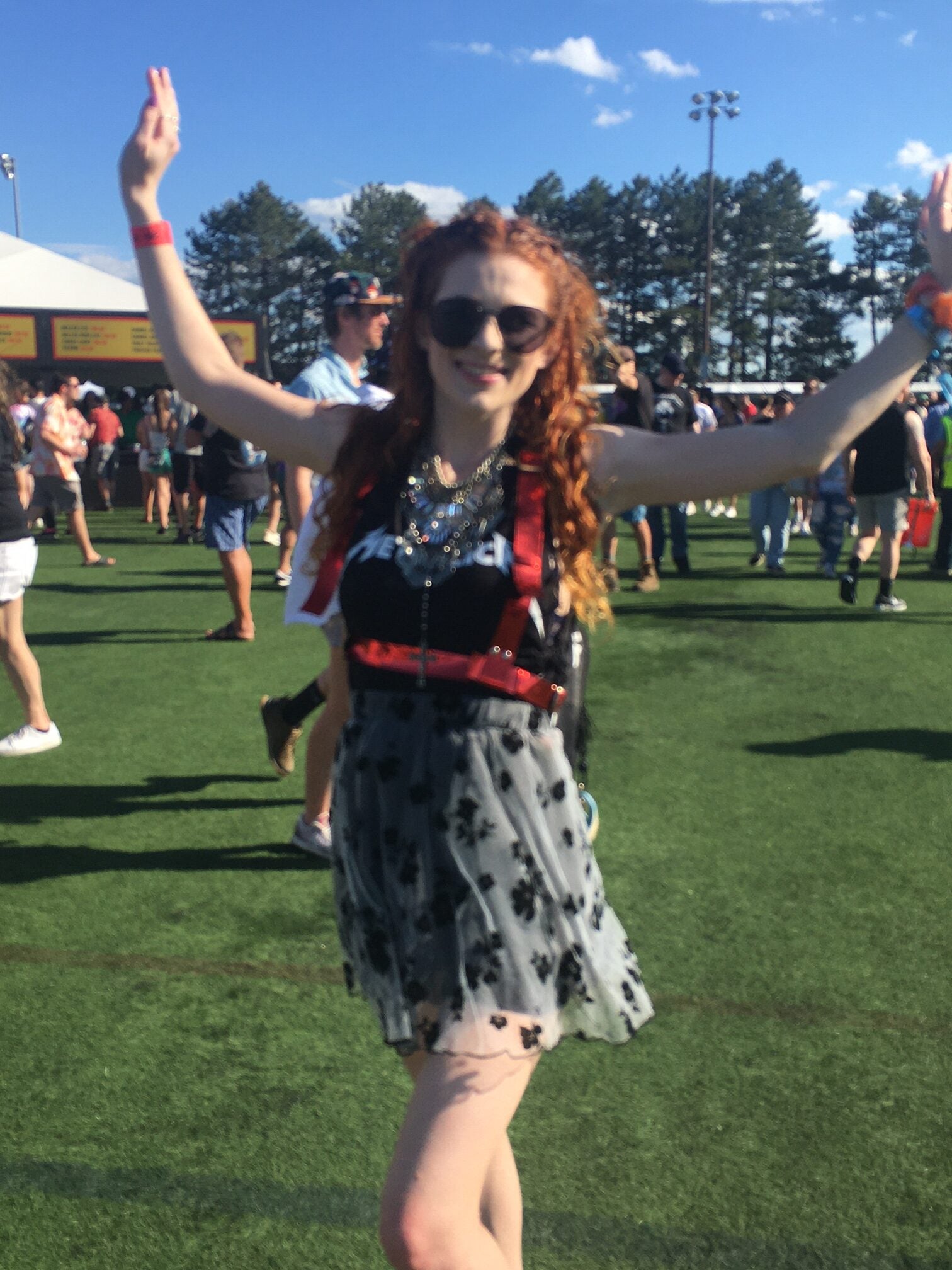 "I just like dressing however I feel. There's a lot of different bands with different styles and energy, so I thought it was good to pull them all together and put an outfit like this out. I love Metallica. I definitely want to hear 'It's Electric.' I would love 'Sad But True.'"

Tara Bourhis, Rhode Island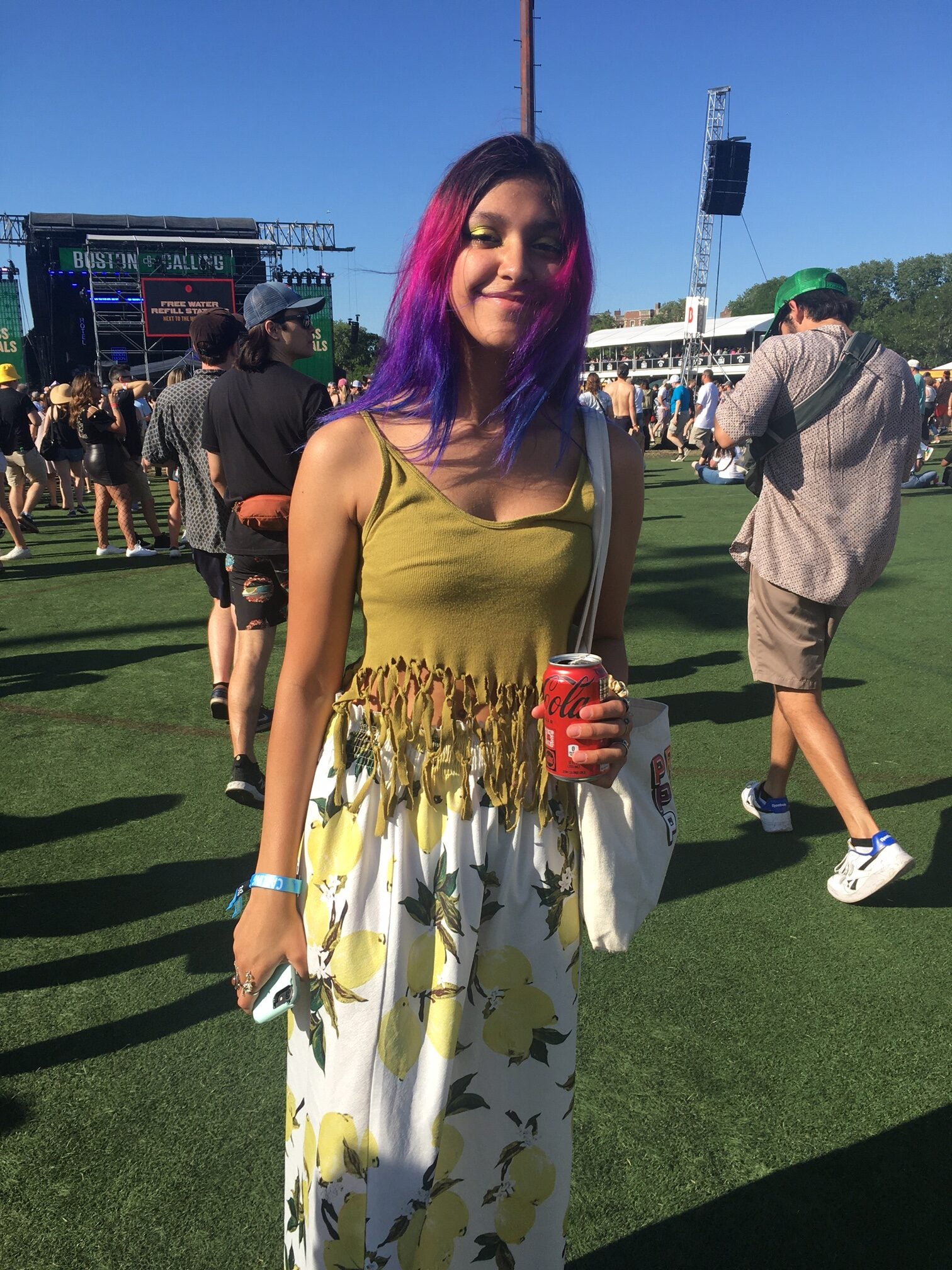 "I thrifted my skirt for three dollars. And the top is something I bought a while ago, at the Gap, for ten dollars. I just macrame cut it. [The hair] I did myself. I've had my eye on big, bright colors for a while. I'm really excited to see Weezer and Metallica."

Anjali Agarwal, Lexington
Crowds swell ahead of Metallica at Boston Calling Day 3
4:30 p.m., Sunday
With picture-perfect weather and the prospect of Metallica on the horizon, crowds at Day 3 of Boston Calling 2022 were easily double the size of Friday and Saturday's festival.
The line for Metallica merchandise at around 3:20 p.m. was longer than any food line Boston.com had seen on the first two days of the festival, and the crowds at shows like Cults at 3:50 were larger than anything except for the evening sets on Day 1 and 2.
A social media recap of Day 2
Sunday, 11:53 a.m.
Though many went to social media to voice their frustrations about Day 2 of Boston Calling, fans and artists alike tried to make the most of the experience.
When weather paused the festival for two hours Saturday, many turned to social media to suggest that Nine Inch Nails would still save the day.
And sure enough, frontman Trent Reznor tweeted that the band would step up.
Some Twitter users joked that Nine Inch Nails should stick around for Day 3, just in case any other artists have to cancel their set.
"Man, Trent Reznor's arms must be sore from carrying Boston Calling all weekend," one fan tweeted.
Here's some other moments from Day 2 captured by fans on Twitter:
See Photos from Day 2 of Boston Calling 2022
8 a.m., Sunday
After a two-hour rain delay, Boston Calling returned Saturday with a revised schedule and another set with Nine Inch Nails. Below, check out some of the best photos.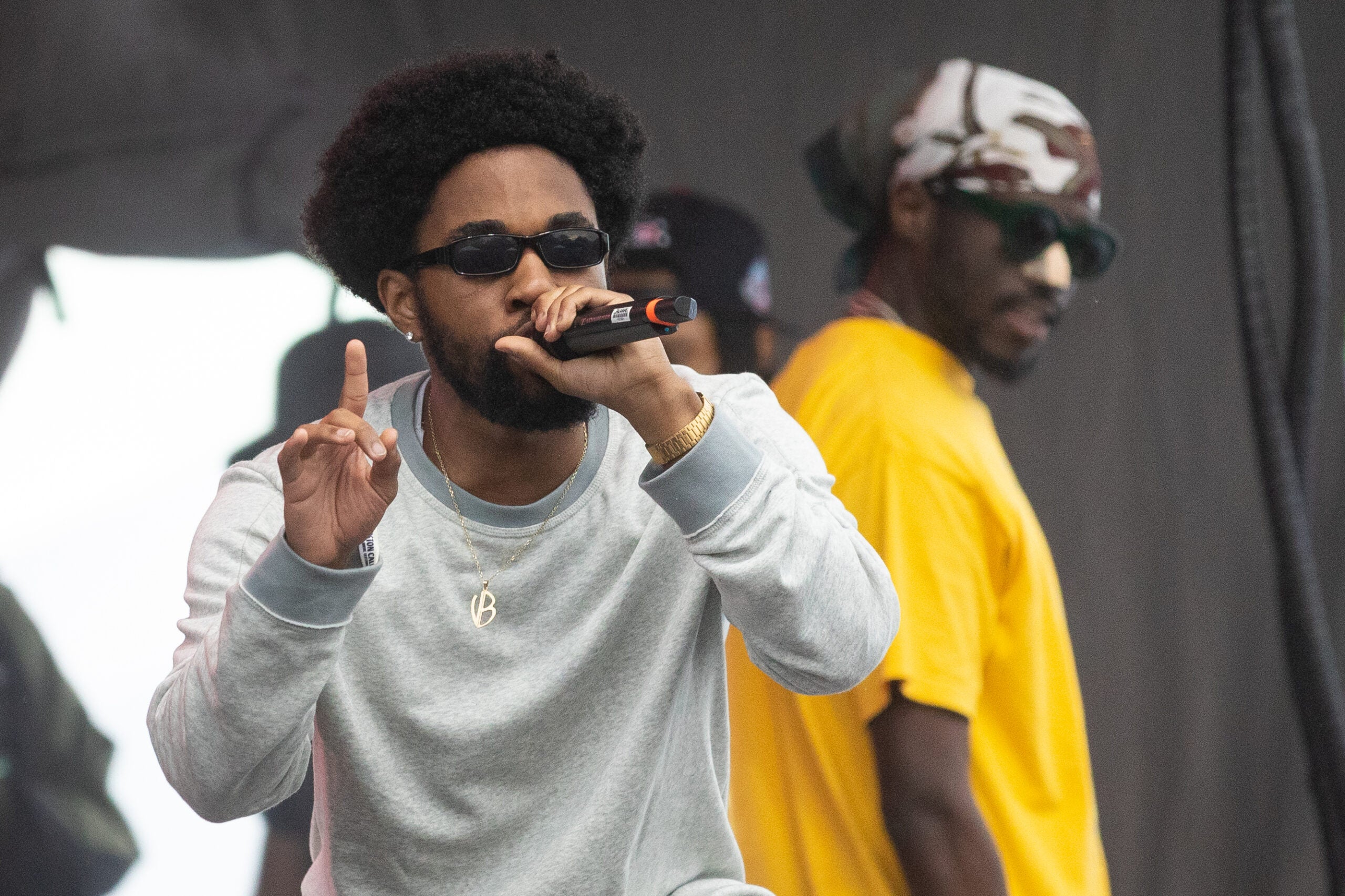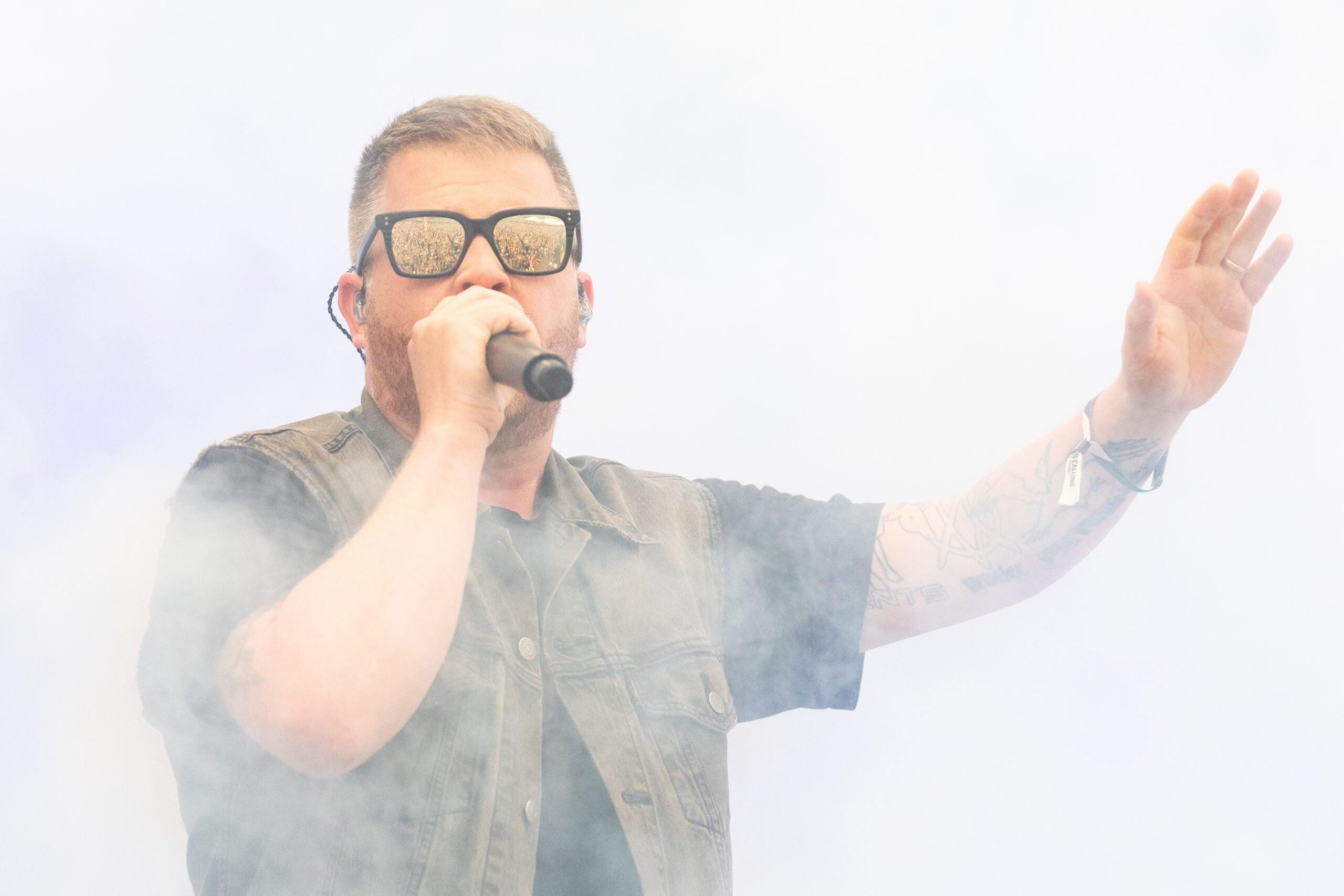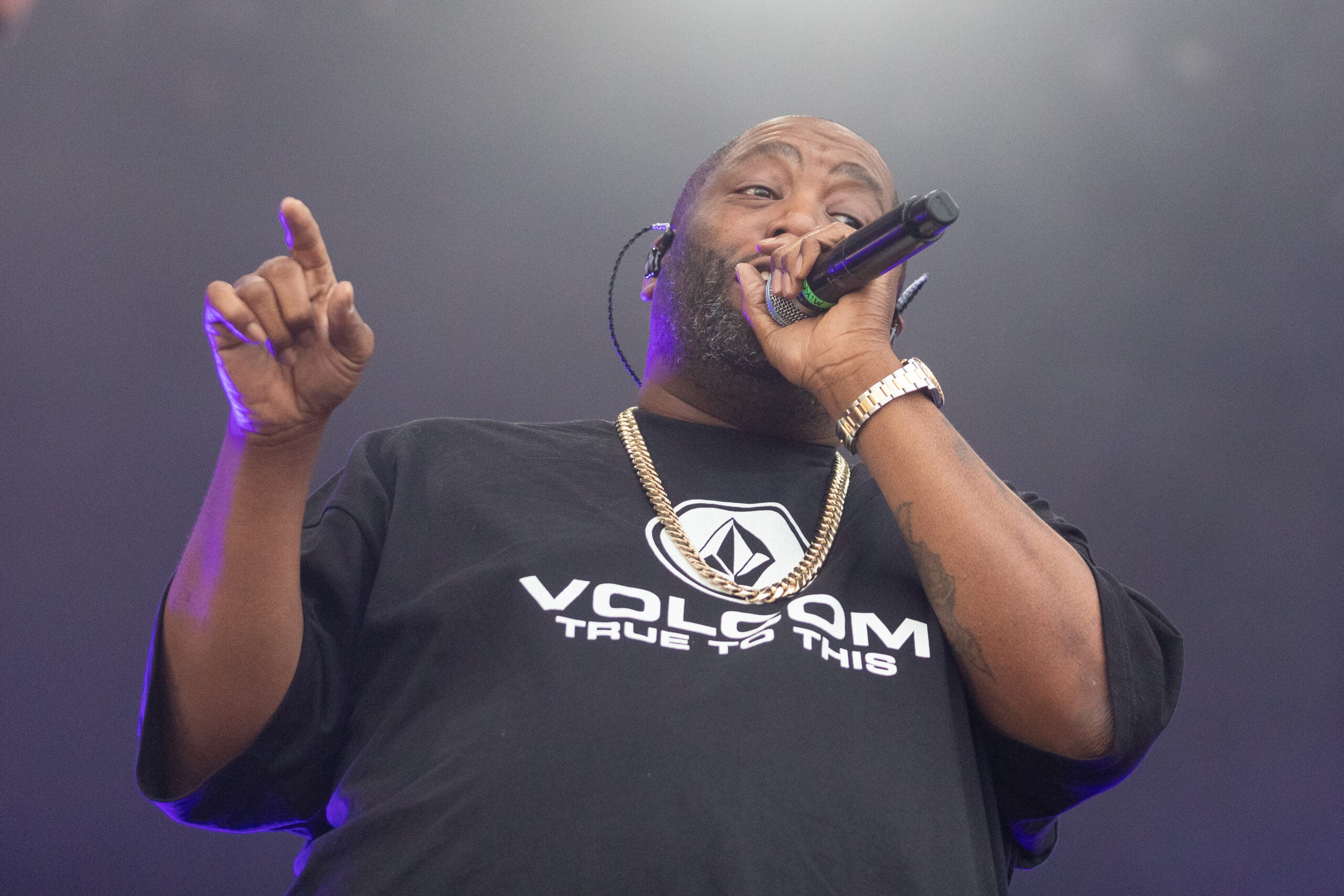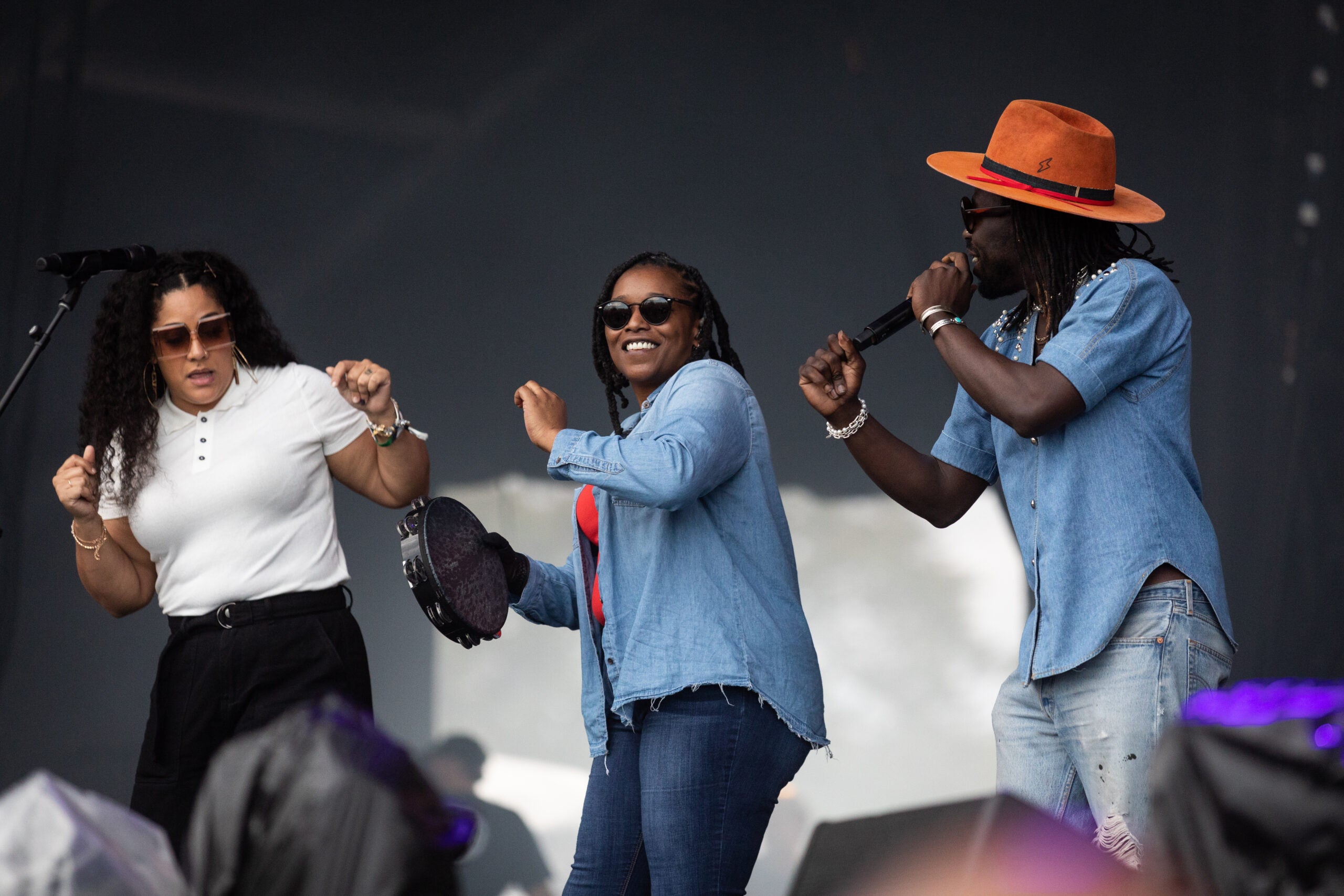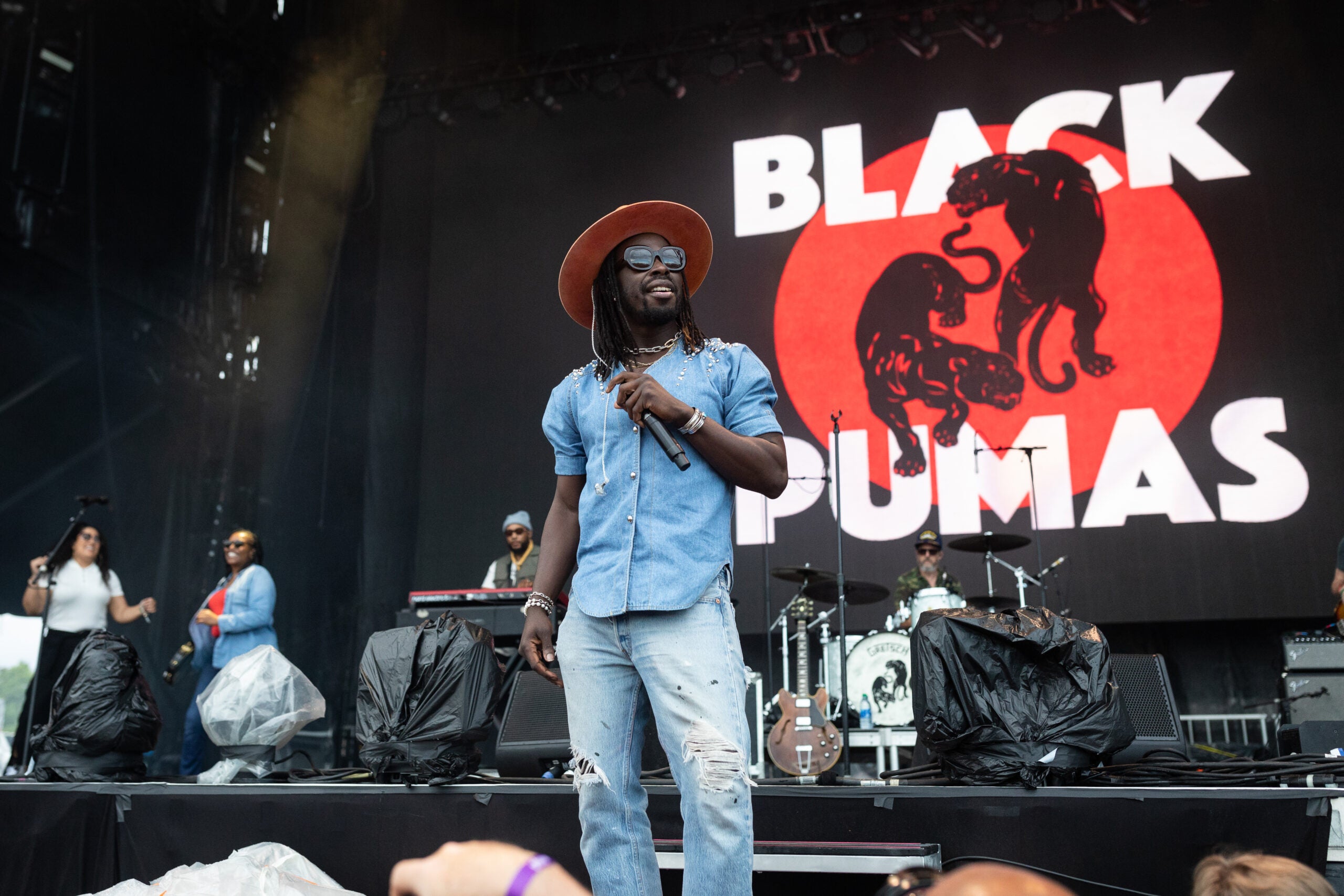 Nine Inch Nails bring the house down for second straight night at Boston Calling 2022
1 a.m., Sunday
On a day when little else went right at Boston Calling, it was Nine Inch Nails to the rescue.
With original headliner The Strokes unable to play due to a positive COVID test and the festival scrambling after a two-hour weather delay, Trent Reznor and co. performed an almost two-hour headlining set for the second consecutive night.
The band rarely repeated songs from Friday night's performance, and did zero crowd work until Reznor addressed the audience almost 40 minutes into the set.
"It's probably a good time to mention we are not The Strokes, if you haven't picked up on that yet," Reznor said. "But we're happy to be here. Thanks for putting up with us.
"We're like the guest that wasn't invited here in the first place and now you can't f****** get rid of us," Reznor continued. "But we're happy to help out."
Reznor then reminisced about his first trip to Boston more than 30 years ago, during which he made his first professional recording, at the now-closed Syncro Sound studio on Newbury Street.
Reznor said that he picked the studio because of his affinity for legendary Boston band The Cars, who owned the studio.
Reznor became wistful, expressing amazement that anyone would "give a s***" about his early songs, much less that he'd be able to play them in front of a crowd of thousands in Boston.
Before launching into one of those songs, "Terrible Lie," Reznor joked that he and the band would be around to help fill in for anyone else in need.
"If anybody has a birthday party or a bar mitzvah or needs someone to look after their plants while on vacation, look us up," Reznor said. "We're here for you."
Boston Calling reopens with revised schedule: King Gizzard & The Lizard Wizard cancel set due to COVID result, several other acts cut
5:15 p.m., Saturday
Exactly two hours after pausing the event due to severe weather, Boston Calling announced the festival area will reopen at 5:30 p.m. with music starting up again at 6 p.m.
King Gizzard & The Lizard Wizard, originally scheduled to take the Blue Stage at 7:35 p.m., will no longer be performing though, due to a positive COVID case.
Boston Calling posted a revised schedule in the festival app at around 5:45 p.m. Several bands, including KennyHoopla and Earthgang, shifted from their planned set times. Three artists scheduled to play — Francis Forever, Sudan Archives, and Ali McGuirk — were left unaccounted for in the schedule.
"BOSTON: so my set got cut," Sudan Archives posted on her Instagram story. "Sorry babes. But I'll be in the crowd, excited to check out these acts. If you see me, don't be afraid to say hi."
The band posted on social media that it was "extremely devastated" to have to cancel its set.
Dance party forms in hockey rink, other fans take to social media to request refunds amid rain delay
4:30 p.m., Saturday
With the festival on pause, some people tried to make the most of it by creating their own entertainment. One person ran a half lap around the track and field facility, while others started dancing inside the hockey rink. Meanwhile, staff members handed out free water to those sheltering inside.
Others were not so happy about the delay and took to social media to voice their frustrations with their experience so far.
One user posted on Twitter that this year's Boston Calling should be made into a Netflix documentary, similar to Fyre Festival.
"Been a pretty ugly experience at Boston Calling this weekend with the band lineup severely changed, the cost was already very high and now the artist experience is not as great," another fan tweeted, adding that hotels had also been difficult to book due to Harvard University's commencement earlier in the week.
Some Twitter users joked that Nine Inch Nails would save the day.
Boston Calling pauses festival, tells fans to evacuate due to severe weather
3:35 p.m., Saturday
Thunderstorms moving in from Western Mass. forced Boston Calling to pause Day 2 of its festival shortly before 3:30 p.m. on Saturday.
Announcements made at all three stages told fans to seek shelter by exiting the festival into Harvard Square or seeking shelter on-site.
"Severe weather is expected to pass through the Festival area," the festival said in a statement. "For your safety, everyone on-site should calmly proceed to the main entrance to seek shelter in Harvard Square or other locations. If you exit the Festival grounds you will be permitted to re-enter. Alternatively, for shelter on-site, please follow security's directions to Harvard Stadium."
An Instagram recap of Day 1 at Boston Calling 2022
Saturday, 1:30 p.m.
Our audience engagement team put together a short video showcasing some of the biggest highlights from Day 1 at Boston Calling, including Avril Lavigne up close and personal.
See Photos from Day 1 of Boston Calling 2022
11 a.m., Saturday
With a mostly sunny day and temperatures hitting near 78 degrees, conditions were ideal for Day 1 of Boston Calling 2022 at the Harvard Athletic Complex. Below, check out some of the best photos from Friday.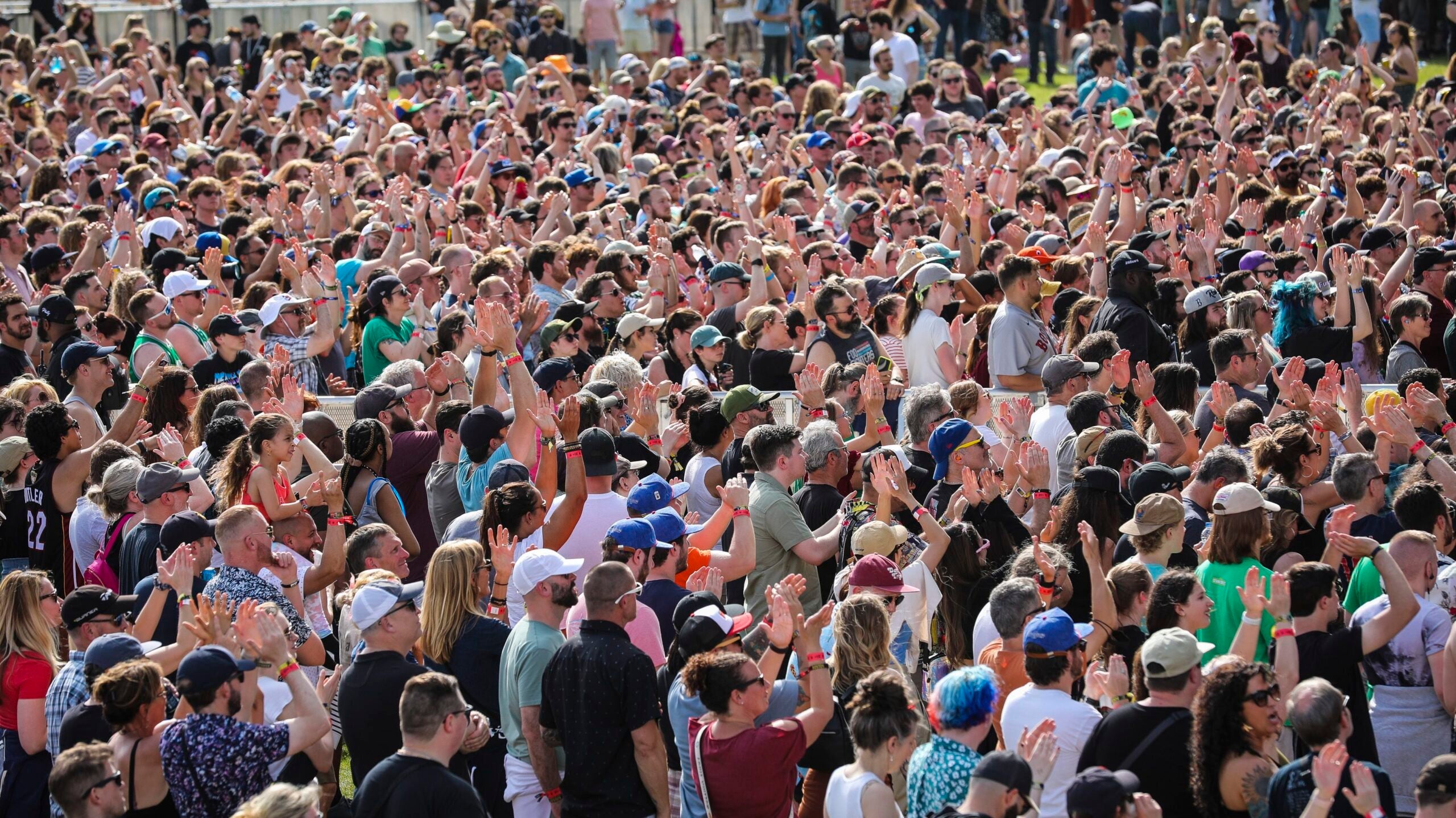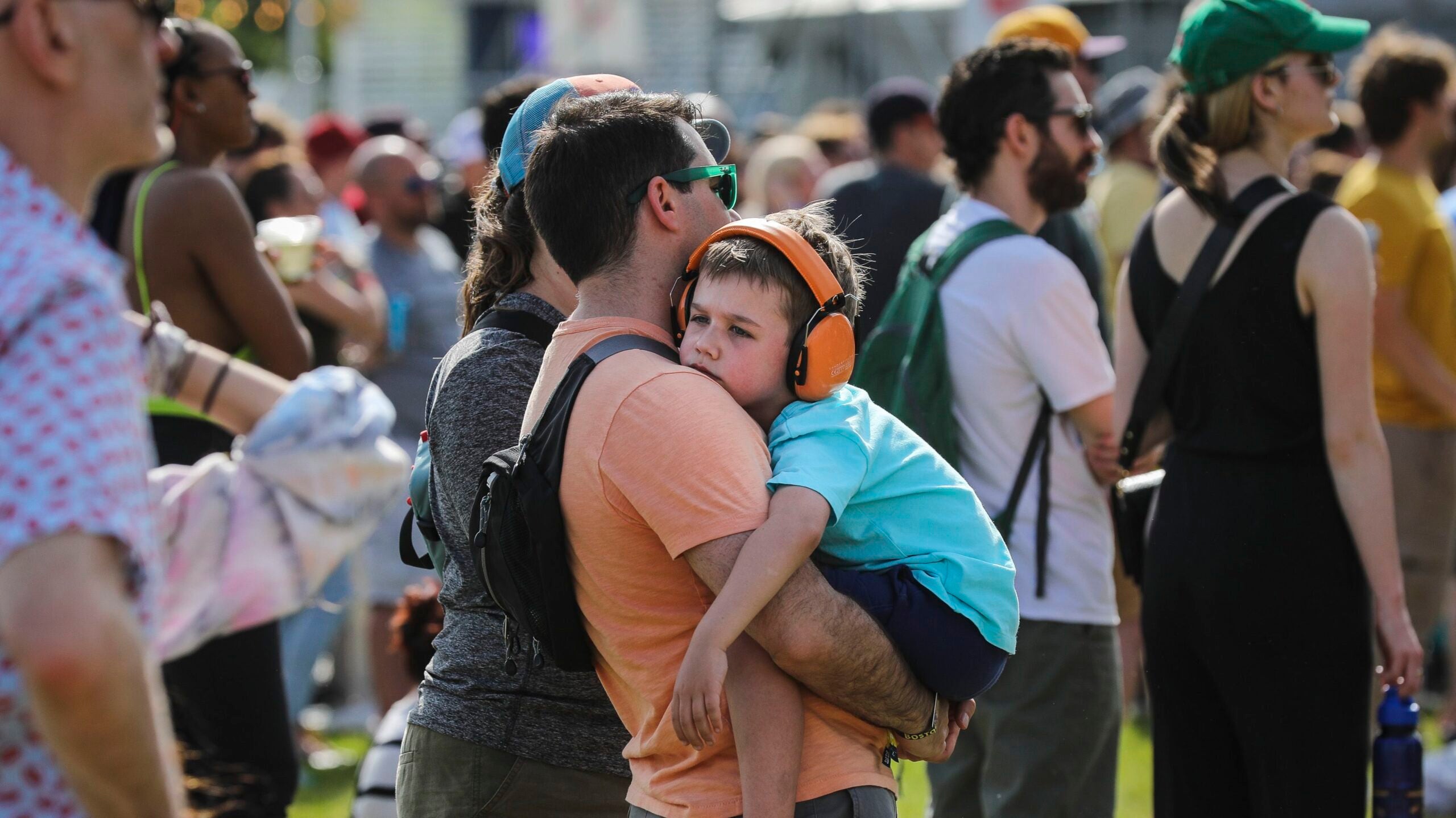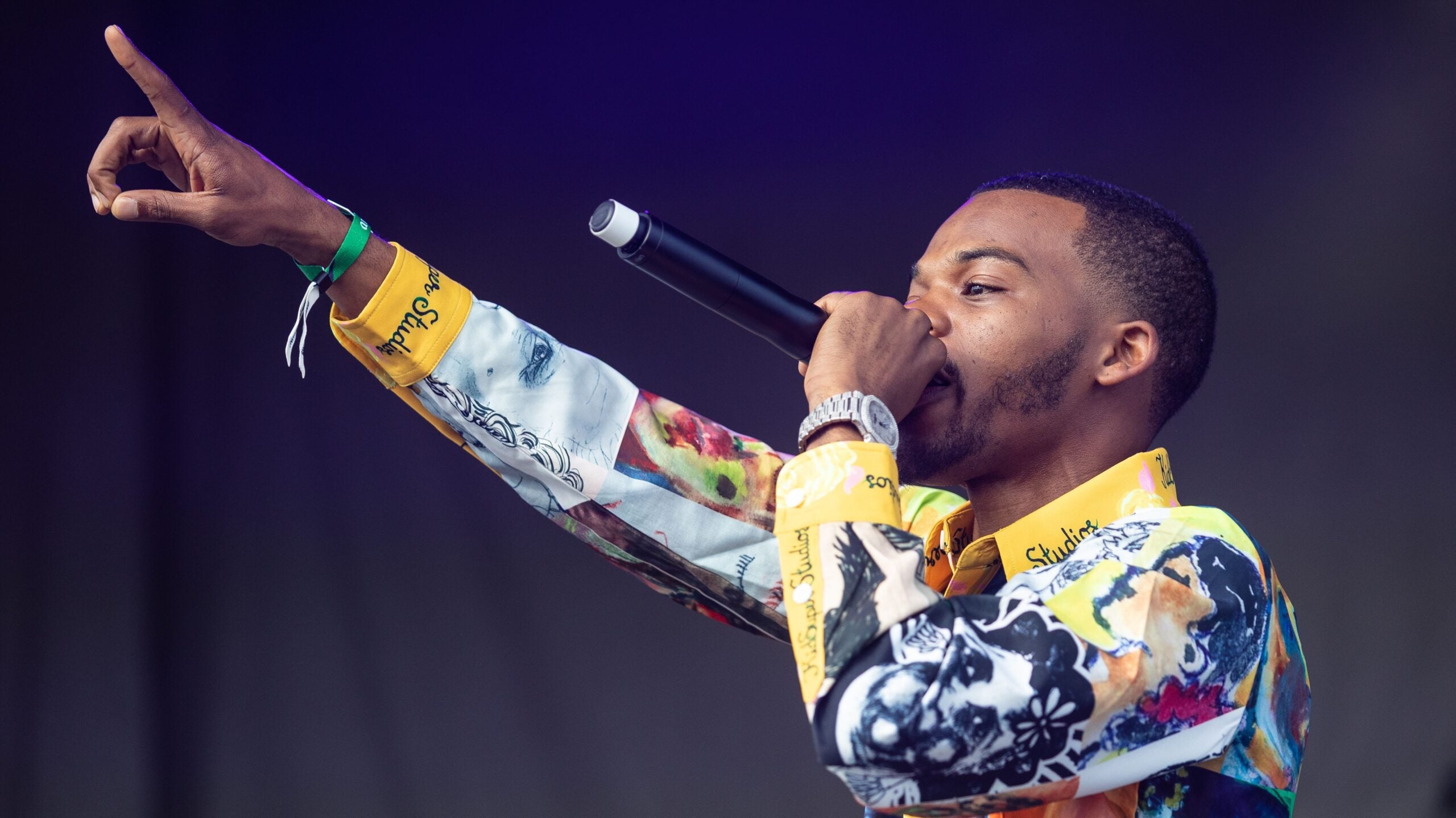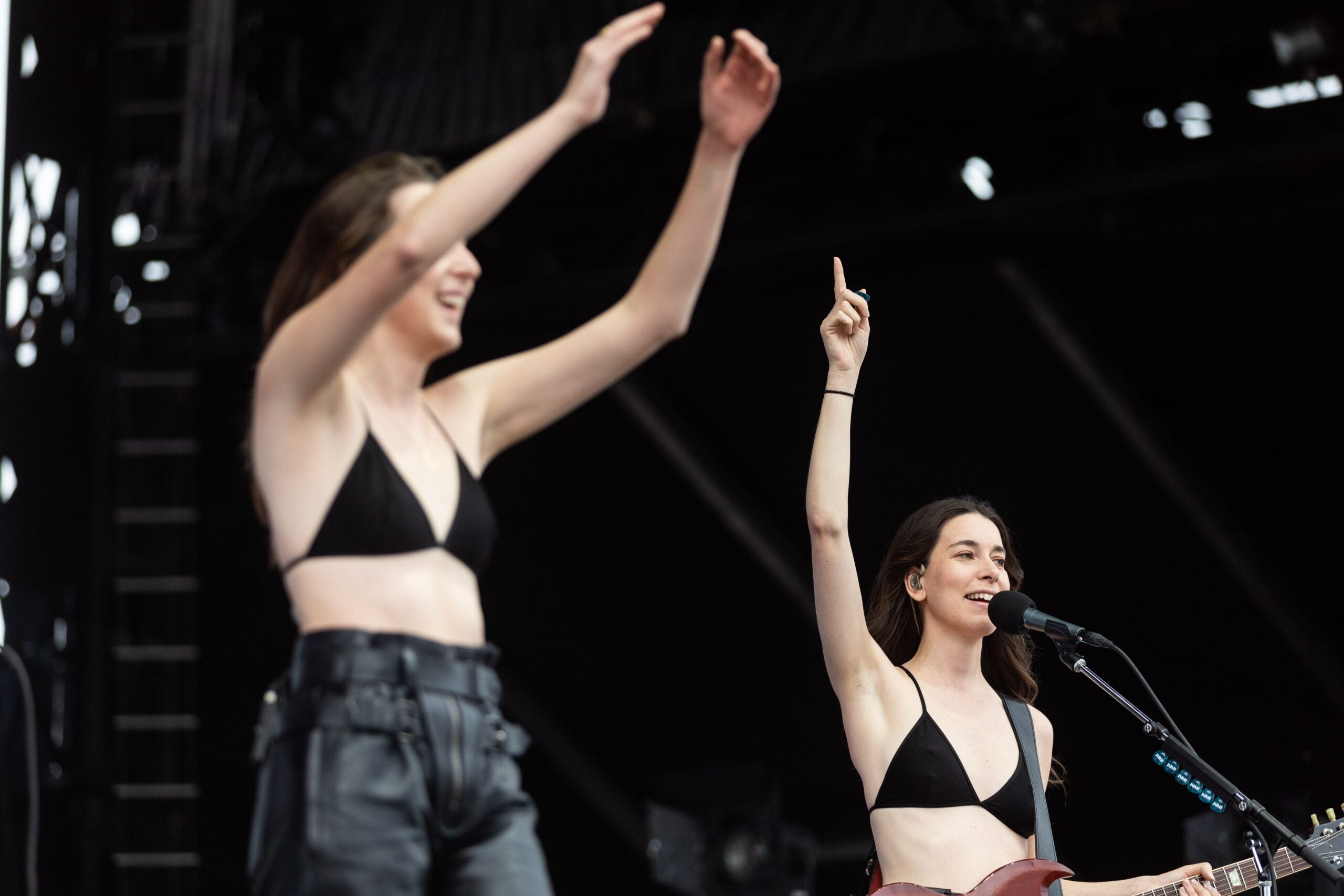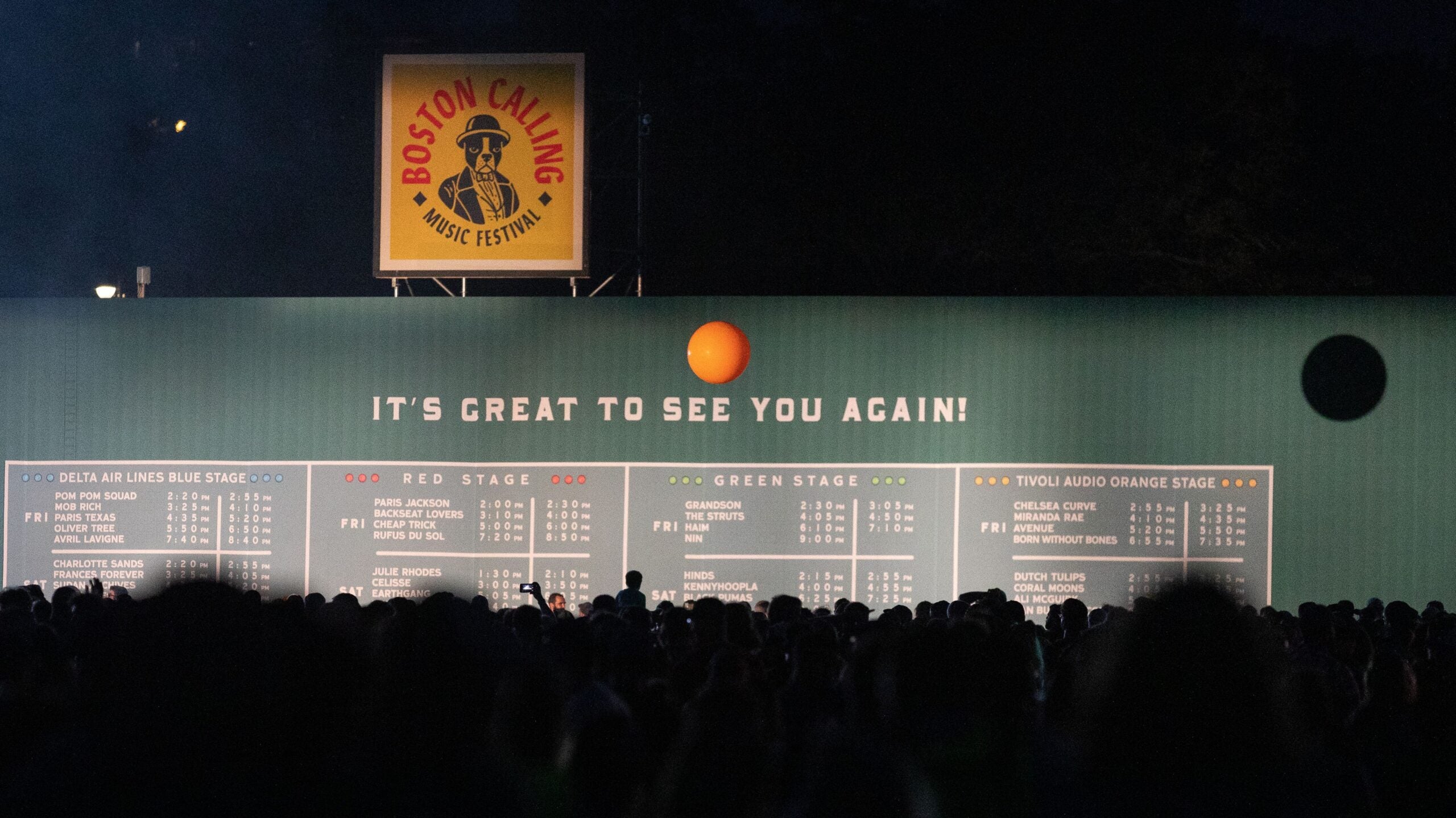 Nine Inch Nails wows the crowd, teases second Saturday set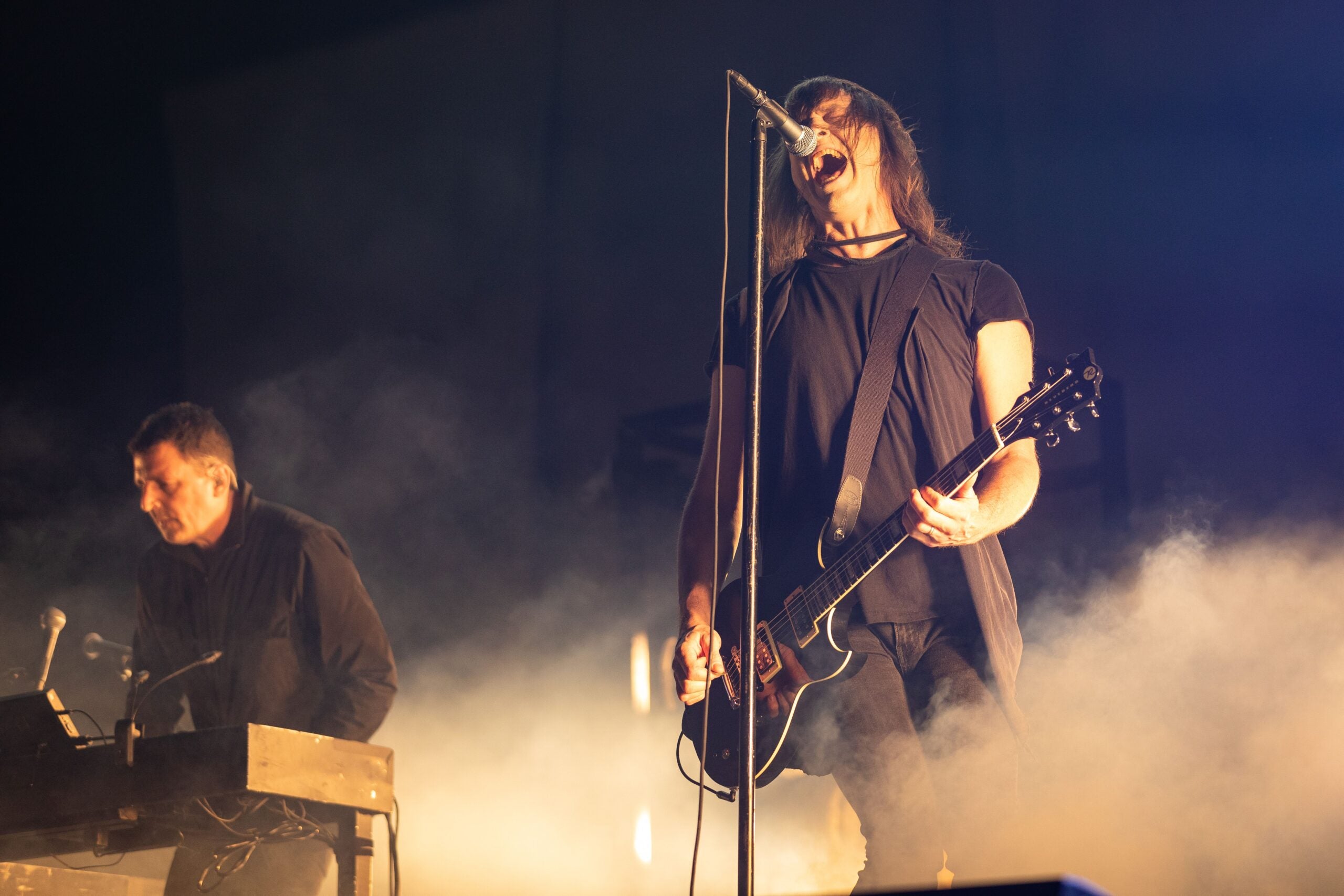 9:17 a.m., Saturday
It was a rocking night. Headliner band Nine Inch Nails gave an electric performance, while lead vocalist Trent Reznor commented on The Strokes' withdrawal from the festival, due to a COVID result. He spoke to the unexpected turn of events and the fact that Nine Inch Nails will be returning to perform Saturday night.
"We are very happy to be here with you tonight and share this time with you. We're really sorry for the conditions that led to us being here. With our friends the Foo Fighters, our hearts go out to them," said Reznor. "I was sitting backstage, and I freaked myself out, because we're not even supposed to be here tonight. Now, I don't know if you've heard, but we're here tomorrow night. I don't know if it's COVID — sitting in the house for years — but being in front of a bunch of people, I feel freaked out. But what we weren't expecting was an audience like this."
He added, "The thing [I have] is either getting old, or whatever happened with COVID, or it's this relentless stream of never-ending bad news that seems to be happening constantly — people dying, and guns and disease. It's made me very grateful for moments that kick ass."
Nine Inch Nails' set featured thrashing drums and pounding beats, while the audience cheered and danced along to the music. They performed hits such as "Closer," "The Perfect Drug," and "Head Like a Hole." Fans in the crowd were enthusiastic about the performance as well.
"I've loved Trent Reznor, and I've loved Nine Inch Nails, ever since I was in middle school," said Sarah Zakaria. She added that what she likes about the band is, "The music, how emotional the lyrics are, and how Reznor has branched out over the years, doing film and soundtracks."
Another fan said that she felt the concert had "good vibes." One attendee watching the show commented on Reznor's legacy, while adding that she would like to learn more about Nine Inch Nails.
"I know that Trent Reznor is an extremely influential figure in music. His band was inducted in(to) the Rock and Roll Hall of Fame," said Kathleen Gauder. She added, "Seeing them now makes me want to check out their music a bit more deeply."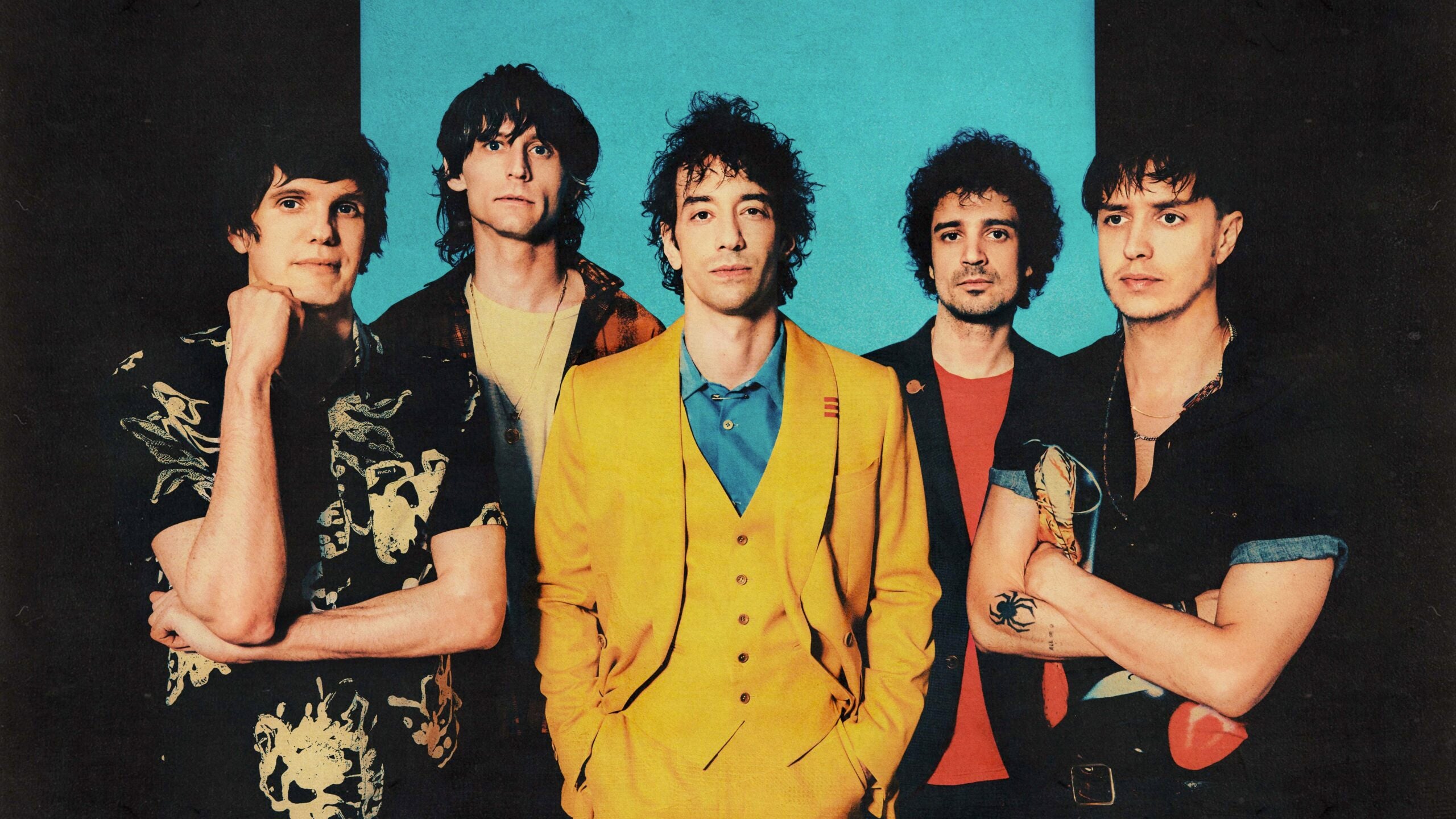 Friday, 8:30 p.m.
The Strokes, who were set to perform a headlining set on Saturday night at Boston Calling 2022, will no longer appear at the festival due to a positive COVID-19 test.
Instead of The Strokes, Friday's headliner, Nine Inch Nails, will perform a second headlining set on Saturday night.
"Due to a positive COVID case in The Strokes, who were scheduled to headline on Saturday, May 28th, the band will no longer be able to perform at the Festival," the festival wrote in a press release Friday night. "Tonight's headliner, Nine Inch Nails, will headline a second set on Saturday, May 28th in place of The Strokes, and we are enormously grateful to them for stepping in for what is sure to be another electrifying performance at Boston Calling."
Avril Lavigne plays old favorites at Boston Calling
8:25 p.m., Friday
Punk princess Avril Lavigne took to the Delta Airlines Blue Stage to sing both old favorites, as well as newer songs. The concert took off with tunes like "Bite Me," classics like "Complicated" and "Sk8er Boi," and "Love It When You Hate Me." Lavigne put in a plug for her recent album, "Love Sux," which came out last February. She welcomed artist Mod Sun to the stage with her to perform together, singing "Flames."
"I've been a fan of her older songs, her classic albums for a long time," said Patrick, who was in the audience. "She was one of the first things that got me into music."
HAIM declares their love for Boston
7:08 p.m., Friday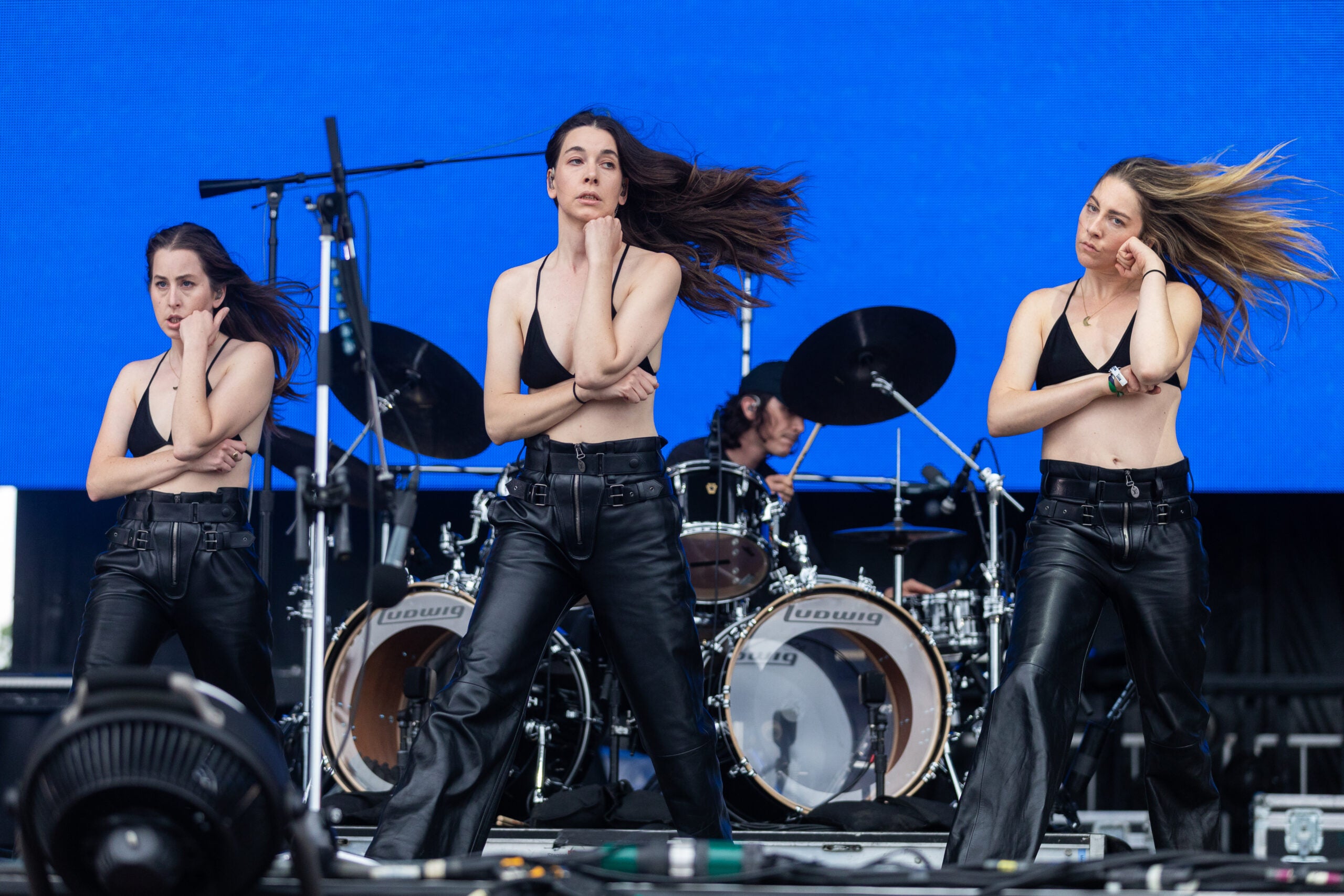 Haim has been playing their hits, from "The Wire" to "Gasoline." As a cheering crowd danced along to their tunes, the sisters declared their love for the city of Boston. One fan, Bethany K. from Boston, told us about her excitement for the band and for the following act, Avril Lavigne, to appear at 7:40 p.m.
"I've never seen them. They rock really hard, and they're three amazing women who completely dominate their space. I'm really happy to see them today, and I'm also excited for Avril," said Bethany. "It's amazing to see her come back and be just as popular, just as good. I don't know much of her new stuff, but I love her as an artist. I appreciate the hell out of her. … It's great to see some throwback artists."
Boston Calling 2022 kicks off in style
5:50 p.m., Friday
After a three-year absence, Boston Calling made its triumphant return to the Harvard Athletic Complex on Friday.
By around 4 p.m., crowds were larger than they had been at 4 p.m. during the first day of the 2019 festival. Whether it was due to flexible remote work schedules, the draw of early-afternoon acts (including The Struts, Mob Rich, and Paris Texas), or a combination of both was unclear. What was clear is that fans were more than ready for the return of Boston Calling.
Thursday
Given that it's been three whole years since the last Boston Calling, both first-time attendees and Boston Calling veterans alike may need a refresher on the ins and outs of the annual festival.
To help you get the most out of your Boston Calling 2022 experience, we've put together a guide to what you should know before attending the festival this Friday, Saturday, and Sunday.
Click here to find more info on some of the best artists to see, the best food at Boston Calling 2022, rules on what not to bring to the festival, transportation logistics, COVID-19 rules, and more.
Thursday
The time between Boston Calling 2019 and this year's edition was an eventful one for the festival, which is owned by Madison Square Garden Entertainment (MSGE). The COVID-19 pandemic scuttled any chance of holding an event in both 2020 and 2021, which led to approximately $10.6 million in lost revenue for the company in 2020 alone, according to earnings reports.
Even when live music did begin to pick up again, the festival faced the added difficulty of replacing all three of its original headliners, scrambling to find suitable replacements on a short timeline.
In spite of all of that, the festival returns this weekend, complete with 50-plus artists, new headliners, a robust food lineup, and plenty of local acts.
Read more to see the full timeline of events that led to Boston Calling 2022.
Thursday
Boston Calling 2022 will have its largest number of local acts ever, featuring 20 artists with ties to New England.
We wanted to introduce you to the local lineup, many of whom are based in Boston. Twelve will be performing on the new Tivoli Audio Orange Stage, and all of the local musicians will be playing Boston Calling for the first time.
There's Oompa, a Roxbury-born rapper who got her start as a slam poet, and there's Miranda Rae, an R&B singer born in Cambridge. There's the Boston indie rock duo Aaron and the Lord, and alt-rock band Paper Tigers.
Click here to check out our guide to all the local New England bands playing Boston Calling 2022.
Thursday
After looking at the Boston Calling 2022 food and drink lineup, one thing's for sure: No one at the festival is going hungry on Memorial Day weekend.
A total of 30 local restaurants, food trucks, and eateries will be serving up a variety of cuisines at this year's festival, which returns to the Harvard Athletic Complex from May 27-29.
Many holdovers from previous festivals (and 2020's postponed fest) will take part, including Tasty Burger, Roxy's Grilled Cheese, and Chicken and Rice Guys. In addition, 10 restaurants will be making their festival debut, including Greek eatery GreCo and Jewish delicatessen Mamaleh's.
Craving a fried chicken sandwich? Head to Walloons. Looking for tacos? Try El Pelon Taqueria. Want some quintessential New England cuisine? Lobster Proper will have a variety of lobster rolls.
Click here to check out the full Boston Calling 2022 food and drink lineup.
Newsletter Signup
Stay up to date on all the latest news from Boston.com