Entertainment
Glide into winter (despite the weather)
Area skating rinks are still seeing crowds despite the warm start to the season.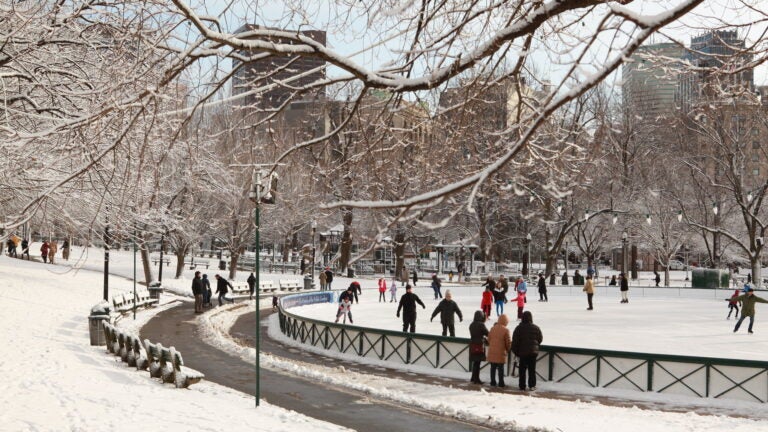 Warm temperatures and rain may not be typical winter weather we are accustomed to in Massachusetts, but the unseasonal start isn't deterring a favorite winter pastime from drawing crowds.
In Boston and the surrounding communities, skaters are flocking to outdoor ice rinks to spend time with family and friends and get some fun exercise.
"There is something nostalgic about lacing up your skates and enjoying the timeless tradition of outdoor skating. It's an activity that can stretch across generations from toddlers to grandparents," said Charlotte Woods, general manager of Lynnfield MarketStreet, where an ice rink is a popular draw for visitors to the outdoor shopping center.
So grab your skates (or rent a pair) and find your spot on the ice.
FROG POND ON BOSTON COMMON
A Boston tradition, the Frog Pond on Boston Common is open to skaters each day during the winter months. Admission is based on a skater's height: $8 for 58 inches and taller, and free for those under.
Skates are available to rent in various sizes (adults $15, kids, $10). Skating aids can also be rented for $18/hour. Frog Pond accepts cash, Visa, Mastercard, Discover, Apple Pay, and Android Pay.
John Schaub, general manager of Frog Pond said the rink opened Thanksgiving week and has been able to run successfully unless the rain hits.
"We're seeing record numbers," he said. Visitors come from all over the world, with many returning yearly. Most skaters stay on the ice for an hour or two, he added.
Tuesdays are College Night from 6 to 9 p.m. College students can skate for half-priced admission. Students at the colleges of the week can skate for free. Proof of college ID is required.
Skating begins at 10 a.m. each day. Frog Pond closes at 9 p.m. on Sundays, Tuesdays, Wednesdays, and Thursdays; and 10 p.m. on Fridays and Saturdays. Skating stops at 3:45 p.m. on Mondays. Ticket sales end a half hour before closing.
SKATE @ CANAL DISTRICT KENDALL
Skate @ Canal District Kendall offers figure and hockey skate rentals ($10 for adults and $6 for children under age 13). One-day admission is $6 for adults ($4 for students and seniors, $1 for children age 13 and under). Skaters can also rent a locker for a fee and skate sharpening is available for $10.
The Cambridge ice rink is open Mondays and Tuesdays, noon to 5 p.m.; Wednesdays and Thursdays, noon to 8 p.m.; Fridays, noon to 9 p.m., Saturdays, 11 a.m. to 9 p.m. and Sundays, 11 a.m. to 6 p.m.
KELLY OUTDOOR RINK, JAMAICA PLAIN
Constructed as a temporary rink by a group of volunteers in the late 1990s, the Kelly Rink has become a neighborhood mainstay over the last 25 years.
Owned by the Massachusetts Department of Conservation and Recreation, the Kelly Outdoor Rink is located behind Stony Brook MBTA orange line station on Marbury Terrace in Jamaica Plain. It is free and open to all. Skates can be rented for $3. The rink offers the youth of Jamaica Plain and Roxbury an opportunity for affordable skating lessons.
The Friends of the Kelly Rink, an all-volunteer group, offers assistance and provides affordable ice skate rentals and skating lessons.
The small community rink opened for the season on Dec. 18 and, like others, the open skate hours have been impacted by the rainy warm weather.
"We've had good days, bad days, and days in between," says Kimberly Rand, president of the Friends of the Kelly Rink. "Mother Nature is in charge, not us. "
Rand says the rink, once an undiscovered gem, has seen a bump in numbers over the last few years as people began searching for ways to get outdoors amid the pandemic. Skating was a fun, different, safe option.
"We saw some of our highest rental days in [20-plus years]," she said.
The rink will be open through March 12, weather permitting. The rink is open Sunday through Friday: noon to 7:30 p.m., Saturday: 1 p.m. to 7:30 p.m.
MARKETSTREET LYNNFIELD
This is the ninth year The Rink at MarketStreet has welcomed skaters, and while temperatures haven't always felt so seasonal, it doesn't matter at the Lynnfield marketplace.
"We welcome skaters on warm days or those that feel a bit more like winter," Charlotte Woods, general manager of MarketStreet Lynnfield said. "Our chiller keeps the Rink in prime condition, so you can skate 7 days a week regardless of the temperature."
The Rink, centrally located in the marketplace, boasts several cast iron chimenea gas fire pits and benches and a warming tent is close by for those needing to take a break.
Skate rentals are also available for an additional fee.
The Rink is offering special theme nights throughout the season. Registration is not required. Skaters will receive a wearable item for the evening, though attendees are urged to dress in theme. Snacks and non alcoholic beverages are available in the Warming Tent. All free of charge with the purchase of admission. Upcoming themes include: Jan. 24, Pirates on Ice, 5 to 8 p.m.; Feb. 7, SuperHero Night, 5 to 8 p.m.
Admission is $12 and children under age 3 are free. The rink is open through Feb. 26. Mondays through Fridays, 3 p.m. to 8 p.m.; Saturdays, 10 a.m. to 8 p.m. and Sundays, 11 a.m. to 8 p.m. See the website for special hours on vacation weeks and on Martin Luther King Jr. Day.
THE MEADOWS, DANVERS
While technically not a skating rink, The Meadows has been a winter gathering spot for Danvers residents for decades.
Each winter, skaters flock to the flooded wetlands to enjoy the outdoors and get some exercise. Overseen by the Recreation Department, a "rink" is created when public works crews put up boards to create the skating area around November.
"It's very much a townie thing," said Nick Campion, assistant director of the Recreation Department. "We certainly don't go out of our way to advertise or promote it. It's unique to Danvers."
---
Best ice skating in Massachusetts
Newsletter Signup
Stay up to date on all the latest news from Boston.com