Entertainment
Another Boston movie theater is closing its doors
Regal Fenway is one of 39 Cineworld-owned theaters nationwide that will be closing in the coming months.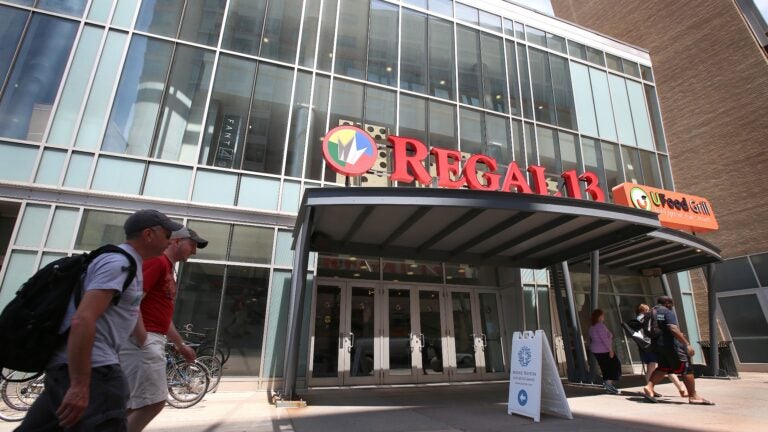 A Boston movie theater located in a historic building is set to close its doors.
Regal Fenway, which opened to the public in 2000 in the Landmark Center building (401 Park), is one of 39 Regal Cinemas theaters nationwide set to close, according to a new court filing from parent company Cineworld.
Regal is the second-largest theater chain in the U.S. behind AMC, and operates more than 500 locations nationwide.
Cineworld filed for Chapter 11 bankruptcy in September 2022, and according to a new court filing on Tuesday, it plans to reject the leases for 39 of its theaters on February 15.
Rejecting a lease is standard practice in bankruptcy filings, and allows for a debtor to walk away from a lease while also giving landlords the right to collect damages. Under U.S. Bankruptcy Code, Alexandria Real Estate Equities, which purchased Landmark Center in 2021, can collect the greater of one year's rent or 15 percent — not to exceed three years — of the remaining term of the lease.
Also included in the list of theaters set to close is the Regal Concord 10 in Concord, New Hampshire.
A representative for Regal Theaters did not return a request for comment. Social media accounts for Regal Theaters did not address the closures, instead posting a deal for 50 percent off popcorn for National Popcorn Day.
Regal is not the first theater in Boston to close since the start of the pandemic. In March 2021, the ShowPlace ICON Theatre in the Seaport announced it would not reopen. Less than a month later, ArcLight Cinemas at Hub on Causeway announced that it too would permanently close.
Here is the full list of Regal Cinemas locations closing nationwide per Cineworld's recent court filing.
Tikahtnu Stadium 16 Imax and RPX (Anchorage, AK)
Metro Point (Costa Mesa, CA)
Berkeley 7 (Berkeley, CA)
Parkway Plaza Stadium 18 and Imax (El Cajon, CA)
Escondido Stadium 16 and Imax (Escondido, CA)
Hemet Cinema 12 (Hemet, CA)
Sherman Oaks Galleria 16 (Los Angeles, CA)
Yorda Linda and Imax (Yorba Linda, CA)
Meadows Stadium 12 (Littleton, CO)
SouthGlenn Stadium 14 (Centennial, CO)
Shadowood 16 (Boba Raton, FL)
South Beach Stadium 18 and Imax (Miami, FL)
Keauhou Stadium 7 (Kailua-Kona, HI)
Bolingbrook Stadium 12 (Bolingbrook, IL)
Round Lake Beach Stadium 18 (Round Lake Beach, IL)
Fenway Stadium 13 and RPX (Boston, MA)
Bowie Stadium 14 (Bowie, MD)
Rockville Center Stadium 13 (Rockville, MD)
Brunswick 10 (Brunswick, ME)
Beaver Creek Stadium 12 (Apex, NC)
Omaha Stadium 16 (Omaha, NE)
Concord 10 (Concord, NH)
Hamilton Commons Stadium 14 (Landing, NJ)
Pohatcong Stadium 12 (Phillipsburg, NJ)
Santa Fe Stadium 14 (Santa Fe, NM)
Village Square Stadium 18 (Las Vegas, NV)
Elmwood Center 16 (Buffalo, NY)
Ithaca Mall Stadium 14 (Ithaca, NY)
Cortlandt Town Center (Mohegan Lake, NY)
Union Square Stadium 14 (New York, NY)
Greece Ridge Stadium 12 (Rochester, NY)
Transit Center Stadium 18 and Imax (Williamsville, NY)
Montrose Movies Stadium 12 (Akron, OH)
Barn Plaza Stadium 14 (Doylestown, PA)
Oaks Stadium 24 (Oaks, PA)
Greenbrier Stadium 13 (Chesapeake, VA)
Stonefield Stadium 14 and Imax (Charlottesville, VA)
Meridian 16 (Seattle, WA)
Gallery Place Stadium 14 (Washington, DC)
Read the full court filing below:
Newsletter Signup
Stay up to date on all the latest news from Boston.com