Entertainment
Michael B. Jordan makes SNL hosting debut with musical guest Lil Baby
The Creed III actor and director was "Michael B. Joking" on this week's "Saturday Night Live."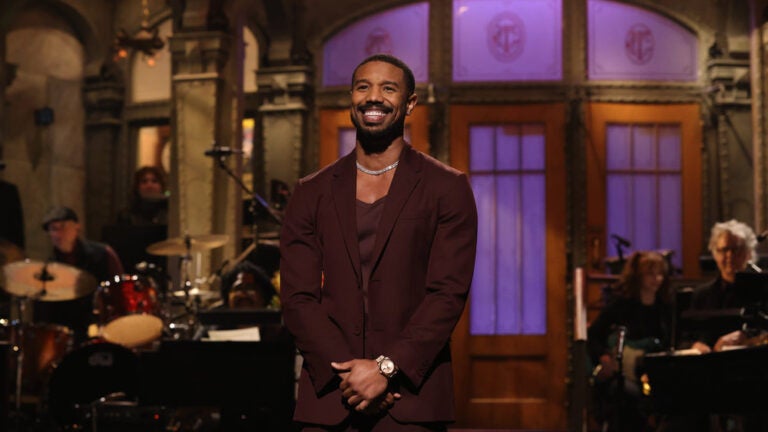 Actor Michael B. Jordan hosted SNL for the first time last night, promoting the upcoming release of "Creed III," the 35-year-old's directorial debut. He's best known for his roles as "Black Panther" villain Erik Killmonger and Adonis Creed in the Creed series. He pulled off comedy this week, and rapper Lil Baby joined as this week's musical guest.
Cold Open
Mikey Day is Merrick Garland, the new sheriff in town. "I may look like I was born in a library," said Day, "but…Merrick Garland, don't play." He goes after classified documents, Wild West-style, and brings in special agents to talk about what they've found on the case.
Keenan Thompson visited Mike Pence's house, where he found cutout pictures of Shania Twain in a manilla folder labeled "Tax Stuff," Ego Nwodim says Kamala Harris would never be given classified documents in the first place, and Bowen Yang brags about meeting Obama. "Beyonce called him on his cellphone, and he ignored it!"
Monologue
"My name is Michael B. Jordan," the actor begins his monologue, "but tonight, Michael B. Hosting. Michael B. Joking. And honestly, Michael B. Nervous." He notes that when they pre-shot some videos for the show earlier this week, they worked in the same studio where he shot one of his first acting roles, 20 years ago, on the soap opera "All My Children."
Cast members Chloe Fineman, Heidi Gardner, and Ego Nwodim come out on stage to flirt with Jordan. Punkie Johnson joins, too, because, as she says, "Punkie B. Curious."
Roller Coaster Accident
Chloe Fineman and Keenan Thompson are hosting "Good Morning Today" and cut to Francine (Sarah Sherman) over in the cooking studio, who was stuck on a roller coaster going 150 miles per hour for 19 hours yesterday. She looks like hell, with her hair sticking up and her mouth frozen in a wide-open grimace. She tells us what she'll be cooking today (you can hardly understand her) before drinking a glass of Chianti that just dribbles down her shirt. Jason (Jordan) from the weather desk was also caught on the roller coaster, and the physical comedy continues as they both try to eat Francine's minestrone soup.
Southwest Airlines Announcement
Southwest Airlines is dedicated to making things right after their canceled flights' debacle over the holidays. They're finally updating their 2002 IBM Thinkpads "with the little red nipple in the middle" to 2008 Dell computers, and all luggage will be sorted by color. Blue bags go to Charlotte.
Jake from State Farm
Jordan is Jake from State Farm, helping set up a family (Heidi Gardner, Mikey Day) with a policy. He charms Gardner and the kids, moving in and slowly taking over DaDay'sife as the commercial becomes more like a horror movie trailer. In the end, Day is saved by Liberty Mutual's Limu Emu and Doug.
Lil Baby
Lil Baby performs "California Breeze" and "Forever," both off of his most recent studio album. The former peaked at No. 4 on the Billboard Hot 100 last year.
Weekend Update
On this week's Weekend Update, Colin Jost and Michael Che make fun of George Santos, TrTrump'sacebook account, Mike PePence'slassified documents, and Live NaNation'senate hearings. Michael ChChe'soorman Carl (Keenan Thompson) comes on to discuss New York City rent, and Heidi Gardner plays "every boxer's girlfriend" from every boxing movie about boxing ever. "I swear to God, if he fights again, I'm taking the kids to my sister's."
Newsletter Signup
Stay up to date on all the latest news from Boston.com