Entertainment
Super Bowl 2023: Watch Rihanna's full halftime show performance
The pop star's first major live performance in seven years didn't disappoint.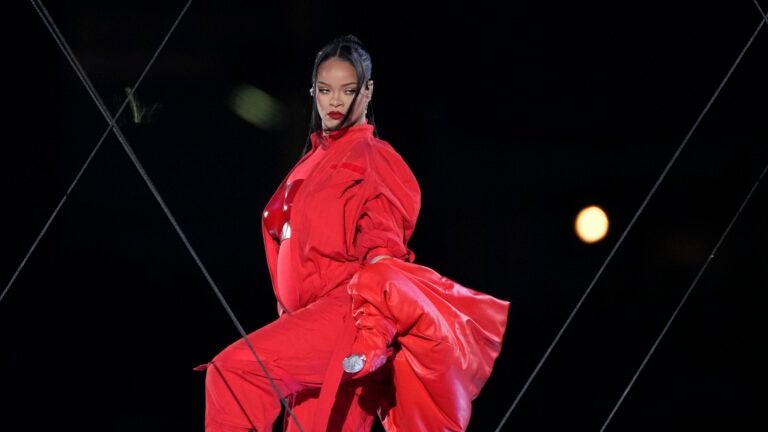 For her first major live performance in seven years, Rihanna pulled out all the stops for her 2023 Super Bowl halftime show.
Following an entertaining first half of action between the Kansas City Chiefs and Philadelphia Eagles in Super Bowl LVII, the Barbados-born singer descended from the skies at State Farm Stadium in Glendale, Arizona for a 13-minute tour de force of a halftime performance.
Suspended on a platform high above the stage clad in a bright red jumpsuit, Rihanna kicked off her performance with "B**** Better Have My Money," accompanied by a scowl that warned the NFL that the check better be in the mail.
Rihanna quickly moved into a medley of hits like "Where Have You Been," "Only Girl," and "We Found Love." Cameras from high above captured the verticality of the show, with a mix of luminescent platforms, strobe lights, and more than 100 backup dancers clad in white hooded jumpsuits and reflective sunglasses.
Fans watching live on the Fox Sports YouTube channel were also able to see deaf performer Justina Miles sign the entire show in American Sign Language. (Miles, 20, also signed the pre-game performance of "Lift Every Voice and Sing.")
After reaching the stability of the stage, Rihanna mostly struck poses and walked short laps around the stage, leaving the more physical elements to her backup dancers as she launched into a sped-up, jungle-inspired version of "Rude Boy" and "Work."
The singer can hardly be blamed for skipping the more demanding moves, however: Her reps confirmed to The Hollywood Reporter that Rihanna is pregnant.
Rihanna didn't bring out any special guests, but tipped her proverbial hat to past collaborators, performing choruses she sang in DJ Khaled's "Wild Thoughts," Kanye West's "All of the Lights," and Jay-Z's "Run This Town." (Jay Z, whose company Roc Nation has helped the NFL plan the last several halftime shows, was on hand to watch the performance.)
Following brief versions of "Pour It Up" and "Umbrella," Rihanna foretold her exit with "Diamonds."
"Shine bright, tonight, you and I, we're beautiful like diamonds in the sky," Rihanna sang, as she ascended higher and higher toward the stadium roof.
After seven years away, the Barbados singer made sure to exit the spotlight in style, fulfilling the showbiz adage to always leave the audience wanting more.
Watch Rihanna's full Super Bowl halftime show performance below, or on the NFL's YouTube page.
Newsletter Signup
Stay up to date on all the latest news from Boston.com