Entertainment
Watch outtakes from Ben Affleck's Dunkin' Super Bowl commercial
The Cambridge native will star in another ad for the coffee chain airing soon.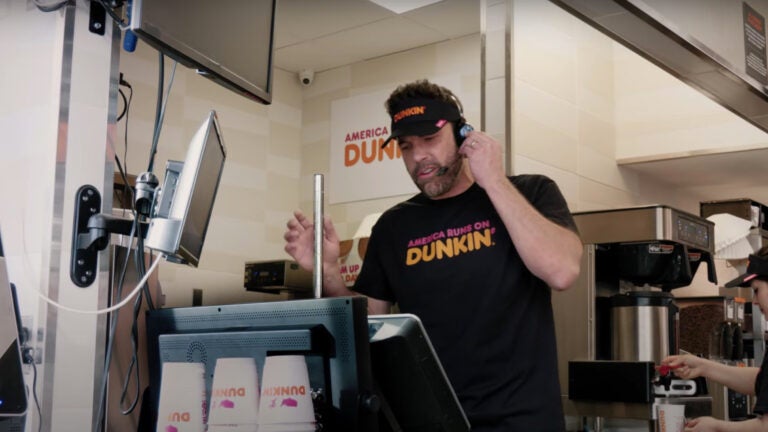 Viewers couldn't get enough of Ben Affleck's Dunkin' Super Bowl commercial Sunday night, with the ad ranking in the top five of USA Today's reader survey of the best Big Game commercials.
Thankfully, Dunkin' decided to upload a collection of outtakes from the ad, which Affleck and wife Jennifer Lopez filmed in Medford and Revere in January.
In the unused footage, Affleck messes with customers a lot more than what we saw during the Super Bowl. In one clip, Affleck tries to sell the customer a cup of water.
"We're out of coffee," Affleck says. "We've got no coffee and no doughnuts. And we've got no sandwiches and no muffins and no cold brew, espresso, teas, frozen beverages, Coolattas."
In another, Affleck tries to sell a customer on adding "joy" to her life in the form of sweetener in her tea. When she declines, Affleck jokes that she's "insisting on darkness."
According to an interview with The Wall Street Journal, Dunkin' initially wanted to film a commercial with Affleck visiting the company's boardroom, but the actor pushed for his production company Artists Equity to film the hidden camera idea. In the end, Artists Equity filmed both, and while the drive-thru idea was chosen for the Super Bowl, the boardroom ad will air in the coming weeks.
Affleck told WSJ that he hopes some of the more colorful responses to his less-than-stellar customer service sees the light of day.
"It's Boston, after all, so we had some rather coarse and agitated people who were willing to voice their displeasure in a colorful way," Affleck said. "I'm still lobbying to include the most interesting of those in some of the edgiest social spots."
Watch all of the outtakes from Ben Affleck's Dunkin' Super Bowl commercial below.
Newsletter Signup
Stay up to date on all the latest news from Boston.com