Entertainment
Ben Affleck disses Matt Damon in new Dunkin' Donuts commercial
The Cambridge native isn't serving the coffee this time around.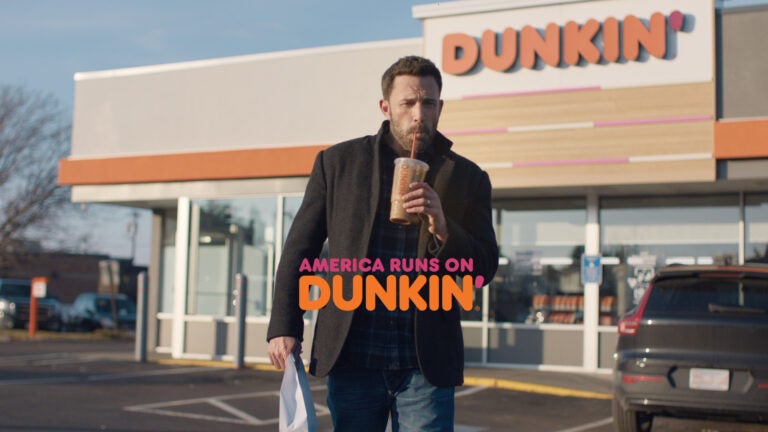 After serving up drive-thru orders at a Dunkin' Donuts in Medford for a Super Bowl commercial, Ben Affleck is back in another 30-second spot for the coffee chain.
In the new ad, unveiled by Dunkin' Monday morning, Ben is having an existential crisis about becoming a "commercial actor."
"I don't do commercials," Affleck explains to the nonplussed cashiers. "I'm a real actor, this is an art form for me."
As the Dunkin' employees struggle to identify the "real actor" ordering a coffee and doughnut, suddenly it clicks:
"Were you in 'The Departed?'" asks a cashier played by Matthew Maher, who you can see in Affleck's upcoming movie "Air."
"I'm Matt Damon," Affleck says with a wry smile.
"Yeah, I love him, I love him," Maher responds. "He's had a really consistent career, I think."
"Hmmmm, nah," Affleck says, shaking his head. "I mean, some of his work."
Having Maher and Affleck mention Damon in the ad is probably no coincidence, since "Air" — which stars Damon, Affleck, and Maher — hits theaters Wednesday. The ad was also produced by Affleck and Damon's new production company Artists Equity, which is also responsible for "Air."
Affleck and wife Jennifer Lopez drew the attention of paparazzi back in January when they filmed scenes at Dunkin' locations in Medford and Revere. After the Super Bowl commercial aired in February, a representative for Dunkin' said in an email to expect more ads from Affleck in the future.
"Ben Affleck has always been a member of the Dunkin' family, but tonight Dunkin' made it official during the big game," the company said in an email. "While this is a first for Dunkin' and Ben, it is certainly not the last! Stay tuned for more to come!"
Watch Ben Affleck's new Dunkin' commercial below:
Newsletter Signup
Stay up to date on all the latest news from Boston.com