Entertainment
Ana de Armas makes her hosting debut on SNL
The "Blonde" actress tries her hand at comedy alongside musical guest Karol G.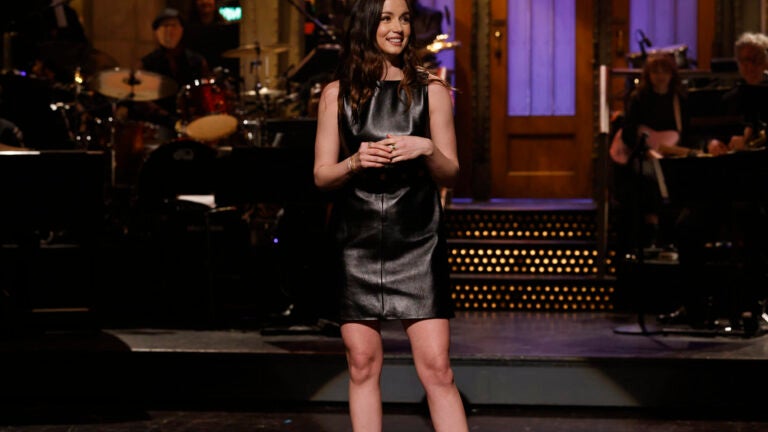 Fresh off a big year, Ana de Armas, who starred in "Knives Out" and the Marilyn Monroe biopic "Blonde," made her hosting debut on "Saturday Night Live" yesterday.
She recently became the first Cuban nominated for an Academy Award for Best Actress for her work in "Blonde," and she's not slowing down — she's starring alongside Chris Evans in an upcoming Apple TV film called "Ghosted," and "Ballerina" with Keanu Reeves comes out next year.
Cold Open
It's the first warm day of the year during the cold open, and Bowen Yang and Heidi Gardner are interviewing all the "freaks, crazies, and weirdos" out and about, red carpet-style. An older man is doing an aggressive power walk, the perverts are out of the subway and into the bushes, and a woman is learning how to rollerblade on a path crowded with thousands of people. But worst of all, they spot the "guy with the clipboard who wants to know if you have a second for a good cause."
Monologue
Ana de Armas gave a sweet monologue about her experiences acting in the States and the big year she's had. She says she's officially becoming an American citizen in three weeks, and she learned English when she moved to the U.S. at 26 the way everyone coming to America does — by watching "Friends." "Who would've thought that the best English tutor would be Chandler Bing?" She also mentions the time she worked with Robert De Niro, who then visited her family in Cuba.
Matt Schatt Game Show
Kenan Thompson is hosting a game show called "The Dome," but gets distracted when he sees that one of the contestants, Carmen (de Armas), a beautiful woman, is married to a mediocre guy named Matt Pat Schatt (Mikey Day). It gets more confusing as Thompson tries to find out why they're married — he isn't rich and he doesn't have her hypnotized. In fact, she's a dancer with the San Francisco Ballet, and he's a Purina dog food tester.
American Girl Doll Movie Trailer
Playing off of the recently released Barbie movie trailer, this sketch brings cheery American Girl Dolls to life, like Samantha (Chloe Fineman), Addy (Ego Nwodim), Josefina (de Armas), and Kirsten (Gardner). They play dress up and go on adventures, despite their deeply tragic backstories, like being enslaved or watching their family members die of "vague, old-timey diseases."
Album Recording Session
A music producer, Yung Spicy (Devon Walker), wants two voice actresses (de Armas, Nwodim) to record a new producer tag for his music. But they don't exactly understand the assignment — they go from calling Spicy sexy to insulting him. ("Damn Spicy you got that dark ring around your toilet.") The other producer in the studio, Thompson, keeps talking about the lunch he'll get when they finally get the right take.
Karol G
Colombian singer/songwriter Karol G performs "Mientras me Curo del Cora," an acapella track off her 2023 album, "Mañana Será Bonita," with a live chorus backing her. She also performed "Tus Gafitas," also off her most recent album.
Weekend Update
On this week's Weekend Update, Colin Jost and Michael Che joke about the Pentagon document leak, Biden's recent trip to Ireland, and Trump claiming that police were crying when they arrested him.
Molly Kearney came on to discuss the 400 new anti-LGBTQ+ bills introduced around the country this year.
Lisa from Temecula: Wedding
Nwodim is back as Lisa from Temecula, a character who first appeared during the Pedro Pascal episode. She causes a scene at the wedding dinner, requesting extra dressing to kill the E. coli on her salad and throwing out smoked salmon that looks like a "fruit roll-up."
Dog Acting School Commercial
Fineman and de Armas are doing an ad for their acting school for dogs. They bring real dogs into the sketch, which are adorable, but don't exactly cooperate.
Newsletter Signup
Stay up to date on all the latest news from Boston.com