Entertainment
Thinking about going to Gillette Stadium without Taylor Swift tickets? Think again.
It's going to be very difficult for those without tickets to Taylor Swift's Gillette Stadium show to get anywhere near the venue on Friday, Saturday, or Sunday.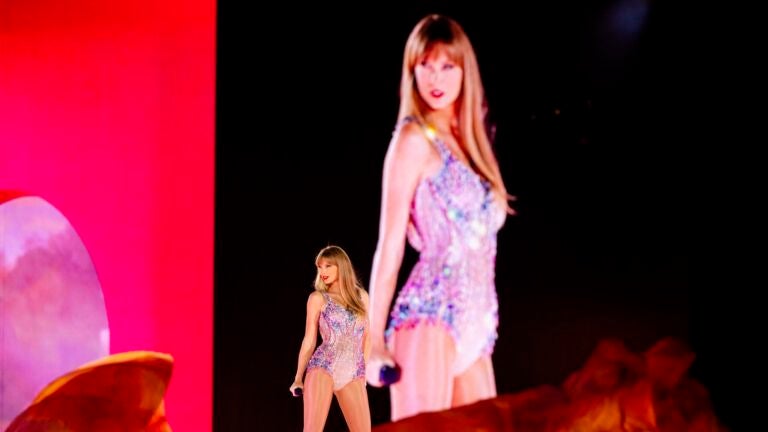 In case you haven't read any of the 800 stories published about it this week, Taylor Swift is in town for a weekend of shows at Gillette Stadium this Friday, Saturday, and Sunday as part of the singer's Eras Tour. Getting tickets for the pop star's concerts was a nightmarish process for many, and with so many Swifties left empty-handed, fans in other cities have resorted to showing up outside of venues to listen to Swift from afar.
The trend, dubbed "Taylor-gating," has made an already crowded concert experience even more of a mob scene. A TikTok filmed at Swift's recent show in Philadelphia captured the scale of the issue, showing thousands of fans singing along outside of Lincoln Financial Field.
So, can you go to Gillette Stadium without tickets or not?
If you struck out with Ticketmaster and were planning to do the same at Swift's Gillette Stadium shows, you might want to think twice.
According to the stadium's official (all-caps) policies for the show on its website, "EVENT TICKETS ARE REQUIRED TO ACCESS PARKING LOTS FOR ALL FULL STADIUM EVENTS, INCLUDING TAYLOR SWIFT. IF YOU DO NOT HAVE AN EVENT TICKET, YOU WILL BE TURNED AWAY."
Similarly, the Foxborough Police Department put out a notice on Facebook Wednesday stating that access to Route 1 via local roads will be limited to Foxborough residents or Putnam Parkway passholders only.
That said, Gillette's website states that tailgating is permitted if you make it into the parking lot (presumably with a ticket).
The town of Foxborough banned residents from selling parking spaces on private property in 2012. So the only way to get anywhere close to the stadium if you don't have tickets is to park somewhere in Walpole, then walk the 25 minutes along Route 1 to Gillette.
Despite all the safeguards put in place, residents are concerned that Swifties — especially those traveling from outside the Boston area — won't be deterred.
"Out-of-town Swifties truly think they're going to be able to hang around the stadium w/o tickets, it's crazy," wrote one Facebook user in the comments section of the Foxborough Police Department
"Someone on a group for women in Boston legitimately just said, 'Realistically they can't stop thousands of people if they show up,'" wrote another.
What about parents dropping their kids off at Gillette Stadium for the concert?
For parents who are dropping their kids off at the show but don't have tickets themselves, Gillette Stadium is directing drivers to South Retail Parking Lot 15. That's the only lot reserved for both drop-offs and pick-ups.
Gillette's website also states that at the end of the night, parents can return to either Lot 15 or Lot 3A to pick up their kids, suggesting a window of 9:30-10 p.m. to do so.
"You should advise your children that you may not be in the same parking location as they were dropped off since many people will be returning to claim their children at the same location," the Gillette Stadium website states.
Newsletter Signup
Stay up to date on all the latest news from Boston.com