Entertainment
'Hocus Pocus 3' is officially in development at Disney
Disney is moving forward with plans for another 'Hocus Pocus' sequel following the success of 2022's 'Hocus Pocus 2.'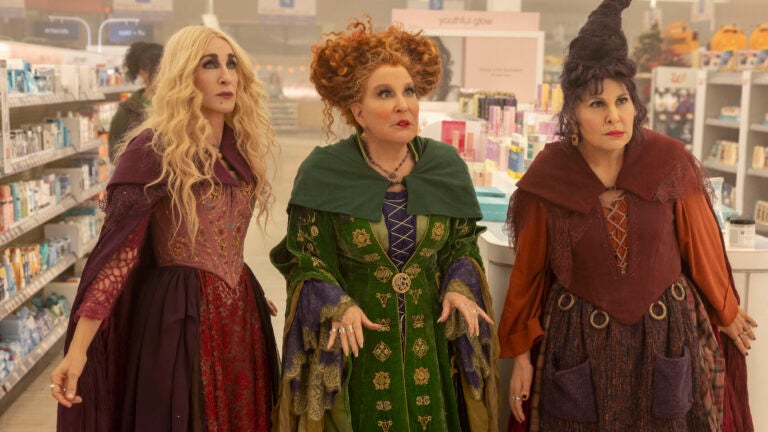 Disney is betting that another "Hocus Pocus" sequel will spell movie magic for the company.
In an interview with The New York Times, Walt Disney Pictures President Sean Bailey confirmed that "Hocus Pocus 3" is one of several projects in development at the entertainment giant, along with live-action remakes of "Moana," "Hercules," and "Lilo and Stitch."
Nearly 30 years after the original "Hocus Pocus" was released in 1993, "Hocus Pocus 2" set streaming records for Disney+ in 2022, as the Sanderson sisters (played by Bette Midler, Sarah Jessica Parker, and Kathy Najimy) returned to Salem to terrorize a new generation of children.
Boston.com's review of "Hocus Pocus 2" gave the film three stars (out of four), calling it "an entertaining, lively experience that captures the campy fun of the original."
The original "Hocus Pocus" helped to grow interest in downtown Salem as a tourist attraction, with fans flocking to homes and buildings in Salem and Marblehead that were used as filming locations in the movie. For the 2022 sequel, producers filmed in Rhode Island, with Newport's Washington Square serving as a stand-in for downtown Salem.
Bailey did not share whether "Hocus Pocus 3" would be filmed in New England.
In a 2022 interview with Entertainment Weekly, Parker speculated that the third film could be animated instead of live-action.
"Kathy had a good idea that the third one should be animated," Parker said. "That would be cool and a smart idea. It's fun, funny, and could be interesting and innovative, like old-fashioned or new [animation]. Of course I'd be happy to have a conversation [for a third film] — it just depends on what Kathy and Bette want!"
Need weekend plans?
The best things to do around the city, delivered to your inbox.