Entertainment
Is Taylor Swift's Eras Tour a curse on NBA teams?
A 24-year-old posted his observation to Reddit, calling Taylor Swift "The key to the Eastern Conference Matchups this year."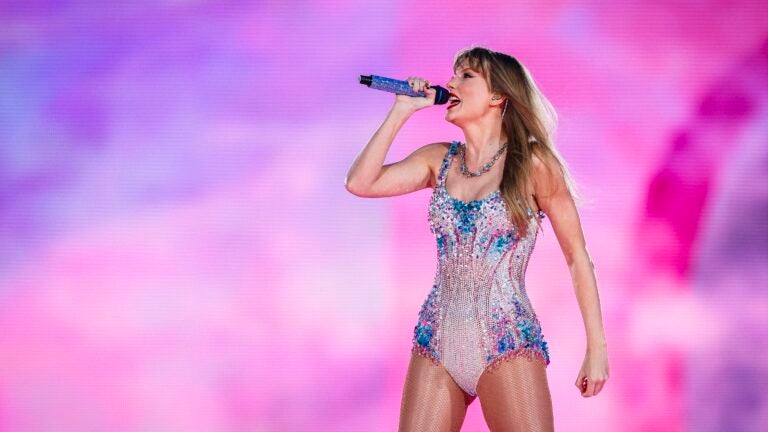 Weeks ago, 24-year-old Matt Moses noticed a trend: Whenever Taylor Swift's Eras Tour came to an NBA team's city during the playoffs, that team was doomed to lose.
Those three Atlanta shows in late April? Boom, the Hawks lost their series to the Celtics just before Swift arrived. When Swift played in Philadelphia in May? The 76ers lost the series, also to the Celtics, after a Game 7 defeat on Swift's final night at Lincoln Financial Field.
Moses posted his observation to Reddit, calling Swift "The key to the Eastern Conference Matchups this year." But when the pop star visited the Boston area for three nights last month, the Celtics fan desperately hoped his prediction wouldn't hold up, he told The Washington Post. No such luck – the Miami Heat beat the Celtics in two games on the same weekend Swift had her Boston shows.
To add insult to injury, Moses had agreed to drive his sister to the May 21 show in Foxborough, some 30 miles from Boston. And as Swifties sang their hearts out inside the jam-packed Gillette Stadium, he sat in his car outside, hearing about the Celtics' Game 3 loss over the radio.
"It wasn't a fun experience, but I at least got to hear her sing, and that made up for it a little," Moses said. "But wherever Taylor Swift's going, there's a curse."
That "curse" has blown up on social media as some conspiratorial sports fans connect the dots between Swift's tour stops and their teams' wins and losses. Though Moses posits it takes effect when the concerts and games are on the same weekend, some have noticed that teams in cities Swift has visited or will visit during her tour have also been wiped out. Take the Phoenix Suns. Swift opened her tour in nearby Glendale in March, and the team was knocked out of the semifinals two months later. The Golden State Warriors and the Los Angeles Lakers both lost ahead of Swift's tour dates in California in July and August.
The theory now has implications for the Miami Heat and the Denver Nuggets in the Finals. Because Swift did not stop in Miami, some are betting the Florida team will win. But even though Swift is heading to Denver in July, Moses says the Nuggets have a shot – after all, her show will be long after the NBA crowns its winner later this month.
"I think Taylor Swift barely spared them by saving the date until after the game," Moses said. "So I think they'll be saved from the curse, but I hope this doesn't jinx it."
After the Heat beat the Nuggets on Sunday night, tying the series at a game apiece, the stakes are as high as ever.
So, should you put your money on a Heat or Nuggets win based on Swift? Better not to, said Don Saucier, a psychological sciences professor at Kansas State University.
"We always want to find patterns because we want to be able to predict behavior, decrease anxiety and find some measure of control," Saucier said. "And that's what a superstition is – believing a pattern has some impact even though it doesn't. But it's enough to make us feel better and in control."
Superstitions abound in sports — baseball players eating waffles before every game or Argentine soccer fans claiming a celebrating grandmother as their lucky charm. Then there's the genre of random animals turned oracles. And when it comes to Swift, who follows some concert-time superstitions herself, the San Francisco Giants and a Brazilian soccer team have claimed her album drops lead to victories.
The combination of Swift being "such a cultural icon," along with her ability to overcome odds and "almost make the impossible possible," lends itself to superstition, Saucier said.
"That makes it seem plausible that she somehow could have this kind of magical impact on the NBA Finals," Saucier said. "It's all about the amount of autonomy and agency that we grant Taylor Swift. With that status, it suddenly becomes plausible that she could do this, when if it were another random, less-known group, we'd probably say, 'No way there's a connection.'"
The day tickets went on sale for Swift's Eras Tour, it brought a Ticketmaster meltdown — and, in a resulting congressional hearing, a group of senators flexed their Swiftie knowledge. In the places she's visited, local officials have honored her with temporary name changes, official state sandwiches and even honorary mayorships.
But Swift might now be a bit of an anti-hero – at least to the NBA fans in those cities.
"I mean, for a minute, it looked like the Celtics were going to win, but then [Jayson] Tatum got injured, and it was kind of over. But it wasn't the injury – it had to be Taylor Swift," Moses said. "I'm not going to blame my team; I'd rather blame someone else."
For Moses, the Celtics' Game 4 win two days after Swift left Boston cemented the "indisputable evidence" of a curse, he said.
He now has one message for the pop star: "Please don't tour during the playoffs anymore."