Entertainment
'I like a nice eclectic group of Massholes': Sarah Silverman comes full circle on new Boston-filmed special
New Englander Sarah Silverman talks Boston accents, Conan, depression, and finding solace in comedy.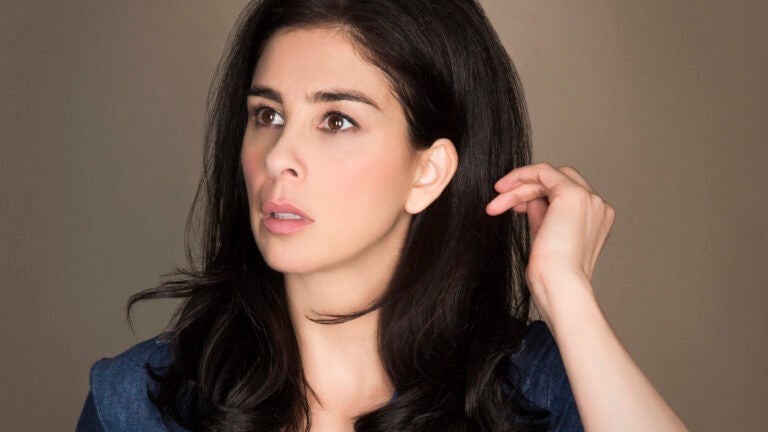 "Someone You Love," filmed at the Wilbur, on HBO and streaming on MAX
Some 35 years after a New Hampshire high school kid named Sarah Silverman cut her teeth in comedy at a Boston club, she returned to film her first Boston special.
In fact, if you were at Boston's Wilbur Theatre earlier this year for Sarah Silverman's "Grow Some Lips Tour" you might hear your own laughter on HBO.
Now called "Someone You Love," the New Englander's Boston-filmed, hour-long special is on HBO and streaming on Max.
It's classic Silverman — from jabs at religion and anti-abortionists to college-humor-style diarrhea, toilet paper-wiping and balls jokes.
"What I find funny sometimes changes, but ultimately stays the same: which is really dumb stuff. Incredibly stupid. Like maybe a hint of broccoli," Silverman tells me with a laugh in our recent phone interview.
Born in Bedford, New Hampshire and raised in Manchester, Silverman graduated from the Derryfield School in Manchester in '89.
As she comes full-circle with her first Boston-taped special, the Emmy-winner and host of the Sarah Silverman Podcast sat for a wide-ranging phone interview — from stealing classes at NYU and her love of musical theater, to Conan, depression, and finding solace through comedy.
Boston.com: So you filmed your special in Boston in 2023. John Mulaney also filmed his latest Netflix special, "Baby J," in Boston in '23, and had a run of sold-out shows at The Wilbur in 2021. Is this a new hot spot for specials?
Sarah Silverman: I think comics, they tour all around, and when they pick a place to shoot a special, they pick a place they remember loving. And Boston, the Wilbur, is always such a fun place to play. Also, I'm from the area. I haven't done a special outside of Los Angeles. So it was fun to go home and do it there.
What makes a Boston crowd so special?
It's New Englanders. I like a nice eclectic group of Massholes. [laughs] It was great. I was able to see some family. My dad was born in Boston. He had a very thick Boston accent. I love the sound of it. My mother made sure we did not get a Boston accent but my dad had one. I love it so much.
That's awesome. Growing up, were you always the funny kid?
I was definitely the class clown, the family clown. My dad taught me the joy of getting laughs at an early age. He was very funny. He also was one of those dads who thought it was funny to teach his 3-year-old swears. So I'd swear and get this massive approval-despite-themselves from adults. Gave me the itch.
When did you decide you wanted to be a comic?
Third grade. My mom saved this thing I filled out: "When I grow up I want to be…" I put "a comedian, an actress or a masseuse." [laughs] But that's just because my family would trick me into rubbing their shoulders by going, "You're so good!"
You did some stand-up in high school.
The first time I did stand-up was in Boston. I was 17. I was at summer school at BU. I did open-mic at Stitches when it was on Comm Ave. next to the Paradise, probably before you were born, like '88. Then I went back and finished my senior year of high school, then moved to New York and started doing stand-up. Passing out fliers for a comedy club, trying to get stage time.
You were at NYU for a bit.
A year. I was taking classes in the morning, working from 4 p.m. to 2 a.m. every day, seven days. I was falling asleep in class, which wasn't like me.
I took a year off, and when I went to go back, my dad made a deal with me: "If you drop out, I'll pay your next three years rent as if it's your sophomore, junior, senior year. And then you're on your own." And I was like, all right.
Wow.
Yeah, it was a good deal. I still stole some classes — I would go to classes that were interesting to me — big, huge classes where no one would know. I knew I didn't need a diploma or anything. By the time I would've graduated, I was writing for "Saturday Night Live." Then I got fired a year later.
This business — it's peaks and valleys! [laughs] That's the deal.
It sounds like your dad really encouraged you to go into comedy.
Yeah. He saw I was doing it. And NYU is expensive. It was like 20 grand a year, which is probably nothing compared to what it is now, but, it's like college for rich people.
How did you get on SNL?
I just kept my head down, did stand-up, stand-up, stand-up. They saw me, then I met with Lorne [Michaels, the SNL producer], and they offered me [a job]. I did that for a year and then they fired me. It was devastating. For a year, I was like, "Am I in show business?"
Then Conan [O'Brien] started having me on; I was like a regular guest. I'd sit on the couch, he'd set me up for jokes. I'd try new material. It was so different from what I'd hear about someone finally getting on "The Tonight Show," where you had to be so polished. It felt like home-base. He'd have me on all the time. I got really lucky to be in that gang.
And he's another Boston guy. A Masshole.
[laughs] Even though he's a Harvard guy. He's one of the good ones.
Right!
So, it was inch-by-inch. I went to LA, and at a party a girl said, "Hey, my roommate's moving out. You can have her room." And I went "OK." I packed up everything I owned in New York and moved to LA. I didn't even think about it. So much important stuff happens when you don't think and just do it. You can always talk yourself out of it. But you know, f— it. I didn't think about it.
So when you moved to New York, was your goal acting or stand-up?
I wanted to be Éponine in "Les Mis," or Audrey in "Little Shop of Horrors." [laughs] I was into musical theater. But the second I got to New York, I wanted to be a stand-up. Then that's all I focused on. All my friends I made freshman year went to parties and had the college experience. I was at clubs trying to get on every night. That was my joy. There was nowhere else I wanted to be. It was alI I was interested in. It was became my social life, joy, everything.
It must have been tough — comedy seems like such a boys' club.
At the time, it was, massively, a boys' club. But I felt pretty comfortable. It's crazy looking back at what I accepted as the way things were. Totally bananas. Then, in the late '90s, and early aughts, more and more, it became not a boys' club anymore. I mean, there are sects. But even the bro-ey guys, I love and am friends with.
Listen, there are good and bad people throughout, certainly, but more often than not, it's an Island of Misfit Toys. My comic friends are bros, nerds, ladies, old, young, Muslim, Jewish, Black, white, Indian, Nigerian — every kind of person you can think of.
Comics are a kind of person. I used to say it was like being gay because you're just kind of born that way. Certainly, there are comics who didn't start out that way and found their way to it. But mostly, it's a survival-skill from a hard childhood. Everyone develops survival skills to survive childhood. For comics, that skill is being funny.
When we become adults, if we're lucky, we understand that we need to unlearn those skills because they no longer serve us. But with comics, a lot of times they're afraid to go to therapy because the-skill-that-no-longer-serves-them is also their life-force.
Wow, that's a good point.
I believe that you can get healthy mentally and still be funny. Some people disagree — and use me as that example, I'm sure. [laughs] But if you suffer from real depression, you want to be well.
You've suffered from depression.
Since I was about 13.
What kind of solace do you get from comedy?
Wow. That's a tough question. [pause] It's something that you write when you're alone. And you find out if it works when you're surrounded by people. A lot of comics, I am, can be loners. But the interesting dichotomy is you only succeed with a group of strangers. It's a one-person job but it's not. You can't even try material without an audience. So you always have to go back to failing.
Right now my special is out and I have zero material. People ask me to do shows and I go "Oh, I don't have any material." But I have to start being brave enough to try stuff that sucks.
That's the only way you can do it. You hope one or two things pop, or there's something there. You realize some stuff is garbage. It's scary. But you've got to be brave and start over because if I just keep doing the material I know works, you become a novelty act. You've got to keep growing.
Lauren Daley can be reached at [email protected]. She tweets @laurendaley1.
Newsletter Signup
Stay up to date on all the latest news from Boston.com