Entertainment
Where to go for the ultimate drag brunch in Boston
You'll see a performance that pulls out all the stops.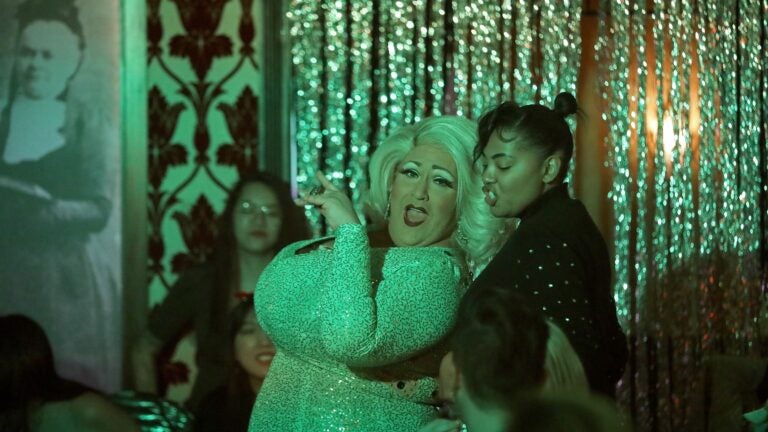 Glamorous costumes, stunning makeup, and music from some of your favorite pop icons make a drag brunch a time to remember. When you go out on the weekend with friends, you know you're looking for a terrific show. Luckily, Greater Boston's queens know how to fill the spotlight, and you can enjoy a great act over a spread of French toast and Bloody Marys.
We asked readers where they go for the ultimate drag brunch, and we compiled a guide of your recommendations and some of our own to the top local spots. Below, you'll find a guide to seven drag brunches and shows where you're guaranteed to have fun, with fierce performances on display. Don't forget to bring cash to tip the stars.
This lively American restaurant and bar in Brighton hosts a drag brunch every couple of months, usually on a Sunday from noon to 2 p.m. Past shows have featured themes like Britney Spears, Taylor Swift, Halloween, and Christmas. Hosted by queen Regina Jackson, performers lip sync and perform dance routines, often pulling out a guest from the crowd to do something fun, like trivia. To drink, audience members can order frozen espresso martinis and Buckets of Bubbles, an option to make their own mimosas. Some new menu items include the Cornflake-crusted tenders and the strawberry and cream waffle sliders. Tickets are $10.
458 Western Ave., Brighton
Join the fun at Carrie Nation's "Drag Me To Brunch" every Sunday. Before the show starts, you can enjoy an elaborate buffet, featuring chicken and waffles, pastries, and usually a pasta dish, from noon to 2 p.m. The show, which runs from 2 to 4 p.m., is both funny and inclusive, hosted by Destiny Boston and Dee Dee de Ray. Performances are often acrobatic, and audience participation is involved. After the show, guests can take photos with the queens. Some core cocktails served at all the events include Dee Dee's Breakfast, a Bloody Mary, and Jump on Destiny's Espressoo. Tickets are $30, plus $20 per person for the buffet brunch.
11 Beacon St., Boston
On the last Saturday of every month, the coastal Mexican restaurant Citrus & Salt holds two drag brunches, the first starting at 11:30 a.m. and another at 2 p.m. On June 24 is their "Disco Diva Drag Brunch," which the queens make a complete experience. Performers will go up and down the aisles, getting the audience involved, and sometimes dancing with them. Guests can enjoy build-your-own mimosa and disco cups, and Cabo Wabo watermelon margaritas that come in keepsake, rainbow-colored cups. They can also indulge in fried chicken and waffle tacos, brunch chilaquiles, and a "killer" Mexican iced coffee. Tickets are $35.
142 Berkeley St., Boston
Somerville's Premiere on Broadway hosts "Heels N' Mimosas," usually on the third Sunday of every month, with doors opening at 11 a.m. Host Amanda Playwith will hold a P!nk tribute show in July, and a "celebrity illusions" brunch in August. Past themes have included Disney Channel movies and Broadway. Comedy is always an important element in the shows, as are song parodies. Guests get a free mimosa with a ticket and can enjoy ricotta pancakes, burgers, and fresh doughnuts. Reader Jane C. said, "The host is funny and talented and quick on her feet. I went there for my birthday and got brought up on stage. It was so much fun!" Tickets are $25.
517 Broadway, Somerville
At the Boston location of this New England clam shack, drag brunches happen every Saturday at 11 a.m. and 2 p.m. Upcoming themes will be "Holy Trinity" (June 17), an emo drag brunch (June 18), "Schitt's Creek" (June 24), and "Harry Styles + One Direction" (July 1). During the high-energy shows, performers will wear over-the-top costumes, lip sync, and dance, occasionally doing splits on the bar top. Guests may find themselves dining on Cap'n Crunch chicken and biscuits, eggs Benedict, and lobster hash. Prosecco-based cocktails, like the Aperol spritz, are featured, while you could also sip on a Bloody Mary, created from a house-made mix. Summer Shack's Cambridge location also hosts drag brunch with upcoming shows like "NSYNC vs. Backstreet Boys" (June 25) and "Dolly Parton's Fourth of July" (July 2). Tickets to the shows are $20.
50 Dalton St., Boston
Sunday Service at Tiffani Faison's Tenderoni's, in the Fenway, is always a raucous time. Held on the first Sunday of every month except this July, the drag brunch lasts from 11 a.m. to 2:30 p.m. In the past, shows have revolved around holidays or themes like Harry Potter, featuring both resident queens and special guests. Audience members can participate in a "Lip Sync For Your Life" contest. With a ticket comes a cocktail and a multi-course brunch, which can include a salad, finger foods like chicken parmesan nuggets, and a choice of pizza. Popular pizza flavors include the mushroom marsala and the Hawaiian-inspired ono grinds. Reader Barbara S. from the Fenway said, "The vibe is amazing; [it's] so much fun with the disco balls and all the neon. It was made for drag brunch." Tickets are $75.
1363 Boylston St., Boston
Every Sunday through the end of June, The Dial in Cambridge will hold drag brunches, hosted by Pristine Christine. The shows will be outside on the restaurant's patio and are free. Each queen, fully clad in costume, will be announced and will dance and lip-sync to songs, often looping in audience members to participate. Popular menu items include the shakshuka, served with two poached eggs, and the strawberry-rhubarb stuffed crepes with chantilly cream and mascarpone. Specialty cocktail menus will also be available. Make reservations online.
Newsletter Signup
Stay up to date on all the latest news from Boston.com