Entertainment
What to know about the actors' strike
Here's why Hollywood is facing its first industrywide shutdown in more than 60 years, and what it could mean for your favorite shows.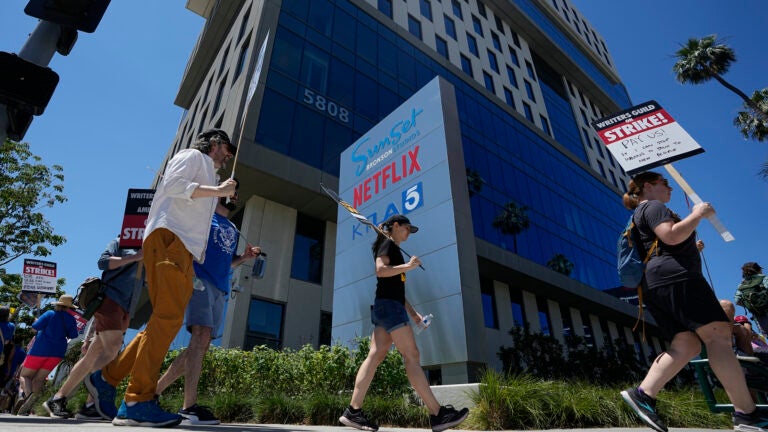 The union representing more than 150,000 television and movie actors announced Thursday that it would go on strike at midnight, joining screenwriters who walked out in May and creating Hollywood's first industrywide shutdown in 63 years.
Here is what you need to know.
Why are the actors and writers striking?
Pay is often at the center of work stoppages, and that is the case here. But the rise of streaming and the challenges created by the pandemic have stressed the studios, many of which are facing financial challenges, as well as actors and writers, who are seeking better pay and new protections in a rapidly changing workplace.
Both actors and screenwriters have demanded increased residual payments (a type of royalty) from streaming services. Streaming series typically have far fewer episodes than television series typically did. And it used to be that if a television series was a hit, actors and writers could count on a long stream of regular residual checks; streaming has changed the system in a way that they say has hurt them. Both groups also want aggressive guardrails around the use of artificial intelligence to preserve jobs.
A-list actors last month signed a letter to guild leadership saying they were ready to strike and calling this moment "an unprecedented inflection point in our industry."
What is the position of the Hollywood studios?
The Alliance of Motion Picture and Television Producers, which represents major studios and streamers, has said it offered "historic pay and residual increases" as well as higher caps on pension and health contributions. They also say their offer includes audition protections, a "groundbreaking" proposal on artificial intelligence and other benefits that address the union's concerns.
The Hollywood studios have also stressed that all the industry upheaval has not been easy for them, either. As moviegoers have been slow to return to cinemas and home viewers have moved from cable and network television to streaming entertainment, many studios have watched their share prices plummet and their profit margins shrink. Some companies have resorted to layoffs or pulled the plug on projects — or both.
What will happen to my TV shows and movies?
It will take a while for filmgoers to notice a change, since most of the movies scheduled for release this year have already been shot. But TV viewers are already seeing the strike's effects, and if it drags on, popular shows could see their next seasons delayed.
Late-night shows are already airing reruns because of the writers' strike, and the vast majority of TV and film productions have already shut down or paused production. Big name shows like "Yellowjackets," "Severance" and "Stranger Things" halted work after the writers' strike began; it is not yet clear if their upcoming seasons will be delayed.
Disney announced several changes to its theatrical release calendar in June, amid the writers' strike.
Now, the actors' strike will add even greater upheaval.
During the first two weeks of July, no scripted TV permits were issued in Los Angeles County, according to FilmLA, which tracks production activity. Film and TV shows that have completed shooting and are already in postproduction can likely stay on schedule, because the work remaining does not typically involve writers or actors.
Participating in either film or television production with any of the studios is now off the table, with few exceptions. And that means that within a few months — beginning with the fall lineup — viewers will begin to notice broader changes to their TV diet.
The ABC fall schedule, for instance, will debut with nightly lineups that include "Celebrity Wheel of Fortune," "Dancing With the Stars" and "Judge Steve Harvey" as well as repeats of "Abbott Elementary." The Fox broadcast network's fall lineup includes unscripted series like "Celebrity Name That Tune," "The Masked Singer" and "Kitchen Nightmares."
How long could this all drag on?
If only we knew.
Writers have been walking the picket lines now for more than 70 days, and their union, the Writers Guild of America, has yet to return to bargaining with the studios.
The last time the writers and actors went on strike at the same time was in 1960, when Ronald Reagan was president of the Screen Actors Guild.
Screenwriters have walked out several times, sometimes for long periods: Their 2007 strike lasted 100 days. The actors last staged a major walkout in 1980; it lasted more than three months.
What about the promotion of current shows and films?
In the near term, officials have said there will be no promotion of current projects, either online or in person. Do not expect to hear Ryan Gosling touting "Barbie" again anytime soon. A ban on promotion could be very bad news for San Diego's Comic-Con, upcoming film festivals in places like Venice and Toronto, and scheduled movie premieres like the "Oppenheimer" premiere planned for Monday in New York.
The 75th Emmy Awards, which announced its nominations yesterday, might now be in peril. Organizers have already had discussions about postponing the Sept. 18 ceremony, likely by months.
This article originally appeared in The New York Times.