Entertainment
The early reviews for 'Maestro' make it an instant Oscar contender
Bradley Cooper's Leonard Bernstein biopic, which was partially filmed in Massachusetts, wowed critics and audiences alike at the Venice Film Festival.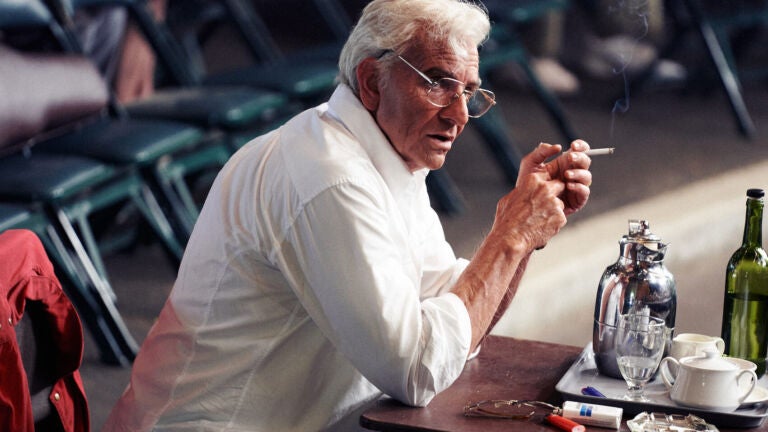 If early reviews from the Venice Film Festival are any indication, Bradley Cooper may have created a masterpiece with "Maestro," his biopic of famed composer Leonard Bernstein.
"Maestro," which was partially filmed in Western Mass. at Tanglewood in 2022, chronicles the complex, decades-long relationship between Bernstein (Cooper) and activist Felicia Montealegre Cohn Bernstein (Carey Mulligan, "Drive").
Co-starring Maya Hawke ("Stranger Things"), Matt Bomer ("White Collar") and Sarah Silverman ("School of Rock"), "Maestro" will land in select theaters Nov. 22 before it begins streaming Dec. 20 on Netflix.
Critics can be hit-or-miss with their festival assessments, sometimes seemingly influenced by the pageantry and star power on display in Venice, Cannes, and Toronto. In previous years they've gone gaga for movies like the Marilyn Monroe biopic "Blonde" that other critics (and audiences) who saw the film months later roundly disliked.
But more often than not, they're a decent enough barometer. And with "Maestro" earning a 93 percent freshness rating on Rotten Tomatoes following its festival debut, the film is on the right track for Oscar nominations.
That said, a single number can't adequately capture the range of critical response, and many of the reviews coded as "fresh" or "rotten" by the critical aggregation site have a bit more nuance. To help you judge whether to rush to theaters in November, wait for its Netflix debut in December, or skip the film entirely, here's what some of the top film critics are saying, both good and bad, about "Maestro."
The Good
Time Magazine critic Stephanize Zacharek found that "Maestro" had a deep emotional impact, writing that the movie "gives you something you didn't know you needed."
This is a complex and sophisticated picture, the kind of grown-up love story we see all too rarely these days, especially when it comes to starry, big-ticket moviemaking. It's entertaining and robust and forthright; it's also tremendously sad, not necessarily in a bring-your-hanky way, but in a deeper, more truthful way.
BBC critic Nicholas Barber had praise for Mulligan's performance and for the sheer audacity of Cooper to attempt a project like "Maestro."
It takes courage to direct a film that was due to be made, at various times, by Steven Spielberg or Martin Scorsese, both of whom stayed on as producers. But Maestro confirms what was suggested by Cooper's directorial debut, "A Star Is Born." He has sky-high ambitions, and he has the technical virtuosity and big-hearted sincerity to fulfill those ambitions with flair.
David Rooney of The Hollywood Reporter said that "Maestro" represented "a considerable leap in terms of accomplishment" for Cooper, from "A Star Is Born," a movie he also loved.
Amplifying its force with thrilling use of the subject's music, this is a layered examination of a relationship that might be grossly over-simplified today as that of a closeted gay man and his "beard." But Cooper and co-screenwriter Josh Singer dig deeper to depict a unique union, fraught with conflicts yet unbreakable — even when it's broken.
Variety's Owen Gleiberman wrote that the controversy over Cooper's prosthetic nose was misplaced, and that the actor's eyes are the real draw.
Cooper, as an actor, has always had a preternatural gleam. In "Maestro," those eyes burn with delight, as he infuses Lenny with a giddy abandon that makes him a spectacle unto himself. He's got so much life force he expects the whole world to revolve around it.

The So-So
IndieWire's Ryan Lattanzio gave "Maestro" a B-, praising the lead performances but ultimately finding it to be a somewhat straightforward biopic.
As a study of how the Bernsteins' near-three-decade marriage endured Lenny's gayness and genius, "Maestro" succeeds off the chemistry between Mulligan and Cooper, but the film often looks and feels too fussed-over, almost too precisely manicured, to ever erase its own parameters as a linear biopic.

New York Magazine's Bilge Ebiri praised Mulligan and called Cooper a "director of vision," but found his performance lacking.
As Bernstein, Cooper's performance is a masterful reconstruction, but it remains a reconstruction, earthbound and cool to the touch. […] It feels throughout like we're watching a TV interview with Bernstein, like he knows the camera is on him. There are almost no unguarded, intimate moments.

The Ugly
Hannah Strong of Little White Lies called "Maestro" a "by-the-book" biopic.
There are promising elements of "Maestro," but they form a rather forgettable, conventional biographical drama as a whole – one that sadly lacks Bernstein's maverick spirit and warmth, or even captures anything about him you couldn't glean from a quick skim read of Wikipedia.
Newsletter Signup
Stay up to date on all the latest news from Boston.com