Entertainment
Will Boston ever be known for its nightlife? Globe Summit discusses progress and challenges.
The Globe Summit panel says the nightlife scene has improved in providing spaces for people of color and the LGBTQ+ community, but a lot more needs to be done.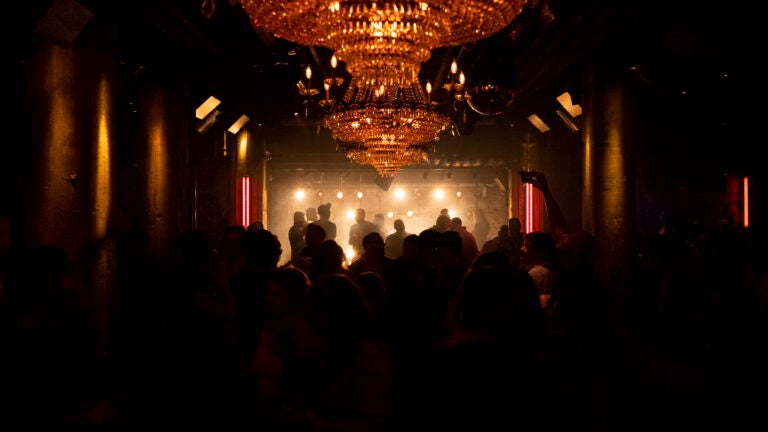 Boston has a nightlife problem, a complaint expressed for decades due to strict permitting processes and business hours that keep the evening from carrying on.
But the nightlife scene that does exist — mostly known for its sports bars and pubs — isn't a very inclusive one. Places for people of color and the LGBTQ+ community to unwind and have fun have either disappeared through the years or didn't exist in the first place.
"There's still a lot of work to be done in creating equitable spaces," said The Boston Globe's Jeneé Osterheldt, who led a conversation with some of the city's nightlife changemakers during a Boston Globe Summit panel on Boston after dark.
Two guests on the panel, Hue's Robert Eugene and Chimel "DJ Real P" Idiokitas, who started Silk, have worked to see progress in this space for years, as event curators. The third guest, Boston's new "night czar" Corean Reynolds, is working to make that progress flourish even more, with some help from the city government.
"There is an outcry for queer spaces, and there's an outcry for more culturally specific spaces," Reynolds said.
But there are barriers that stand in the way of expanding Boston's nightlife to all Bostonians, as well as issues that persist in keeping Boston's reputation as a city that isn't known for its after-hour happenings to begin with.
Making spaces accessible
Ten years ago, there really weren't spaces like Hue — spaces that stay open late with food, cocktails, live music, and events all in one establishment — and the scene at night was usually segregated.
But it's through new ownership, Eugene said, that has brought places to Boston like Grace by Nia and Estella.
"Real P and I have done a lot of work in creating new safe spaces in the parties and events that we're throwing that weren't welcoming to us just years ago," Eugene said.
Idiokitas agreed, saying it's about "access at the end of the day" in whether or not Boston's nightlife scene succeeds and embraces all Bostonians. He added that Eugene booked him in 2007 and let Real P play the music he loved.
Eugene said it's important that when you build progress, you think of the people who come after you and help others in the space.
"It's one thing to create opportunities for myself, but I want to hold the door open for the next person to come in," Eugene said.
But access is still an issue when it comes to city permitting. Liquor licenses are hard to get, and the city's antiquated licensing cap has led to major racial disparities in who actually possesses a license.
Reynolds acknowledged that it's difficult to go through the permitting processes and acquiring the space for a business like a bar, restaurant, or venue. In her position, she hopes she can help direct future owners in the right direction.
"Where do you even start? Part of my role is to make it easier and transparent," Reynolds said. "And help you get connected to the right people."
She also touted the S.P.A.C.E. (Supporting Pandemic Affected Community Enterprises) Grant Program, which offers some financial relief to new businesses as a way to fill empty commercial districts post-pandemic. One example of a recipient, Reynolds said, is Dani's Queer Bar, a space for queer women and non-binary people opening in Back Bay.
Retention through nightlife
A bustling, vibrant nightlife doesn't just bring events to its residents. It keeps those residents, and even keeps those residents spending their money.
"I know a lot of people personally who have moved away for that reason," Idiokitas said. "There's nothing to do. They want to be able to walk into a space and not pay a $50 cover."
For a city of Boston's size, bars and clubs close early at 2 a.m. The T stops its services even earlier just before 1 a.m., pushing residents to pay up for Uber surge charges or go home early.
And late-night food options, or the lack thereof, have long been a complaint among residents.
Reynolds pointed out that there are residents — hospital employees, service industry workers, and first responders — who work late and have barely any resources that 9-5 workers typically take advantage of.
"Because they're working in the evening time, they don't get the resources they should be getting," said Reynolds, who added that as an opportunity to fix retention of Boston residents.
And when asked about extending T services, well, that might take some time. MBTA has come under fire for a host of issues lately, from "slow zones" to safety issues.
While Reynolds didn't elaborate on more nightly services, she celebrated the fact that Boston will finally get a seat on the MBTA board.
But she also stressed the importance of beefing up all of Boston's neighborhoods with night options, so residents can choose to stay in their pocket of town for an evening out.
"We're trying to create more events that are hyperlocal so that folks don't have to travel as much," Reynolds said. "We're really focusing on the identities of the neighborhoods. If you want to be able to walk home you have the option."
Newsletter Signup
Stay up to date on all the latest news from Boston.com