Entertainment
Museum of Ice Cream will come to the Seaport in 2024
The two-story location will offer an immersive experience.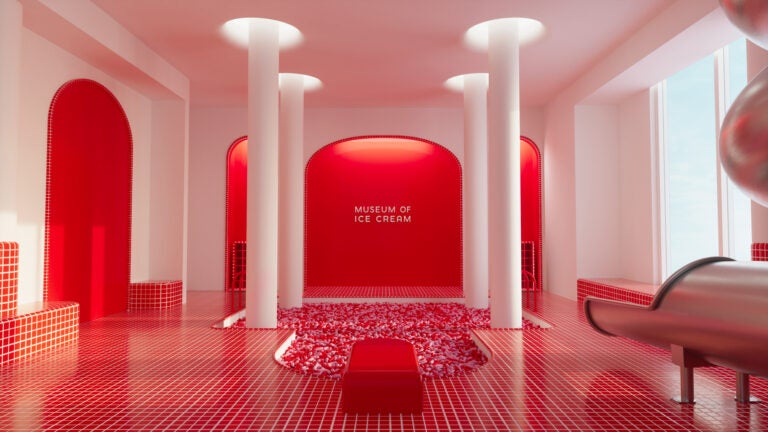 Bostonians are ready to take their love of ice cream to the next level.
Museum of Ice Cream will be opening a location in the Seaport in 2024, allowing visitors to explore two floors of entertainment and discovery, inspired by the frozen dessert. It will feature 14 interactive installations that will immerse guests in the celebration of ice cream and Boston's culture — while offering them the chance to indulge in some sweet treats, of course. The destination comes from Museum of Ice Cream, known for designing multi-sensory "experiums," which co-founder and co-CEO Maryellis Bunn described in a Forbes article as "spaces and places for people to reconnect" through the pull of ice cream.
"It was always a dream of mine to build a museum in Boston, so it's an honor to celebrate two important elements of my childhood, art and ice cream, by opening Museum of Ice Cream in the city," Museum of Ice Cream co-founder and co-CEO Manish Vora said in a press release. "We're not a replacement for museums, but are instead a place where guests can forget the worries of the outside world, act like a kid, and dream that anything is pop-sicle."
At the museum, visitors will be able to take in a variety of spectacles and wonders. There will be an interactive history of ice cream exhibit, as well as a carnival paying tribute to Fenway Park. When guests stop by The Hall of Freezers, they'll find dozens of refrigerator doors to investigate. No ice cream museum would be complete without a sprinkle pool filled with antimicrobial and biodegradable sprinkles, disco bananas, and a multi-sensory laboratory. At Mary-E's Diner, a "retro-futurism inspired hub," ice cream themed treats and drinks will be offered, in a space overlooking the marina. Guests can also enjoy unlimited tasting options during their adventures.
"Our goal is that Boston locals and guests will visit the museum and break from the traditional experience, by saying 'yes' to jumping in a pool of sprinkles, sliding down a two-story slide, playing in a baseball-themed carnival, and perhaps even sipping on a pinktini," Vora said in the press release.
There are other Museum of Ice Cream locations in Austin, Chicago, and Singapore, and a Miami institution is in development.
Museum of Ice Cream Boston, 121 Seaport Blvd., Boston
Newsletter Signup
Stay up to date on all the latest news from Boston.com