Environment
Living more sustainably: Zero-waste shops
From reusable or wooden replacements for typically disposable or plastic products to every bulk staple imaginable, these stores provide ways to live greener.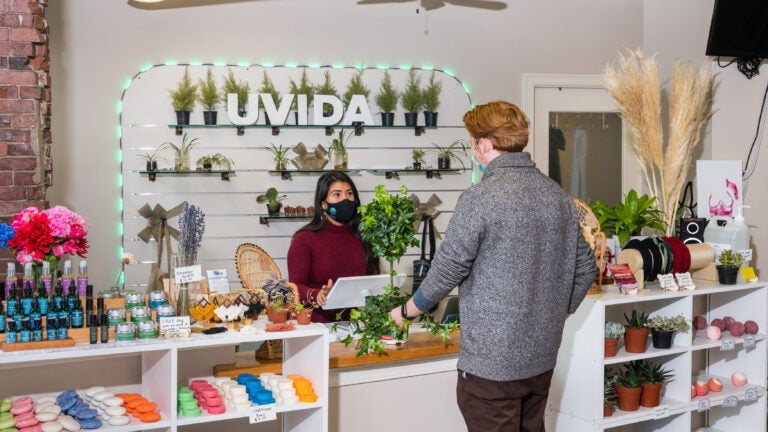 When Gandhi said to be the change you wish to see in the world, he probably didn't picture bulk hand soap dispensers and toothpaste tablets.
But for anyone pushing against a culture of waste and convenience, his message rings especially true today.
The following shops in and around Boston help their customers lead a less wasteful lifestyle, little by little.
Some provide reusable or wooden replacements for typically disposable or plastic products, and others sell every bulk staple imaginable, from tea to salt to body lotion.
They're all highly curated and worth a visit—for folks just dipping their toes into the reusable bag routine, or for the experienced zero-waste homemaker.
Uvida, 28 Atlantic Ave., Boston; 24 Porter St., East Boston
The only zero-waste shop in Boston proper, Uvida opened its doors on Atlantic Avenue in the North End in December 2020. And as of November 2021, they've opened a second storefront on East Boston's Porter Street.
Owner Maria Vasco, whose family immigrated to Boston from Colombia when she was 4 years old, launched Uvida online in 2019 as a senior at UMass Boston.
Since then, she's moved into two charming brick-and-mortar storefronts filled with every zero-waste staple imaginable—from personal products like soaps, makeup, and deodorants to household goods like dish sponges and food storage bags.
To put the icing on the eco-friendly cake, she also carries a plethora of houseplants.
Inspired by the thrift of owner April Gabriel's grandmother, the Brookline retail shop carries more than just eco-friendly gear, purveying high-quality goods meant to last a lifetime.
They go a step beyond zero-waste, selling products like stationery, home décor, greeting cards, fragrances, sewing supplies, and other general store essentials.
In their "zero waste home" section, customers can find a huge selection of sustainable goods like wooden tools, package-free cleaning supplies, and reusable bags.
Cleenland, 89A Norfolk St., Cambridge
Located in Cambridge's Central Square, Cleenland is a no-frills, no-judgement zero-waste shop. They have tons of package-free products like laundry detergent, skin care products, and bug repellent, along with tools to help customers on their less-waste journeys, like plastic-free hair ties and reusable utensils.
Customers can bring their own containers to fill, or just grab one of the repurposed containers left by other visitors, if necessary. Kind of like "take a penny, leave a penny," but for spaghetti sauce jars.
Since 1974, Cambridge Naturals has focused on all things health and wellness—both for the planet and for personal care.
Located in Cambridge's Porter Square shopping center, they became a certified B Corporation in 2014 and source their products as locally and ethically as possible.
Their curated selection of goods includes bulk herbs, teas, and spices, plus accessories for a low-waste lifestyle: reusable bags, containers, and more. They carry a ton of other cool finds, too, like adaptogenic drink mixes, natural cosmetics, and every dietary supplement under the sun.
Neighborhood Produce, 415 Medford St., Somerville; 691 Broadway, Somerville
Neighborhood Produce has two Somerville locations, one in Winter Hill and one in Ball Square. The shop provides fresh pantry staples to residents, aiming to deliver quality food without the hassle of going to big box stores.
They focus primarily on fresh produce and animal products, though they also have a bulk section for zero-waste pantry needs, stocking beans, grains, nuts, coffee, and more.
bfresh, 240 Elm St., Somerville
Davis Square's bfresh, a local market under the Stop & Shop umbrella, is small but mighty—they have an extensive package-free inventory that goes beyond just the staples.
Alongside nuts and beans, they stock snacks, candy, seeds, granola, flour, and other baking ingredients. They even have an olive bar, kombucha on tap, and a freshly ground nut butter section.
Newsletter Signup
Stay up to date on all the latest news from Boston.com