Events
Scenes from the Kids' Choice Awards 2014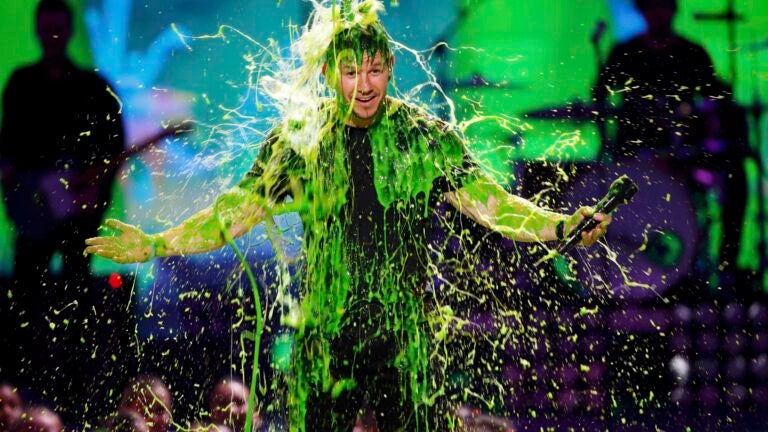 Hollywood's youngest celebs walked the orange carpet at Nickelodeon's 27th Annual Kids' Choice Awards on March 28 in Los Angeles. Stars like Jennifer Lawrence, Adam Sandler, and Robert Downey Jr. took home orange blimps for their work, and host Mark Wahlberg tried, unsuccessfully, not to get slimed.

Actress Lea Michele of Glee posed on the orange carpet.

Recording artist Luca Hänni took photos with fans outside of the show.

The Mighty Morphin Power Rangers posed on the orange carpet.

From left: Actors Azim Rizk, Cameron Jebo, Christina Masterson, Andrew Gray, Ciara Hanna, and John Mark Loudermilk.

From left: Actors Cameron Ocasio, Ariana Grande, Maree Cheatham and Zoran Korach accepted the Favorite TV Show award for "Sam & Cat.''

Actress Kristen Bell (right) accepted the Favorite Animated Movie award for "Frozen'' from actor Jim Parsons (left).

Singer Todrick Hall swung in on a Miley-esque wrecking ball, wearing a version of the singer's famous mouse outit from the VMA awards.

Robert Downey Jr. accepted the award for Favorite Male Butt Kicker for his role in "Iron Man 3.''

Writer/producer Dan Schneider accepted the Lifetime Achievement Award.

The audience rocked out with musical group American Authors.

Singer Todrick Hall performed, accompanied by colorfully clad dancers.

Actress Kaley Cuoco Sweeting of "The Big Bang Theory'' was one of many to get slimed.

Singers Austin Mahone and Cody Simpson were slimed together.