Events
An 'all-bodies' yoga event is coming to Somerville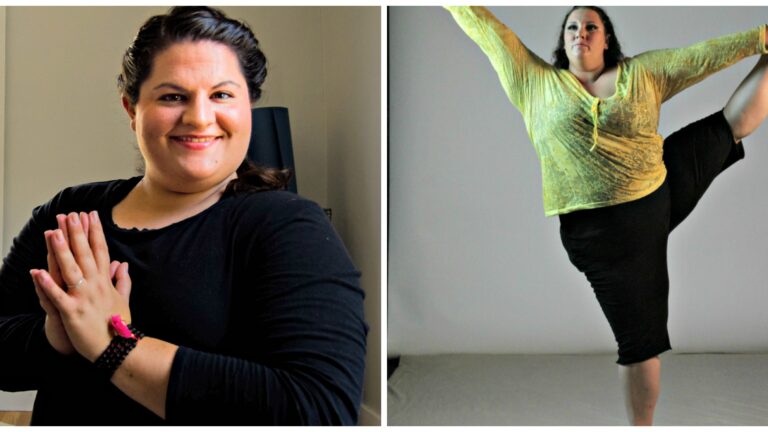 Yoga classes designed for larger bodies are have been cropping up around the country for years. Many have politically correct names, such as Yoga for Abundant Bodies in New York or Curvy Yoga in Nashville. Others, like Fat Yoga in Portland, Ore., do not. But local yoga instructor Rachel Estapa doesn't care what you call it, as long as it gets you on the mat.
Estapa, a 31-year-old Somerville resident, is the founder of More to Love, a life coaching business where she helps people of all shapes and sizes love their bodies through yoga and workshops. On Sunday, May 15, Estapa is teaming up with Ragen Chastian, of the popular blog danceswithfat.org, to host the "Movement for Everybody" workshop.
"Personally, I think [the term] 'fat yoga' can be empowering to people who have felt left out of common portrayals of yoga," Estapa said. "With More to Love, I don't use that term because all bodies are welcome at my classes. However, I do ensure that there is additional support for those with larger bodies who want to practice yoga and enjoy something they may have thought wasn't for [them]."
After years spent working as a life coach, Estapa received her yoga training at the famous Kripalu Center for Yoga and Health in the Berkshires. Now, she teaches weekly classes that are specialized for people with larger bodies.
"[The classes] have really resonated and serve as a safe place for people to explore yoga and meet others," she said. "It's giving people the opportunity to try yoga without fear of judgement. Often, larger bodies feel left out of mainstream yoga, and that's a shame because for me, yoga is one of the foundations of my own body appreciation."
The 2 1/2-hour workshop will focus on gentle dance and yoga, which Estapa said will help participants experience "joyful movement in a supportive and safe community."
Sunday, May 15 from 3 p.m. to 5 p.m.; Arts at the Armory, Somerville; $50, moretolovewithrachel.com