Events
How to watch, stream, or listen to the 2017 Boston Pops Fireworks Spectacular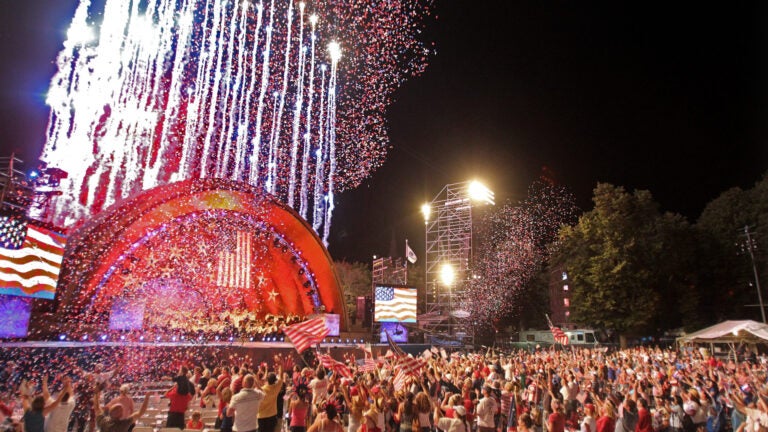 If you're not up for joining the half million spectators on the Charles River Esplanade Tuesday night for the 44th Annual Boston Pops Fireworks Spectacular, fear not: You can definitely still enjoy the city's iconic show.
This year, it will feature performances by singer/songwriter Melissa Etheridge, pop performer Andy Grammer, Hamilton star Leslie Odom Jr., and Tony Award winner Brian Stokes Mitchell, all under the direction of maestro Keith Lockhart.
First of all, here's when the show will take place:
Tune in for the music from 8 to 10:30 p.m. At that point, those famed fireworks will light up the sky.
If you want to watch on TV…
The patriotic performance had an uncertain future after David Mugar, the co-founder and longtime executive producer of the show, retired in 2016 after more than four decades. However, it was announced in March that investment firm Eaton Vance had agreed to fund the event for at least three years, and that Bloomberg Television had signed on as the show's new media partner. Therefore, the show will be broadcast on Bloomberg Television. It had previously been broadcast on CBS.
For Comcast subscribers in the Greater Boston area, Bloomberg TV is found on channel 45, 757, or 844, depending on where you live.
If you have DISH, it's channel 203; Verizon, it's channel 203; DirecTV, it's channel 353.
If you want to tune in on the radio…

In Greater Boston, listen to Bloomberg Radio at 
1200 AM
 or channel 119 on SiriusXM satellite. Listeners across the country can hear the show on the Bloomberg HD radio station or online at subscription-based iHeartRadio at 94.5 FM-HD2. Note that a traditional military flyover to the music of "Star Spangled Banner" will kick things off, so you'll miss seeing that.