Events
10 places to watch the solar eclipse around Boston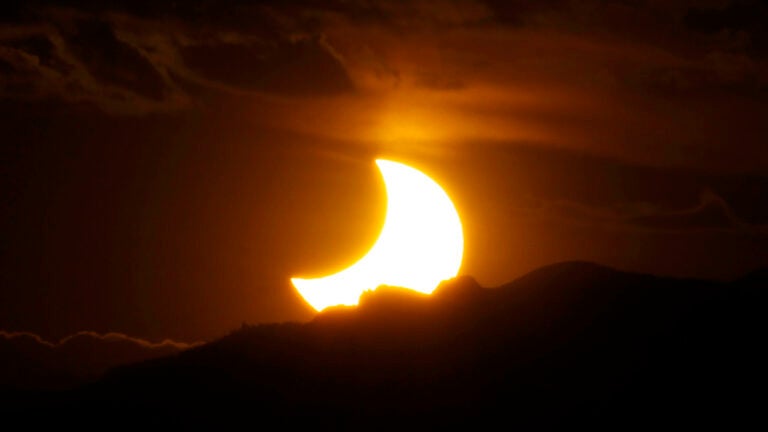 Statistically speaking, Boston is not an ideal place to see Monday's total solar eclipse. States like Oregon, Idaho, Nebraska, and Tennessee fall in the "path of totality" — the area in which 100 percent of the sun's light will be blocked by the moon during the eclipse. Boston will only have about 63 percent of the sun's light obscured, at around 2:46 p.m.
But that isn't stopping eclipse mania from gripping the area, with local public libraries running out of free eclipse glasses (which, by the way, you should vet before using), residents planning trips to other states for a better view, and local institutions planning their own eclipse viewing parties.
The early weather forecast calls for clear skies on Aug. 21, and seeing even 63 percent of the sun blocked by the moon is a pretty cool experience, so here are 10 places where you can check out the eclipse this Monday.
The MIT eclipse party at Wallace Observatory is already sold out, but MIT will have eclipse glasses for everyone who shows up to the Kresge Oval Monday afternoon, as well as two special sun-safe telescopes that will give visitors a close-up view of the eclipse. (Kresge Auditorium, MIT, 48 Massachusetts Ave., Cambridge)
Staff from the Watertown Library will be at nearby Saltonstall Park with fun activities, eclipse snacks, and eclipse glasses. If it rains, they'll live stream the eclipse from inside. (149 Main St., Watertown)
A number of Boston Public Library branches are planning eclipse parties. Head to the Adams Street Branch in Dorchester for sun tea and sundaes, the main branch in Copley Square for activity stations that will teach everyone about eclipses, and the library in Mattapan for cookies and eclipse-themed crafts. (Various locations)
The Northeastern Physics Department will be on Centennial Common answering questions for visitors about the eclipse. In case of clouds, there will be a live stream from somewhere cloudless inside the building. (Northeastern University, 30 Leon St., Boston)
The boardwalk outside the museum will be a fun spot to catch the eclipse. Staff will provide observation packets so children can draw what the sun looks like at various stages of the eclipse — while wearing their provided eclipse glasses, of course. (Boston Children's Museum, 308 Congress St., Boston)
Learn about eclipses from Spectacle Island park rangers and, if you're 18 and under, get ranger booklets. While all are welcome, the recommended 11:30 a.m. ferry from Rowes Wharf may sell out, and you only get free eclipse glasses if you register in advance. (Rowes Wharf, Boston)
If you work in the Cambridge area and only have a lunch break to sneak away, Henrietta's will offer eclipse glasses with the purchase of a Total Eclipse cocktail or mocktail. (The Charles Hotel, 1 Bennett St., Cambridge)
The Foxborough location of the watering hole will have free eclipse glasses; use them to take in the show from the rooftop while you sip on the libation of your choice. (232 Patriot Place, Foxborough)
If you want to do your eclipse viewing at sea, Cohasset Paddle Sports will take a group of paddlers out into the Atlantic Ocean to find a great vantage point as the moon goes by. The $135 registration fee covers an instructional class, hours of paddling, and snacks on shore. (Call 617-548-1775 or e-mail [email protected] to register)
The Open Field or Tall Building of Your Choice
Sure, having a telescope or astrophysicist on hand would be nice, but you don't need to get too fancy with your eclipse viewing party. Any open field with an unobstructed view of the sun will do just fine in a pinch. Just be sure to find a pair of eclipse glasses, or craft your own NASA-approved eclipse viewer from supplies at home. (Various locations)