Events
Watch: Boston runners strip down for Cupid's Undie Run
It's all for a good cause.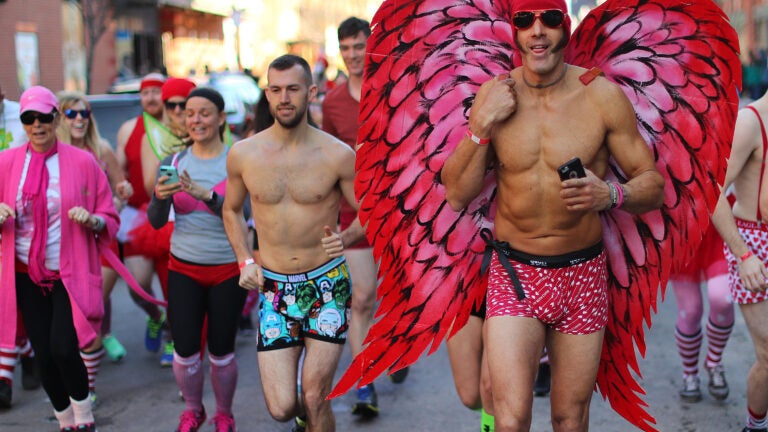 For an essential guide to the city, sign up for How to Boston, Boston.com's weekly culture and lifestyle newsletter.
Watch participants take part in Cupid's Undie Run below:
LIVE: Cupid's Undie Run at Fenway Park

Feeling chilly today?We're live from Fenway Park for Cupid's Undie Run, where hundreds will go on a "brief" run to help find a cure for neurofibromatosis.Read more: http://bit.ly/2Crd8p3

Posted by Boston.com on Saturday, February 17, 2018
Here's one way to celebrate Valentine's Day this weekend: You can run around Fenway in your underwear. For a good cause, of course.
Cupid's Undie Run, billed as "the nation's largest pantless party," will take place Saturday, Feb. 17 from noon to 4 p.m. Part of a nationwide campaign by Cupid Charities, the run takes place in 30 cities during the month of February and raises money for the Children's Tumor Foundation and neurofibromatosis research. Neurofibromatosis is a genetic disorder that causes tumors to grow on nerve tissue. Cupid's Undie Run events have raised more than $14.5 million since 2010, according to the event website.
"We run in our undies because those affected with NF can't cover up their tumors," the run's website reads. "They can't put on clothes to feel more comfortable, so why should we?"
That said, organizers say undies aren't mandatory and (PG-13) costumes are welcome.
Participants who register online can party at the House of Blues before taking off for a "mile(ish)" and "brief" (get it?) 15-minute run, then return to HOB for a post-race party. For those who want to keep the party going, an official after-party will take place at 4 p.m. at the Lansdowne Pub.
According to the event's Facebook page, nearly 200 people are attending this year in Boston and more than 500 people are interested. Organizers expect about 14,000 people to participate in runs nationwide, per the event's website.
Those who wish to donate without running can do so on the website.