Events
How to watch the 2018 Boston Pops Fireworks Spectacular on July 4
Catch the concert and fireworks display via your TV, computer, smartphone, or radio.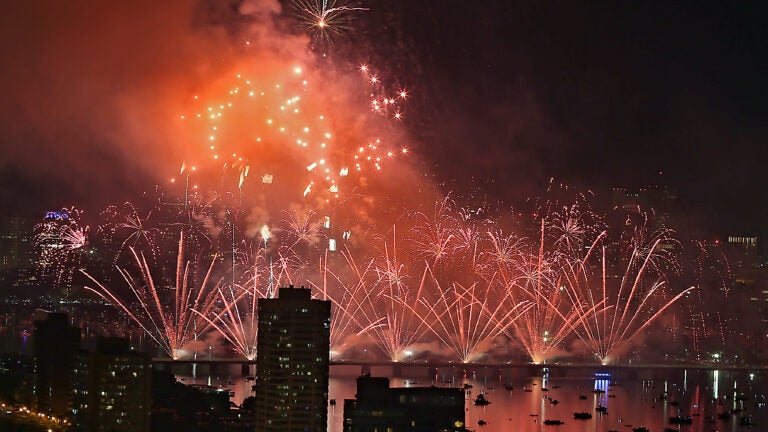 The 2018 Boston Pops Fireworks Spectacular will showcase an all-women guest lineup featuring "Fight Song" artist Rachel Platten, Rhiannon Giddens, of the Carolina Chocolate Drops, Amy Ray and Emily Saliers, of the Indigo Girls, and EGOT winner Rita Moreno.
If you're not staking out a spot on the Esplanade, there are still plenty of ways to catch the show and fireworks. Read on to discover how to watch and listen to the festivities in Boston and beyond.
How to watch on TV:
For those planning to watch live, the event will be broadcast on Bloomberg TV and Boston's WHDH-TV starting at 8 p.m. Cable customers in Greater Boston will be able to view it on Dish channel 203, Verizon channel 104, DirectTV channel 353, RCN channels 325 or 672, and Comcast channel 45, 757, or 844, depending on your location.
Bostonians can find more specific tune-in information on the Boston Pops' Fireworks Spectacular website, and viewers outside the area should check local listings.
Bloomberg Television's "Bloomberg Daybreak Americas" co-anchor Alix Steel and Bloomberg Radio's "Bloomberg Markets" co-anchor Carol Massar will host the television broadcast together, with additional reporting by Bloomberg Television's "Bloomberg Markets: European Open" co-anchor Matt Miller.
How to live stream:
As in prior years, the event will be streamed on Bloomberg.com and the Bloomberg mobile app at 8 p.m. New this year: Boston.com, BostonGlobe.com, and BostonPopsJuly4th.org will also host streams at 8 p.m. The video will be available for 24 days following the broadcast. 
Bloomberg's Janet Wu will report on the show for the digital streams.
If you're planning to tune in via Boston.com, sign up for an e-mail reminder or download our app.
How to listen on the radio:
For audiophiles, there are a few options. The Boston Pops Fireworks Spectacular will be streamed through Bloomberg's Boston and Newburyport stations at 106.1 FM, 1330 AM, 1450 AM, and 92.9-HD2. For the first time, Plymouth's WPLM will also broadcast the event to listeners on the South Shore, Cape Cod, Southeastern Massachusetts, and parts of Rhode Island. The audio stream can be found nationally on SiriusXM channel 119, at bloombergradio.com, and on Bloomberg Radio and iHeart Radio apps.
Steel, Massar, and Miller's reporting will also be broadcast for the radio editions of the program.