Events
10 things to do in Boston this weekend
BosTen is your weekly guide to events and cool happenings in and around Boston.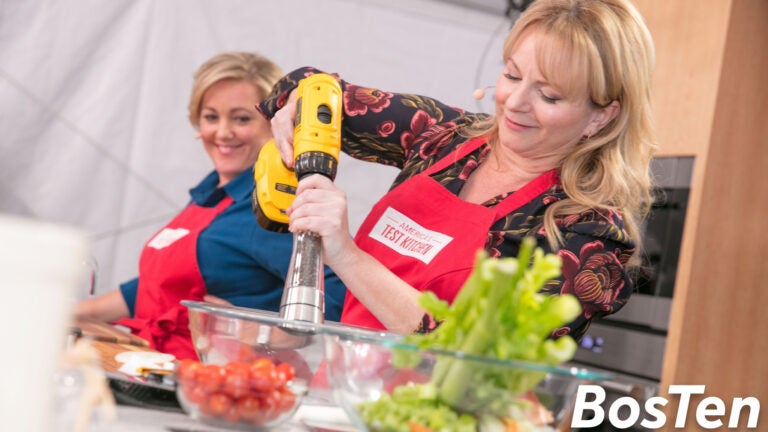 Skip Netflix this weekend—here are 10 ways to get out of your home and not be bored in the city. If you'd like BosTen delivered to your inbox every Thursday, click here. Want more things to do? Check out our events calendar at boston.com/events. You can also learn even more about awesome events around Boston by joining the BosTen Facebook group.
The annual local laughfest officially kicked off on Tuesday, but the final three days will feature some of the festival's highlights, including the semifinals and finals of the stand-up competition, a set featuring the previous year's winners, and Emo Philips headlining on Saturday. A full schedule of events is available on the festival's website. (Thursday, Sept. 13 to Saturday, Sept. 15 at various times; various locations; $15-30 per show; 21+)
Despite complaints from neighbors, the annual pro-cannabis rally formerly known as Hempfest will return to Boston Common for its 29th year. Billed by organizers as the second-largest festival of its kind in the world, the three-day bash will feature musical performances and a "cannabis education village" with panels on topics like how to grow your own plants, what to know about edibles, and how to start a small business in the marijuana industry. (Friday, Sept. 14 from 3 p.m. to 8 p.m.; Saturday, Sept. 15 and Sunday, Sept. 16 from from 12 p.m. to 8 p.m; Boston Common, Boston; free; all ages)
What better place to belt out revolutionary tunes than Lexington, the town where the Revolutionary War began? The opening of "Hamilton" in Boston is almost upon us, and while not everyone has gotten tickets, everyone can sing along to some of their favorite songs from the musical at Cary Hall in Lexington this Friday. Costumes are encouraged, and there will be a raffle to win a life-sized cutout of "Hamilton" creator Lin-Manuel Miranda. (Friday, Sept. 14 from 6:30 p.m. to 9:30 p.m.; Cary Hall, Lexington; $4 GA, free for kids ages 7 and under; all ages)
For more than 25 years, Americans have welcomed America's Test Kitchen into their homes through the company's cookbooks, magazines, and TVs. This weekend, the Boston-based institution will welcome locals into its own home at the Innovation and Design Building in the Seaport for a trio of events. Friday, at the 25th birthday party for the company's Cook's Illustrated magazine, you can sample unlimited food from top Boston chefs and mingle with the stars of ATK's long-running TV shows. Saturday's cooking, food, and wine festival will mean more of ATK's test cooks putting on cooking demonstrations and unlimited food from dozens of local restaurants. Finally, at the ATK Kids Fest on Sunday, there will be more of the same but with a number of kid-friendly activities mixed in as well. (Friday, Sept. 14 from 7:30 p.m. to 9:30 p.m.; Saturday, Sept. 15 from 2 p.m. to 5 p.m.; and Sunday, Sept. 16 from 11 a.m. to 1:30 p.m.; Innovation and Design Building, Boston; $250 for weekend passes, $50-$125 for daily passes; Friday and Saturday 21+, Sunday all ages)
The season of free outdoor fitness classes is almost over, but you can get an entire day's worth in one fell swoop. On Saturday, City Hall Plaza will host an entire day of free fitness activities ranging from more conventional classes like yoga and bootcamp to less conventional offerings like outdoor spinning and a dance mile (hosted by Boston.com). While all of the activities will all be free, organizers highly recommend that anyone interested in attending register in advance. (Saturday, Sept. 15 from 7 a.m. to 3 p.m.; City Hall Plaza, Boston; free; all ages)
With the porch fests of Arlington, Jamaica Plain, and Somerville already in the past, it's Roslindale's turn to bring free local music to neighborhood porches. More than 100 acts are set to play more than 70 locations across the Boston neighborhood on Saturday. (Saturday, Sept. 15 from 1:30 p.m. to 5:30 p.m.; various Roslindale porches, Boston; free; all ages)
You'll "just wanna fly" over to the fourth annual Village Fest at Night Shift Brewing this Saturday, where you'll be able to listen to six hours of bands, headlined by '90s hitmakers Sugar Ray. There will also be a number of local food trucks, kid-friendly activities (yes, kids will be welcome at the brewery), and a second mini-stage with more bands down the street at Bone Up Brewing. (Saturday, Sept. 15 from 3 p.m. to 9 p.m.; Night Shift Brewing, Everett; free; all ages)
You don't need to be a daily reader of Love Letters to know that sometimes not everything goes smoothly in the bedroom. This Saturday, the quintet of ribald storytellers behind "Awkward Sex… and the City" will take the stage at Nick's Comedy Shop to tell laugh-out-loud tales about some of their most cringe-worthy sexual encounters. (Saturday, Sept. 15 at 8 p.m.; Nick's Comedy Shop, Boston; $20; 21+)
For the third straight year, Festival at the Farm will bring a range of tunes, farm-fresh food, and family-friendly activities to Prowse Farm in Canton. This year's festival will be led by the soulful Philly singer-songwriter Amos Lee and LA folk rock quartet Dawes, with other acts like bluegrass band Trampled by Turtles and Americana performer Martin Shelton joining the fun. (Saturday, Sept. 15 at 1 p.m. to Sunday, Sept. 16 at 10 p.m.; Prowse Farm, Canton; $15-$125; all ages)
The Rose Fitzgerald Kennedy Greenway will transform into a giant local and sustainable food hub this Sunday. Farmers, restaurants, food trucks, specialty food producers, and organizations focusing on healthy food and fitness from all across New England will be on hand to share their knowledge and their food. The fest will also feature chef demos, a seafood cooking competition, and musical performances. (Sunday, Sept. 16 from 11 a.m. to 5 p.m.; Rose Kennedy Greenway, Boston; free; all ages)
Correction 9/13/2018: An earlier version of this story misspelled Martin Sexton's name. Boston.com regrets the error.