Events
Your ultimate guide to HUBweek 2018
Everything you need to know about the annual festival set to take over Boston.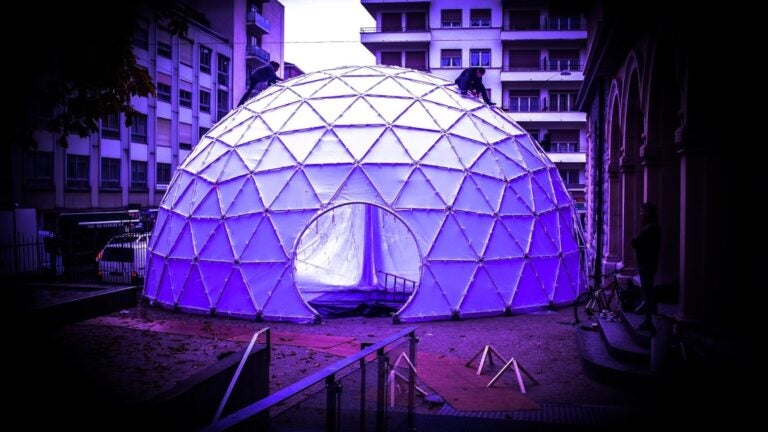 What do activist David Hogg, New York Times columnist Maureen Dowd, and MIT Media Lab director Joi Ito have in common? They're all among the presenters scheduled to appear at HUBweek 2018.
Now in its fourth year, HUBweek is a "festival for the future" founded by The Boston Globe, Harvard, Massachusetts General Hospital, and MIT. Each year, the festival brings hundreds of activations, installations, and conversations centered around art, science, and technology to Boston. This year, you'll be able to check out a series of documentaries curated by the Globe, a "drone zoo" in the Seaport, and everything else in between.
Here's everything you need to know about HUBweek 2018.
When does 
HUBweek

 start?

The festival kicks off on the morning of Monday, Oct. 8, and runs through Sunday, Oct. 14. The first two days of the festival will center around two events: The first is the inaugural Change Maker Conference, which will feature talks on issues with human impacts and a focus on action and outcomes. The second is Open Doors, a series of behind-the-scenes experiences from some of the more creative organizations in the area.

Later in the week, more events will continue to pop up, including the GlobeDocs Film Festival and a series of exhibits and installations open to the public at "The HUB," the festival's main attraction at City Hall Plaza.
Where is 
HUBweek

 happening?

Much of the action will take place at City Hall Plaza, which will be transformed into the aforementioned "HUB" of innovation. Other events will take place all over Boston and Cambridge, from MIT to the Seaport. The easiest way to keep track of all the times, dates, and locations of events is to either visit the festival website or download the official HUBweek 2018 app.
Who are the biggest names at 

HUBweek

 2018?
David Hogg, a survivor of the Marjory Stoneman Douglas High School shooting and a co-founder of March for Our Lives, will be part of a forum in Faneuil Hall on "the successes and challenges of the nationwide student-led movement to end gun violence" alongside MGH physician activist Chana Sacks and a Boston Public Schools student.
New York Times columnist Maureen Dowd will discuss the future of cities, health, and medicine as part of the HUBweek Forums.
Other scheduled forum speakers include MIT Media Lab director Joichi Ito, Amazon Robotics chief technologist Tye Brady, Harvard Business Review editor Adi Ignatius, Tulane professor and author Walter Isaacson, MIT associate professor Neri Oxman, and author and singer-songwriter Ruth Pointer, of the Pointer Sisters.
You can browse the line-up of featured speakers here.
What are some can't-miss talks?
Aside from the Hogg and Dowd talks, plenty of thought-provoking discussions are happening at the festival. Monday's slate of speakers at the Change Maker Conference begins with an opening keynote from Ito about the practice of change, and closes with a talk from UN-High Level Commissioner Dr. Alaa Murabit on how inclusivity can be practical and profitable.
On Wednesday, Pointer will discuss how music contributes to our wellbeing with Panos Panay, the vice president of innovation and strategy at Berklee College of Music.
You'll also be able to hear Soul Cycle founder and WeWork partner Julie Rice discuss innovating new business models and the importance of community, author and professor Walter Isaacson dissect historical instances of innovation, and iRobot CEO Colin Angle speak about how future collaborations between bots and humans can be mutually beneficial.
Which exhibits and installations are a must-visit?
One must-see exhibit is the "drone zoo" that will take up residence in the Seaport on Monday and Tuesday. Local organization swissnex Boston has partnered with Swiss Touch and will set up a "flying cage" at District Hall, allowing visitors to experience live drone demos while discussing what a drone-filled future may look like.
On Tuesday, you can visit the "innovation playground" in Kendall Square, an interactive celebration of community, arts, and technology where you can immerse yourself in a life-sized coloring book, create visual effects using augmented reality, or just drop a beat on turntables.
Speaking of music, you should also find time for the silent disco during the Change Maker Closing Party on Tuesday night, which will feature music from DJ Tao, DJ BHanna, and DJ Glow Worm. Grooving to the beat in your own ears, at the same time as everyone else around you, is a must-try experience.
Are any events free and open to the public?
Yes! More than 100 of them, to be precise. By completing a free registration on HUBweek's website, you can sign up for more than 100 events, including those that are part of the Open Doors, Demo Day, and Future Innovators lineups. You can also enter the HUB at City Hall, attend networking meet-ups, go to the nightly parties at the HUB, and more.
How much do tickets cost, and where can I get them?
Tickets are available on the HUBweek website at varying price levels depending on the events you want to attend. Single-day passes start at $150, while multi-day tickets at the Concierge level (which permits you perks like a VIP networking event with HUBweek's founders) are $600.
If you're thinking of going, don't wait too much longer. Ticket prices increase on Oct. 8.