Events
How to watch the 2020 St. Patrick's Day Parade in Boston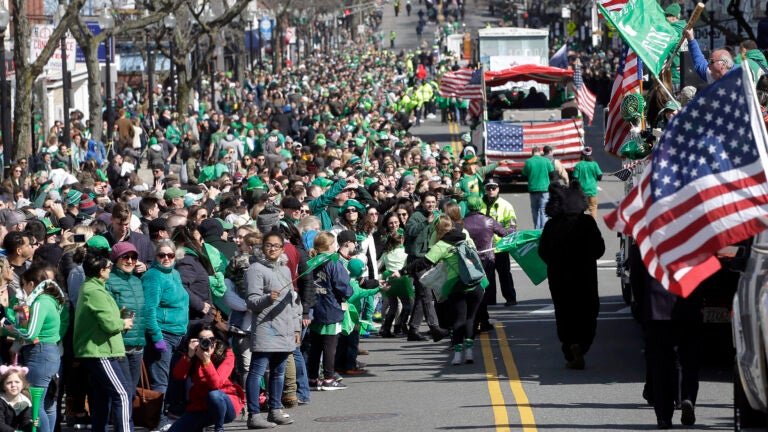 Update:
On March 9, after the time of this article's publication, Mayor Marty Walsh announced that the 2020 St. Patrick's Day Parade is cancelled due to the coronavirus outbreak.
"This decision is being made out of an abundance of caution to ensure that we are doing what is needed to keep the residents of Boston safe and healthy," Walsh said in a statement.
Read Walsh's complete statement here.
---
Previously:
Organizers are expecting more than 1 million people at this year's 119th St. Patrick's Day Parade in Boston, a beloved city tradition for more than a century.
"It's not only celebrating St. Patrick's Day, but it's also commemorating the evacuation of the British from our shores," said Bryan Bishop, director of parade operations. "It just goes to show that Boston is so important in our nation's history."
Here's what you need to know if you plan to go.
What time does the St. Patrick's Day Parade kick off?
The parade begins at 1 p.m. on Sunday, March 15.
How long is the parade?
The 3.6-mile parade will last about 4 hours and 30 minutes from start to finish, according to Bishop.
Who's participating this year?
Musicians from around the world will take part in the parade, Bishop said. There will be 102 groups participating, including 18 floats and 27 bands, he said. The Boston Police Gaelic Column of Pipes and Drums, Blues Brothers the Next Generation, and other bands will perform, as well as musicians from Ireland, Great Britain, Florida, and elsewhere.
New England firefighters, as well as firefighters from as far away as Ireland and Great Britain, will be a part of this year's festivities. Others marching will include members of the military, veterans, and roaming characters such as Spider Man and the Ghostbusters. 
You can follow the parade on Twitter at @ParadeBoston.
How do I get there if I'm driving?
Public transportation is the best bet. The 2020 St. Patrick's Day Road Race, which benefits the South Boston Boys & Girls Club, begins at 11 a.m. and will result in several street closures in the area. If you still want to drive, you can use your GPS to direct you to streets along the parade route such as West Broadway or G Street. The City of Boston posts traffic and parking advisories during the days leading up to the event. It's also a good idea to follow @bostonpolice on Twitter.
How do I get there if I'm taking the T?
The MBTA has posted a St. Patrick's Day guide to help customers map out their transportation for Sunday. The MBTA warns that the Red Line, which offers stops along the parade route at Broadway and Andrew stations, will be very crowded the day of the parade. Red Line trains will run every five minutes between 10 a.m. and 6 p.m. on Sunday, but may bypass Broadway Station when crowds are heavy, according to the MBTA.
A free shuttle service will be available between 10:30 a.m. and 6 p.m. between South Station and East 1st Street in South Boston.
You can follow the MBTA on Twitter @MBTA for updates or visit the MBTA website and check T-Alerts.
Where exactly does the route run?
The parade will begin outside of the Broadway MBTA station at 1 p.m. and then go down West Broadway to Perkins Square, and along East Broadway to P Street. From there, it will follow East Fourth Street to K Street, then East Fifth Street to G Street. Then it will go past Excel High School to Thomas Park to Telegraph Street. Then it will head to Dorchester Street and continue through the intersection at Old Colony Avenue to Andrew Square and finish on Dorchester Avenue. 
What are the parade rules?
The Parade Code of Conduct includes no protesting, nudity, or foul language.