Events
Sunrise dance party Daybreaker returns to Boston this week
This edition comes with a nod to International Women's Month.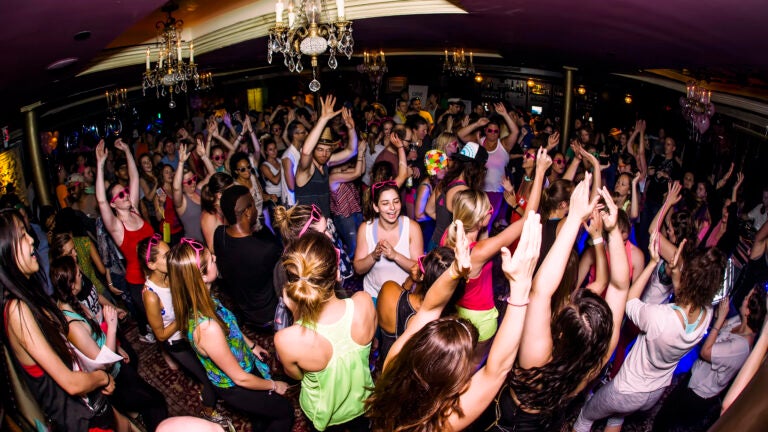 If you're going to squeeze in a workout before work, you might as well make it a dance party.
Daybreaker brings energetic wellness events to an international web of more than 20 cities, from Seattle to Shanghai. They've been dropping the beat in Boston since 2015 at sites such as Faneuil Hall, Fenway Park, and on a boat in Boston Harbor. This time around, the party takes place at the recently-opened WBUR CitySpace on Thursday, March 21.
The morning starts at 6 a.m. with a BYOM (bring your own mat) yoga class led by Izzy VanHall, followed by two hours of dancing. A dance sequence set to Lizzo's "Juice" was devised by Luam, choreographer and creative director to the likes of Beyoncé, Britney Spears, and Alicia Keys. Those who love to come prepared can even learn the moves ahead of Thursday's event. New York-based house music group FDVM will supply the tunes, while GT's Kombucha and Manitoba breakfast bites will supply fuel to participants.
Daybreaker, a community founded and predominantly occupied by women, has adopted "The Future is Feminine" as the event's theme to recognize International Women's Month. Organizers have requested guests wear something "that nods to the future."
Guests have the option to register for the entire morning, or skip the yoga portion. Tickets are available online for $22.33 to $35, with an option to donate to nonprofit Girls Who Code at checkout.
Daybreakers Boston, "The Future is Feminine"; Thursday, March 21 from 6 a.m. to 9 a.m.; WBUR CitySpace, Boston; $22.33 – $35; all ages