Events
10 things to do in Boston this weekend
BosTen is your weekly guide to events and cool happenings in and around Boston.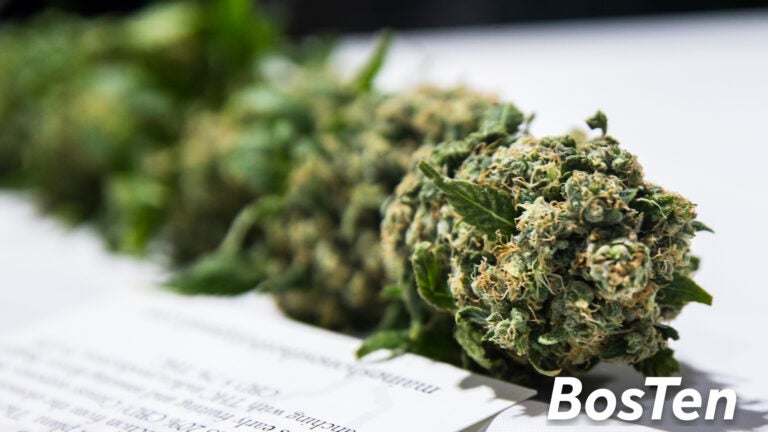 Skip Netflix this weekend—here are 10 ways to get out of your home and not be bored in the city. If you'd like BosTen delivered to your inbox every Thursday, click here. Want more things to do? Check out our events calendar at boston.com/events. You can also learn even more about awesome events around Boston by joining the BosTen Facebook group.
---
Sponsored giveaway: Want to wine and dine at Eataly — on us? Click here to enter to win a $250 gift card.
---
For more than two decades, the Boston Underground Film Festival has brought some of the most transgressive, cutting-edge films to the Boston area, and this year's lineup looks no different. The festival kicked off on Wednesday with "Hail Satan?," a documentary about the controversial Satanic Temple in Salem, and also will include curiosities like "Knife+Heart," a French suspense film about gay producers of low-budget adult films that played at Cannes in 2018 and features a soundtrack from synth-pop act M83. (Now through Sunday, March 24 at various times; Brattle Theatre, Cambridge; $12 per film; all ages)
The Boston Tea Party isn't just a historic anti-taxation protest or a now-closed Boston concert venue. It's a swing dance event featuring workshops and competitions for dancers of all skill levels. Whether you've never taken a single swing dance step or you're an expert in the Lindy Hop, Balboa, and Shag styles, you'll find a workshop or contest for your skill level at the Boston Marriott Newton this weekend. To see a full list of activities, check out the Tea Party's website. (Thursday, March 21 through Sunday, March 24 at various times; Boston Marriott, Newton; $15-210; all ages)
You're bound to boost your brainpower with a visit to the Museum of Science, but it's not every trip there that you get to touch an actual human brain. Visitors can learn all about the complex mysteries of the human body with talks from world-class experts and participate in hands-on activities like the aforementioned brain-touching at this weekend's health fair. (Friday, March 22 from 10 a.m. to 1 p.m. and Saturday, March 23 from 10 a.m. to 3 p.m.; Museum of Science, Boston; free with regular $20-25 Museum of Science admission; all ages)
After a long wait, cannabis shops have slowly started to open in Massachusetts. Residents may still have questions about what exactly is and isn't allowed under state regulations, and perhaps how they can get involved in the business side of the burgeoning industry. The New England Cannabis Convention, which will be held this weekend at the Hynes Convention Center, will cover both the business and consumer aspects of marijuana, serving both as a way for cannabis entrepreneurs to connect and as an educational tool for those who want to learn more about legal marijuana in Massachusetts. (Friday, March 22 and Sunday, March 24 from 10 a.m. to 5 p.m. and Saturday, March 23 from 10 a.m. to 6 p.m.; Hynes Convention Center, Boston; $30-95; 18+ unless with an adult)
Just as their career was starting to take off, '90s emo punk trio Jawbreaker disbanded in 1995. More than 20 years later, as a new generation of emo fans have discovered the influential group, Jawbreaker is reuniting for its first tour since breaking up, stopping at House of Blues on Friday along with openers War on Women and Pohgoh. (Friday, March 22 at 7 p.m.; House of Blues, Boston; $40-$50; all ages)
The Irish Film Festival is taking a breather in its 19th year, focusing its efforts toward a monumental 20th anniversary next year. In the meantime, the festival will hold a mini weekend of Irish-specific programming, starting with a double feature on Friday at Somerville Theatre. First up will be the teen boxing drama "Float Like a Butterfly," followed by the Oscar-nominated animated short film "Late Afternoon." (Friday, March 22 from 7:30 p.m. to 10:30 p.m.; Somerville Theatre, Somerville; $20; all ages)
Kick your butt into gear for a good cause this Saturday with Big Climb Boston, at which participants will climb 32 or 64 flights of stairs at a Financial District skyscraper. Participants must fundraise a minimum of $100, which will benefit the Leukemia and Lymphoma Society. (Saturday, March 23 from 8 a.m. to 1 p.m.; 99 State St., Boston; $100 fundraising minimum; all ages)
Do you find yourself replaying important conversations you've had over and over in your head, wondering what you should have said differently? This workshop will examine your behavior patterns during these conversations and offer mindfulness tips to help clear your headspace. Oh, and there also will be breakfast tacos and brunch cocktails. (Saturday, March 23 from 10 a.m. to 1 p.m.; Hall Back Bay, Boston; $40; all ages)
Evacuation Day and St. Patrick's Day both occur on March 17. The one involving green beer and step dancing tends to overshadow the other, which commemorates the day that British forces retreated from Boston during the Revolutionary War. You can learn more about the day (six days late) from local historians on a Boston Harbor cruise that will take the same path as the British when they left the city, departing from Long Wharf, sailing past Fort Independence, and moving out to Boston Light, the lighthouse on Little Brewster Island. (Saturday, March 23 from 11 a.m. to 1:30 p.m.; Long Wharf North, Boston; $30 GA, $25 for seniors, $15 for kids; all ages)
In August 2016, 27-year-old Vanessa Marcotte was killed while jogging near her family's home in Princeton. On Sunday, hundreds of women are expected to gather at Northeastern University for lessons in self-defense from celebrity trainer Avital Zeisler. The event is organized by the Vanessa Marcotte Foundation, which partners with organizations "that provide educational programs and mentorship opportunities to promote female empowerment and gender equality," according to its website. (Sunday, March 24 from 10:45 a.m. to 1 p.m.; Cabot Physical Education Center, Northeastern University, Boston; $30 GA, $20 for college students; all ages)