Events
The ultimate Instagram experience is headed to Boston
Expect rooms filled with confetti, flowers, rubber duckies, and more.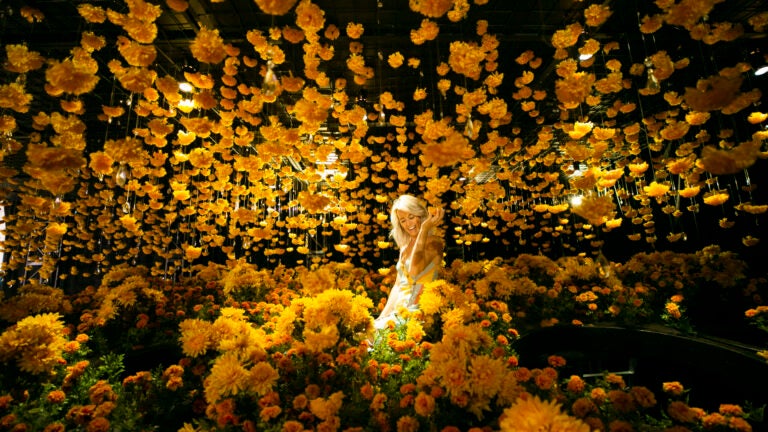 Charge your smartphone battery and download the latest version of Instagram — Happy Place is coming to Boston.
Dubbed "Instagram Heaven" by Buzzfeed, the immersive art exhibit will bring themed rooms and other whimsical fixtures to  500 Boylston St. between April 5 and June 2. After enjoying sold-out stints in Los Angeles, Chicago, and Toronto and cracking smiles with celebrities such as New Kids on the Block member Joey McIntyre and Harvard alum Rashida Jones, Boston marks Happy Place's East Coast debut.
In traversing 13,000 square feet of installations that tickle all five senses, guests of all ages will be able to sit among 40,000 gold flowers in the "Super Bloom" room, appear to defy gravity in the "Upside Down" room, pose with six-foot mirror-covered X's and O's surrounded by red lips, get inside an indoor confetti dome, sit in the "Rubber Ducky Bathtub of Fun," and jump into a "Pot of Happiness" at the end of an enormous rainbow, according to a press release.
The space will also showcase the Cookie Room, a new addition to the experience which is described as "like stepping inside of your favorite chocolate chip cookie, complete with the aroma of fresh baked cookies," as well as special features and art unique to Boston that have not been announced.
The experiential exhibit's founder, Jared Paul, is no stranger to the Bay State. He manages New Kids on the Block and headed up the "Boston Strong" benefit concert in wake of the 2013 Boston Marathon bombing.
"Happy Place was inspired by my mission to provide a beacon of positivity and encourage people to come together and embrace happiness. It's been incredible to see all of the smiles created and lives it has touched so far," Paul said in the release. "Boston is one of my favorite cities, and I'm thrilled to help them find their happy and see how the city will express itself using Happy Place."
Tickets go on sale to the public on Friday, March 22 at 10 a.m. ET. General admission starts at $30, excluding ticketing fees.